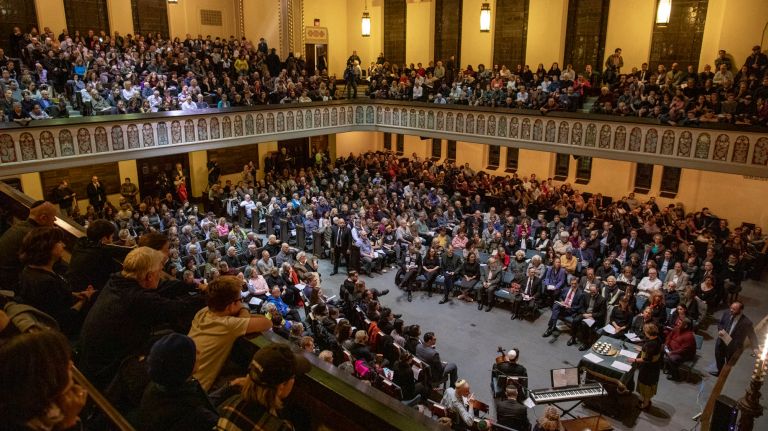 New Yorkers joined the nation in mourning the victims of the Pittsburgh synagogue massacre while fiercely pledging to fight hate and intolerance here and around the world.
"New York City will never succumb to hate, we will never allow ourselves to be divided. We will never allow people to separate us by faith or nationality," Mayor Bill de Blasio said Sunday afternoon while standing with religious leaders at Temple Emanu-El on the Upper East Side.
It was one of several public events in the city held in response to the shooting that left 11 people dead and six injured.
More than one thousand mourners gathered at the Ansche Chesed synagogue on the Upper West Side Sunday evening, maxing out the synagogue's 1,300-person capacity inside. About as many gathered outside after waiting on a long line that wrapped around three blocks.
A separate service was held on a megaphone for those who were left in the street.
Security officers were stationed inside and outside the building, checking bags by the entrance while an NYPD police car was stationed outside.
"There's a sense of helplessness, a sense of despair and fear when something like this happens, and to me the only antidote to that, that really feels meaningful and effective is sharing that experience with others," said Harlem resident Annette Zygmunt, 50, who managed to get inside the synagogue. "It's really a deep sense of camaraderie."
Linda Sterling, 77, of the Upper West Side, said she came "to feel community, to be a part of community, to show strength and to show the resilience of the Jewish people. That when something bad happens, we don't hide, we face it."
While the NYPD cautioned there was no credible threat to New York City, the department deployed heavy weapons teams, including the Critical Response Command and the Strategic Response Team, police said on Sunday morning.
Law enforcement officials said an armed man named Robert Bowers entered Tree of Life Synagogue in Pittsburgh on Saturday morning and killed 11 as he spewed anti-Semitic statements.
Bowers, 46, was taken into custody after being wounded by police but left a horrific scene of carnage behind.
Most of the victims ranged in age from 54 to 97. The deceased included a husband and wife and two brothers. The six injured included four police officers.
"We're going to fight despair," said Rabbi Joy Levitt, executive director of the Marlene Meyerson JCC Manhattan, who spoke at the Ansche Chesed vigil. "…Tonight we mourn and tomorrow we work,"
Earlier in the day, Cardinal Timothy Dolan joined de Blasio and the Commission of Religious Leaders at Temple Emanu-El.
"A violent attack on any human life is bad, horrible, awful, nauseating," said Dolan. "A violent attack on people who are [in] prayer in a sanctuary that is characterized by peace and unity is worse. And a violent attack upon a people, the Jewish people, who have suffered for centuries, adds to the degradation and horror yesterday."
Rabbi Joseph Potasnik, executive vice president of the New York Board of Rabbis, said hate mongers were "greatly mistaken" if they thought violence would cause a divide.
"On the contrary, they brought us closer together," he said. "We come here to say we will not stop living, we will not stop loving. … We will continue with Bar Mitzvahs and Bat Mitzvahs and weddings, all the celebrations of life."
Brooklyn Borough President Eric Adams, a former NYPD officer, called on off-duty law enforcement officers to carry their handguns with them when going to their houses of worship, even if there are police officers stationed outside the buildings.
"I used to carry my gun all the time when I went to church," said Adams, as he stood with members of the Flatbush Jewish Community Coalition, City Councilman Chaim Deutsch and other interfaith and elected officials outside Ohel Bais Ezra in Midwood to denounce the shooting. "If we have police officers standing in front of churches, we can't say it's wrong for a police officer who's off duty to be inside churches with a gun."
Deutsch said the deadly shooting reminded him of the stories he heard from his father, who was a survivor of the Holocaust.
"This is not a swastika being spray-painted, this is not someone cursing at a Jew, this is murder," said Deutsch.
Bowers was charged with 29 federal counts, including 11 counts of obstruction of exercise of religious beliefs resulting in death, according to the U.S. Attorney's Office for the Western District of Pennsylvania. He was also charged with 36 counts by the Allegheny County District Attorney, including 11 counts of criminal homicide and 13 counts of ethnic intimidation.
Evan Bernstein, director of the Anti Defamation League New York/New Jersey, said there was a 90 percent increase in reported anti-Semitic incidents in the city last year.
He stood with several leaders at the ADL's Manhattan offices on Sunday, including Merrill Zack of the Hebrew Immigrant Aid Society. Bowers was reportedly furious with the group's efforts to assist refugees, especially its recent National Refugee Shabbat.
"It breaks our heart that this beautiful demonstration was associated with such violence and hate," said Zack. "History will judge us for our actions and we will be on the right side of history."
Several leaders blamed President Donald Trump's anti-immigrant rhetoric for helping stoke fear across the country.
On the Upper West Side, members of the Jewish community gathered at the Stephen Wise Free Synagogue for a previously planned concert to commemorate the 80th anniversary of Kristallnacht, when Nazis in Germany vandalized and destroyed more than 7,000 Jewish homes, businesses and houses of worship and killed 91 Jews in 1938.
There, Rabbi Ammiel Hirsch discussed what he felt was a rise in anti-Semitism and hate speech that stems, at least in part, from the rhetoric of President Trump.
"Obviously, the tone starts at the top," Hirsch said. "You cannot isolate intolerant speech on any particular community. If you direct harsh, coarse rhetoric toward a certain group — say Mexicans — it infects our entire society and it gives license to a coarseness and hoarseness of speech to the groups that are perceived as the 'other.'"
Trump, who quickly branded Saturday's shooting an act of pure evil and called on Americans to rise above hatred, was already facing similar criticism ahead of the Nov. 6 congressional elections following a spate of pipe bombs mailed last week to some of his most prominent critics.
Misaskim, a New York-based group that provides bereavement services, dispatched a team to Pittsburgh to assist in the burial of the victims.
"According to the Jewish law, a body has to be buried in its entirety. So when somebody gets killed in such a manner, all the bodily fluid, any blood, any tissue has to go for burial," said Jack Meyer, president of Misaskim. "We're going to wipe up all the blood … anything that has to get buried according to Jewish law."
He said they have been inside the synagogue to assess what needs to be done and will work with the forensic team that's there.
And while Jewish law requires that a body be buried as soon as possible, he said: "In a situation where there is a homicide, the law of the land has to come first. They want to make sure these charges stick at the end of the day."
Gov. Andrew M. Cuomo ordered flags on all state government buildings to be flown at half-staff from Monday through Sunday to honor victims from Pittsburgh as well as another deadly shooting at a supermarket in Jeffersontown, Kentucky.
"The hate in this country has reached a fever pitch and it is bubbling over into violence," Cuomo said in a statement.
This story was reported by Lisa L. Colangelo, Ivan Pereira, Alison Fox, Vincent Barone and Reuters. It was written by Colangelo.