Aaron Rodgers isn't panicking when it comes to the New York Jets offensive struggles through three games – even if everyone else is.
After three contests in which the offense failed to record over 200 yards of total offense and less than 14 points, there have been several analysts, fans, and former players calling for significant changes. On the Pat McAfee show Tuesday, Rodgers made it clear for everyone to settle down their concerns. 
"This is what teams have to go through. There are adversity points in every season. This year it's happening early. We need to hold our poise a little better offensively," Rodgers said. 
Part of Rodgers' chief concerns over the first few weeks has been the sideline controversies that have arisen during the last few games. In Sunday's 15-10 loss to the Patriots, Garrett Wilson seemed to argue with offensive coordinator Nathaniel Hackett. Also, Michael Carter had to be pulled away from running back coach Taylor Embree later in the game.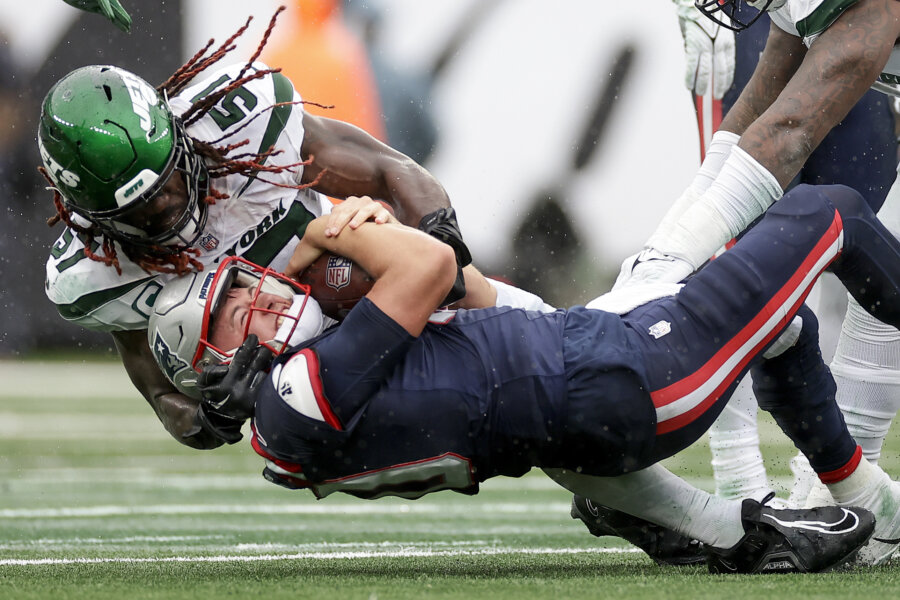 Both instances were chalked up as "passionate conversations" by Jets head coach Robert Saleh, but it's unacceptable to their quarterback recovering from a Torn Achilles.
"We need to hold our poise on offense a little better. We need to not have some of those things happen on the sideline, to be better competitors. We need to understand that this is part of it. The most important thing is winning," Rodgers explained. "There's been too many side conversations and we just need to grow up a little bit on offense and lock in, not point fingers at anyone, just get back to work and get the job done."
New York's expected starting quarterback was lost for the season four plays into his season debut with Gang Green. He's expected to make a full recovery and be ready for 2024, with the caveat he could return to the organization soon. 
In his absence, the Jets have been unable to show the level-headedness that Rodgers has been looking for. The fanbase has called for the job of head coach, general manager, and quarterback now for multiple weeks. Hall-of-Fame quarterback Joe Namath has been the latest name added to the angry mob looking for changes. 
On Monday, Namath went on the Michael Kay show to voice his displeasure with the organization. Those comments, in Rodgers' mind, do nothing to help the current team prepare to win.
"We need to stick together through the hard times," Rodgers said. "That goes for our fanbase and former players as well. You're not helping the cause."
The Jets (1-2) face off against the defending Super Bowl champion Chiefs on Sunday Night Football this week. As the fanbase continues to be frustrated over the lack of success on the offensive side, their expected starting quarterback this season is making sure that everyone takes a breather.
New York has struggled through three games. There are still 14 more to go to turn this slide around in his eyes. 
For more New York Jets news, turn to AMNY.com