A change at quarterback has come for the New York Jets and it's up to the coaching staff and roster to pick up the pieces.
Head coach Robert Saleh's decision to bench Zach Wilson for Tim Boyle during the Jets 32-6 loss to the Buffalo Bills was a long time coming for most fans and analysts. New York possesses the worst third-down conversion rate in NFL history and are at the bottom of most offensive categories. 
To the head coach, it was more than ready for a change to get a spark in an otherwise lifeless unit.
"He's (Wilson) come a long way from a year ago," Saleh said of the former second overall pick on Monday. "I think we all agree, we wish it was better, obviously we wish it was better for him, we wish we could have all been better for him. It's like I've said, it's not a one person thing, but just to see if we can get something going, but he was okay."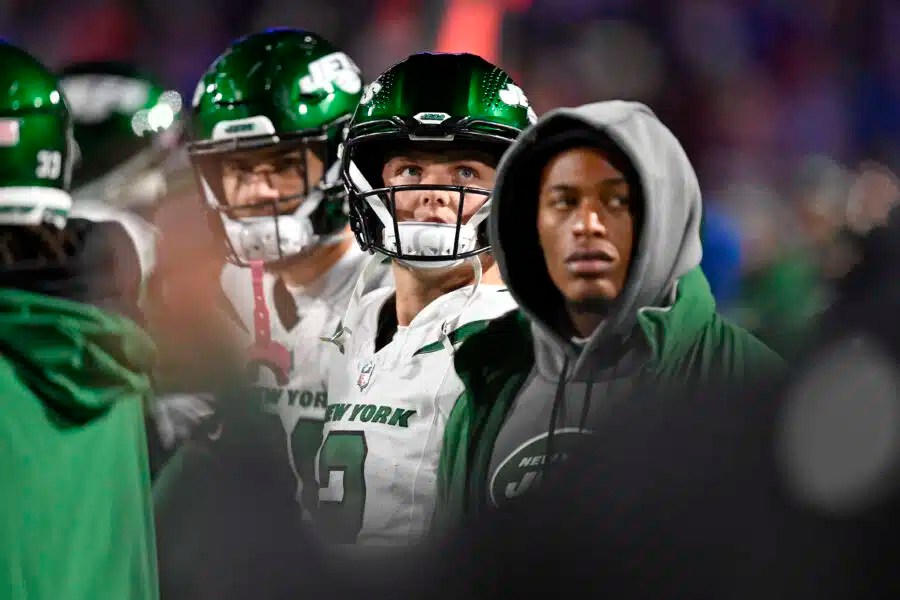 New York's head coach later announced that while Boyle would start on Friday against Miami, it would be Trevor Siemian backing up him. Wilson would be the third quarterback on gameday. 
While he did not make a comment on whether or not Wilson had played his last down as a member of the Jets, Saleh wouldn't go so far as to call the former first-round pick a bust in the three years he's been the quarterback.
"Have things gone exactly the way we wanted them to, no, but I wouldn't look at it as a failure," Saleh explained. "I'd look at it more as a series of unfortunate events, but I stand strong in the belief that Zach Wilson is going to have a really good career in this league. He's got tremendous work ethic, he's gotten a lot better over the course of the last year, he definitely has the arm talent. He's only just turned 24."
Despite Saleh's defense of Wilson, it's hard to judge the former BYU-standout on any other grade other than amongst the top busts in NFL history. New York took Wilson and chose to start him immediately with a rookie coach, play-caller, and young offense. Through the three seasons he's been at quarterback, Wilson has completed less than 60% of his passes and more interceptions than touchdowns. 
Those numbers are on par more with the likes of Jamarcus Russell and Ryan Leaf than other middling high-profile quarterbacks. 
The Jets aren't absolved from their part to play in Wilson's benching either. Instead of sitting him behind a veteran, or pairing him with a veteran play-caller, Gang Green threw him out onto the field in his rookie season. The wheels came off rather quickly following that.
Hindsight may be 20/20, but it's a fact that even Saleh understands was a mistake from the beginning. 
"He's never had an opportunity to watch someone to play the position," Saleh stated. "This year was his opportunity and four plays in he had to start. You can always play the hindsight game but we felt we made the right decision for this team."
Saleh's theme of moving past hindsight was evident later when speaking to reporters regarding what went behind the Wilson selection in 2021, and if the team regretted how he was brought up. The Jets head coach stated that his thoughts have been shared with general manager Joe Douglas while also emphasizing that the team was focused on moving forward to their upcoming matchup with the Dolphins. 
As the Jets head coach has stated, the series of unfortunate events has continued for a team that had playoff and championship aspirations coming into the new season with Aaron Rodgers at the helm. Now, for the fourth time in five seasons and second straight year, New York is about to start their third quarterback in a single year.
Aaron Rodgers isn't walking through that door to save the team either. 
Instead, the Jets are picking up the pieces of an offense that can't score and is looking at even more changes to solve them. 
Injury Notes
Injuries have been a central theme to the Jets 2023 season and they went through a few in Buffalo. Mekhi Becton suffered an ankle injury and left the game for rookie Carter Warren on Sunday. Despite previous reports that Becton suffered an ankle sprain, Saleh explained that further testing was being done.
Michael Carter II's absence on gameday was also due to a hamstring injury he suffered in practice.
In the case of Duane Brown, the Jets have until Thursday to activate him from IR or he would be lost for the year. Saleh did not give an indication if or when Brown would be called back up. 
For more New York Jets news, turn to AMNY.com