It's not just the fans that are concerned with the offensive line struggles for the New York Jets. 
"My optimistic side will say we have time. Duane (Brown) is coming back, there's still a lot of pieces…" Jets head coach Robert Saleh said Thursday. "Keith (Carter) has a different style to the way he coaches and his technique, so there's a learning curve, so that part of it, I have empathy for and understanding that it is going to take some time for them, but yeah I'm a coach, I always wanted it yesterday."
Saleh may be staying patient through the early days of August, but there's no denying the last few weeks have been a struggle for the Jets offensive line. Current starters Max Mitchell and Billy Turner have been beaten consistently both against New York's defensive line and Carolina's. Even Mekhi Becton has had issues staying on the field as he comes back from a two-year injury hiatus.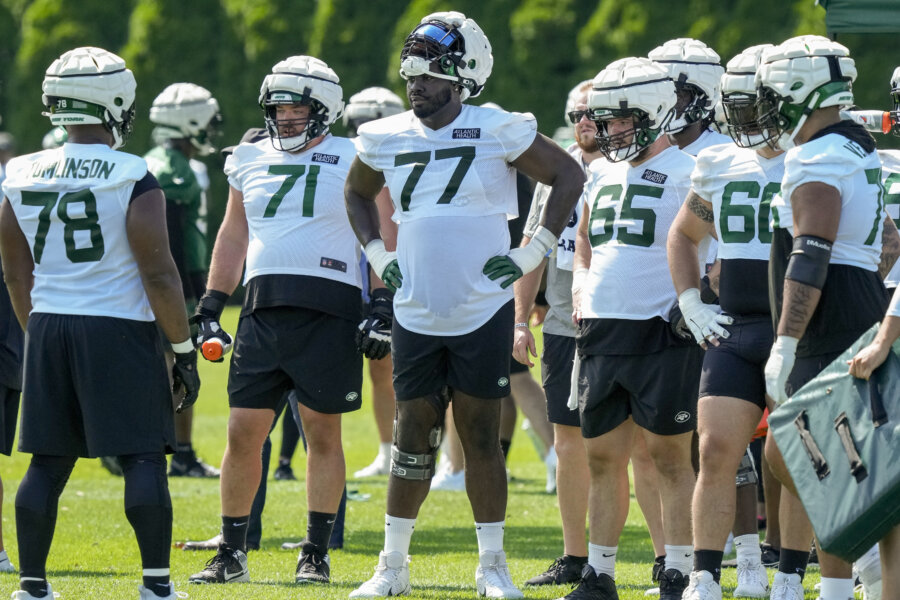 With so many questions surrounding the two starting tackle roles, potential solutions from acquiring a top lineman, to moving a current player to a new position have been broached to the front office. 
Even Saleh understands that there are plenty of cards the team can play to solve their tackle woes. 
"We're going to play our best five and if that's how one of them shake-up, that's something we're going to have to talk about," Saleh explained. 
The most obvious potential she-up could be moving Alijah Vera-Tucker to tackle instead of his natural position at guard. AVT has been a bright spot in an inconsistent offensive line group over the last few years but showed he is more than capable of playing the new position. 
In 2022, the Jets were decimated along the line and counted on AVT to play multiple positions on the line before suffering a torn triceps injury halfway through the year. His versatility makes him not just a swiss-army knife along the line, but an important part in the health of the offense. 
"You all know me," AVT told reporters on Thursday. "I'm going to play wherever the team needs me to play, where they think I fit best. Guard or tackle, I'm going to go out there and do my thing. Right now everything is pretty set, but like last year things can change in a heartbeat."
Vera-Tucker is the obvious choice to move to tackle if Turner, Becton, Mitchell, and Brown aren't ready to go at a high level. That would in turn move Connor McGovern to the guard position and Joe Tippmann to center. It could certainly be a solution to using their five best offensive linemen together, even if the depth would be tested throughout. 
Saleh may be confident that there are potential solutions to the Jets' offensive line problems, but as the days come and go, New York has a glaring hole on their championship-caliber roster heading into Week One. If those solutions aren't found soon, the Jets' high expectations could turn into a nightmare before the season even truly begins. 
For more New York Jets news, turn to AMNY.com