On your mark, get set, run! The TCS New York City Marathon is returning to the Five Boroughs this weekend.
On Sunday, Nov. 5, tens of thousands of racers will lace up their running shoes and pace their way through each borough of New York City. 
Like always, the race will kick off on Staten Island, with runners heading over the Verrazzano-Narrows Bridge into the rest of the Big Apple. The race will begin in phases for professional runners, wheelchair athletes and all other participants. 
The runners will then follow the course through Brooklyn and Queens, then into Manhattan, looping up to the Bronx and then back down to Manhattan, finishing up near Tavern on the Green in Central Park.
Last year's marathon saw 47,839 participants from 131 countries around the world make the 26.2-mile trek through the five boroughs, according to the New York Road Runners. The average runner completed their journey in a time of 4 hours, 50 minutes and 26 seconds.
The men's and women's professional divisions in last year's race were won, respectively, by Kenyans Evans Chebet (final time: 2 hours, 8 minutes, 41 seconds) and Sharon Lokedi (final time: 2 hours, 23 minutes, 23 seconds).
Click here to see the full view entire route map of this year's race.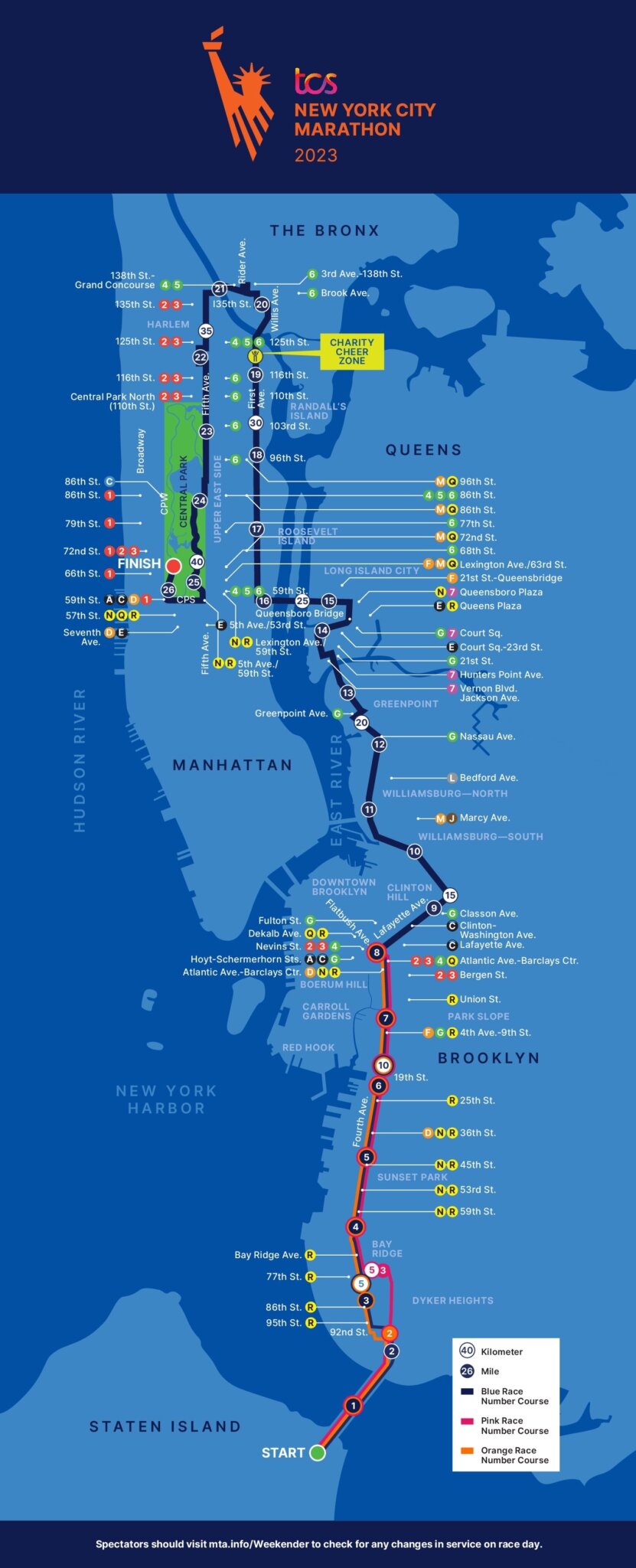 Travel changes
Vehicular traffic will be closed where the race is taking place. After the last runners make it through a section of the course, a sweep bus will roll through, allowing those who wish to not finish the race to be picked up and dropped at the post-finish area.
Once the street sweepers pass, the streets will reopen to traffic.
There will be changes to public transit throughout the day. Be sure to check out mta.info before leaving for your destination.
For a full list of road closures, click here.
Where to watch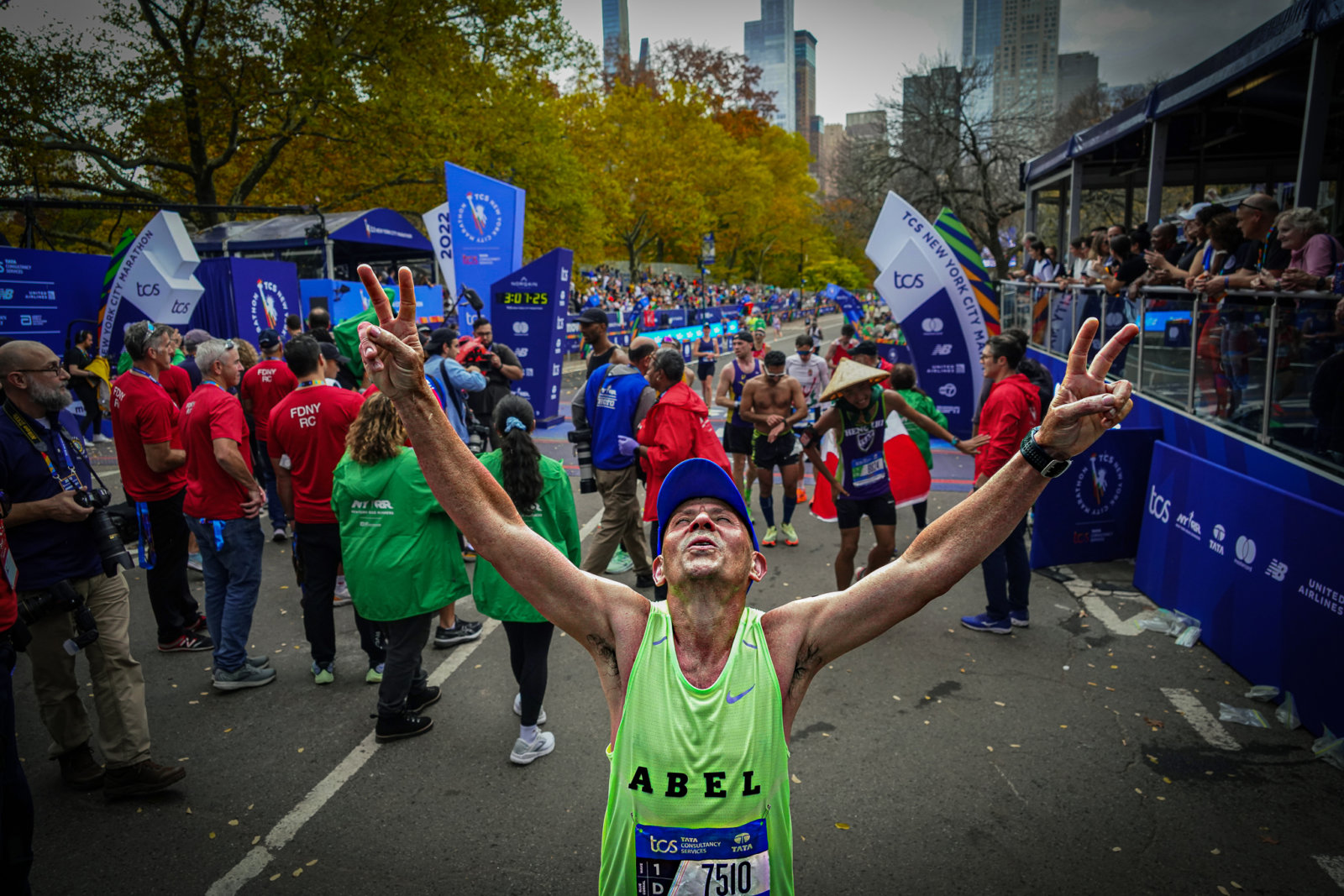 The race often brings out thousands of spectators, with viewing being free and open to the public from mile 3 to mile 26. For free viewing with a good view of the race, the New York Road Runners recommend the following areas:
Fourth Avenue, Brooklyn (Miles 2-4) Subway: R
Fourth Avenue and Flatbush Avenue (Mile 8)  Subway: B, D, N, Q, R, 2, 3, 4, 5
Williamsburg and Greenpoint, Brooklyn (Miles 10-13) Subway: G, L, M, J
Pulaski Bridge (Halfway point – Mile 13.1) Subway: 7, G, E
First Avenue, Manhattan (Miles 16-18) Subway: N, Q, R, 4, 5, 6, F
East Harlem (Miles 18-20) Subway: 6
Charity Cheer Zone, First Avenue and 120th Street (Miles 19-20) Subway: 6
Fifth Avenue, East 90th Street-East 105th Street (Miles 23-24) Subway: Q, 4, 5, 6
United Airlines Zone: Columbus Circle. Subway: A, C, D, 1
There is also a ticketed Grandstand Seating at West 62nd Street and Broadway available for purchase via Eventbrite.com as well as a standing spectator area at Central Park from Columbus Circle to the south end of the grandstands.
If you would rather watch from home, you can catch the race on TV at WABC-TV, Channel 7 from 8 to 11:30 a.m., or for national coverage on ESPN2. The race will also be streamed via the ABC 7 New York App and ABC7NY.com as well as the ESPN App and ESPN.com.
Spectators can also download the TCS NYC Marathon App, allowing those watching to track runners, watch a live feed at key points in the course, and receive accurate, real-time data throughout the race. The app is available now on the App Store and Google Play.
For more information about the TCS New York City Marathon, visit nyrr.org/tcsnycmarathon.
Note: Daylight Savings Time ends early on Sunday morning; set your manual clocks back 1 hour. All times listed in this article are in Eastern standard time.