A Bronx City Councilmember has introduced legislation to crack down on the proliferation of "ghost cars" with phony license plates, hoping to prevent scofflaws from using the plates to drive recklessly and evade tolls and tickets.
Oswald Feliz, a Democrat representing the central Bronx, introduced two bills on Tuesday which would beef up fines for driving with phony or expired plates, and establish penalties for selling sham tags, which many Big Apple drivers use to essentially make their car untrackable and evade speed camera tickets and automated tolls.
Intro 987 — sponsored by Feliz, Selvena Brooks-Powers of Queens, Rafael Salamanca of the Bronx, and Keith Powers of Manhattan — declares it unlawful to drive a car with a fraudulent or expired license plate, including hard-to-trace "temporary" tags. Those caught driving with phony plates can face fines of $500 for their first violation and $1,000 for additional infractions; motoring around with an expired tag can net drivers a $300 fine on the first violation and $500 thereafter.
Intro 988 — sponsored by Feliz, Marjorie Velázquez of the Bronx, and Lincoln Restler of Brooklyn — goes after the unscrupulous used car dealers profiting considerably off a huge black market for phony tags, as revealed in a recent Streetsblog investigation. The bill amends existing laws prohibiting the sale of license plate concealment devices by banning the sale of fake tags; first-time violators face a $1,000 penalty and $2,000 fines for additional offenses.
At a press conference outside City Hall on Tuesday, Feliz said that fake plates are being used not only to drive recklessly, but also to commit other major crimes and escape without a trace.
"These paper plates are creating new problems, problems that we do not need in our communities," said Feliz. "We have traffic rules for a reason. We have rules related to parking, we have rules related to speeding to keep our drivers and our pedestrians safe. We also have rules related to red light camera violations. We have them for a reason, and we cannot allow people to easily evade these rules by simply printing or obtaining these paper license plates."
The Streetsblog investigation found that fake temporary tags can easily be obtained from shady car dealers in states like New Jersey and Georgia, where registered dealers can access state license plate databases, quickly print out temporary tags, and sell them for a pretty penny. Untold numbers of drivers in the Big Apple sport fake or expired paper tags bearing the New Jersey or Georgia state moniker.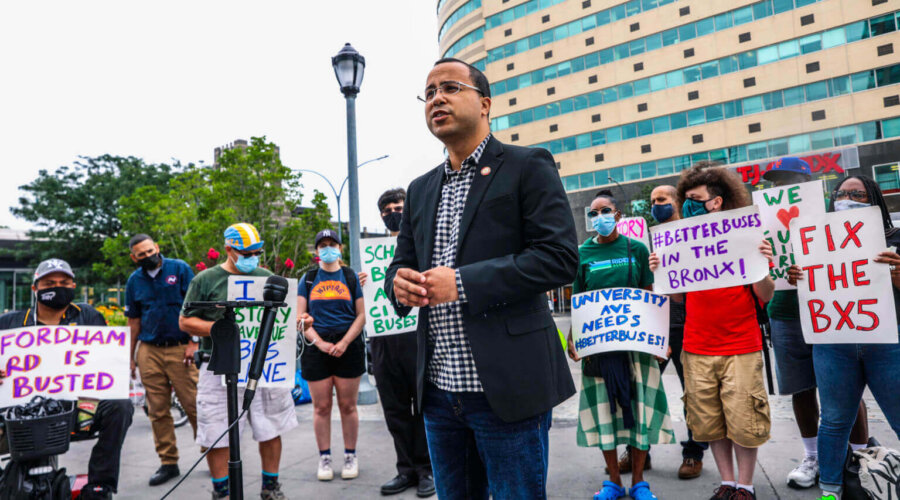 Millions of dollars of revenue owed to the city for traffic violations caught on camera are lost every year to drivers with fake plates, or who have purposely defaced their tags. Millions more dollars are lost in toll revenues owed to the city, Metropolitan Transportation Authority, and Port Authority that can't be charged to a car registration via automated cameras.
And of course, there's the human toll: drivers using temp tags have been responsible for numerous fatal hit-and-runs across the city in recent years, some killing children and many going unsolved.
On Tuesday, Mayor Eric Adams and NYPD officials unveiled new technology for use by the police that can shoot projectiles with GPS capabilities at cars in order to track them. Police highlighted ghost cars in particular as justification for the new tech, debuted alongside the Boston Dynamics "Digi-Dog" and some surveillance robots.
The NYPD's Chief of Patrol, John Chell, said the device — which resembles a yellow assault rifle — is a "game changer" for recovering ghost cars that are stolen or otherwise being used in the commission of crimes. That comes even as the NYPD faces criticism for doing little to enforce the law against license plate scofflaws; last year, the Department even arrested a lawyer for "criminal mischief" for removing a plate obstruction from a parked car in Brooklyn.
Feliz said more needs to be done beyond his legislation. He said that fake plates can easily be obtained on Craigslist, Facebook Marketplace, and eBay, and said those companies should be "detecting and removing those listings." He also said the new penalties can only go so far with other states maintaining lenient regulatory environments against the plates, calling on the feds to crack down nationally.
"Our goal is not to fine," said Feliz. "However, either printing a fake plate and then driving it, or selling a fake plate and making a profit out of it, that is egregious and our goal is to deter such fraudulent conduct."