Two separate Brooklyn hit-and-run collisions on Wednesday and Thursday left a pair of children hospitalized, and cops looking for the drivers responsible.
Police say a 9-year-old boy was struck by the operator of a motorized scooter on Harrison Avenue, near Rutledge Street, in Williamsburg at around 5:30 p.m. on Nov. 8.
EMTs took the child to Bellevue Hospital, where he was initially in critical condition, but is now reported to be stable. The driver of the scooter fled the scene.
Local City Council Member Lincoln Restler said on X, formerly known as Twitter, that the child was struck as he exited a school bus, describing it as a "horrible crash" but noting the boy is expected to be okay.
"It's critical to follow rules of road, especially around school buses, to keep children & all of us safe," said Restler.
About 15 hours later, though, another child was struck on a Flatbush street Thursday morning.
At about 8:20 a.m. on Nov. 9, a young girl, whose age wasn't immediately apparent, was struck by the driver of a car on Clarendon Road, near the intersection with East 48th Street.
The vehicle was still at the scene when police responded, but the driver had apparently fled on foot, according to an NYPD spokesperson. A pile of debris, possibly from a vehicle, could be seen at the side of the intersection late Thursday morning.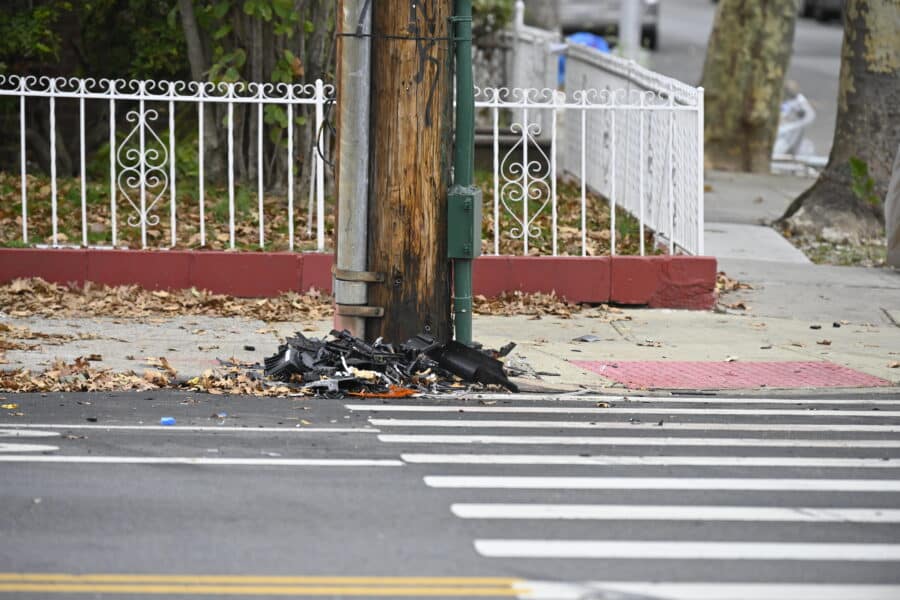 The girl was taken to Brookdale Hospital in critical but stable condition, the NYPD spokesperson said.
No arrests have been made in either case.
The collisions come about two weeks after 7-year-old Kamari Hughes was killed by the driver of an NYPD tow truck while crossing the street on a scooter in Fort Greene. The driver, Stephanie Sharp, was arrested in connection with the incident; witnesses said she did not initially stop after striking Hughes, only coming to a halt when bystanders flagged her down.
Crashes on city streets have claimed the lives of 213 people so far in 2023, down slightly from the numbers seen at this point in 2022, according to NYPD data. In Brooklyn, fatal crashes are down about 15% from last year.
Anyone with information regarding either hit-and-run case can call Crime Stoppers at 800-577-TIPS (for Spanish, dial 888-57-PISTA). You can also submit tips online at crimestoppers.nypdonline.org, or on X (the platform formerly known as Twitter) @NYPDTips. All calls and messages are kept confidential.
Additional reporting by Lloyd Mitchell