Metro-North's Hudson Line partially closed for more than 24 hours this weekend after a mudslide buried some of its tracks upstate, according to the MTA.
The weekend's heavy rain caused a cliff adjacent to the Hudson Line, behind a residential backyard in Briarcliff Manor in Westchester County, to collapse onto the tracks Saturday morning, leaving trees, brush, and a massive amount of dirt and mud blocking all four of the line's tracks.
In addition to Metro-North, the Hudson Line is used by Amtrak's Empire Corridor between New York City and Albany. Crews were still working to clear the tracks on Sunday, with service suspended between Tarrytown and Croton-Harmon.
Service between Grand Central and Tarrytown, and Poughkeepsie and Croton-Harmon, was running on a limited hourly basis on Sunday. Limited shuttle bus service was also running between Tarrytown and Croton-Harmon; Hudson Line customers were encouraged to take the Harlem Line instead if possible.
No injuries were reported from the mudslide, Gov. Kathy Hochul said on Saturday.
On Sunday afternoon, the governor said service would be mostly restored on the line for the Monday morning rush hour, with just 4 of 158 trains canceled and service operating on just 2 of the 4 tracks. Crews still need to repair 140 feet of crushed third rail, which powers trains, and clear mud and debris from the two inoperable tracks.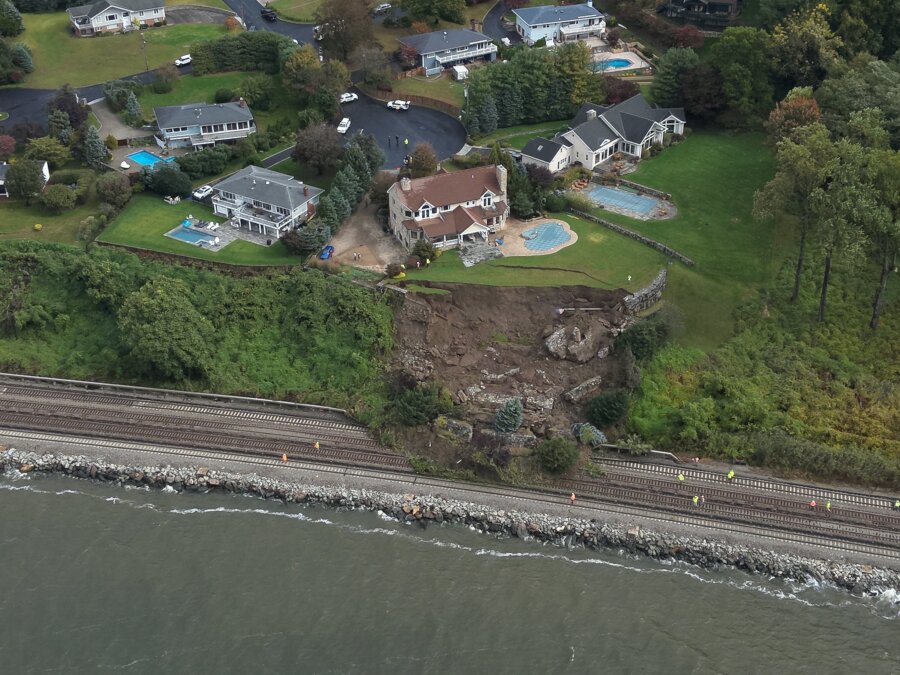 "Hundreds of thousands of commuters will be able to use Metro-North to commute to work Monday morning," said Hochul. "Before heading out the door, New Yorkers should check the MTA website for up-to-date service information to ensure their commute is as seamless as possible."
The Hudson Line, located directly adjacent to the Hudson River, is considered highly vulnerable to climate change, and already closed for several days this summer after the tracks were engulfed in water and debris during a severe and deadly flood.
More than half of the Hudson Line is already considered "vulnerable" to coastal storm surges today, with more of the line expected to meet that definition over the next two decades, according to the MTA's recent 20-year needs assessment. The MTA says climate change poses an "existential threat" to the line, which transports 10 million passengers annually.
The MTA upgraded the line's electrical systems and signals after it flooded during Superstorm Sandy in 2012, but storms of that magnitude are only expected to become more common while even more destructive ones befall the tri-state area.
In the needs assessment, the agency said it plans to rehabilitate the line's undergirding structures, shore up "erosion hot spots," and improve drainage in the near term "where feasible." In the longer term, parts of the line could be raised while others are "floodproofed" to mitigate the risk of water incursion.
This story was updated to reflect that service would be mostly restored for the Monday morning rush hour.