The MTA on Wednesday voted to hike subway and bus fares to $2.90, the first increase in the base price in nearly a decade.
The 15-cent fare hike, which was approved by the agency's board, is set to go into effect on Aug. 20, and also applies to Access-a-Ride. The fare for a single ride has stood at $2.75 since 2015, while weekly and monthly unlimited prices were last raised in 2019.
Weekly unlimited fares will go up from $33 to $34, while monthly unlimited passes will go up from $127 to $132. A single-ride ticket will increase from $3 to $3.25, while half-price base fares will go from $1.35 to $1.45.
Fares are also going up on express buses, from $6.75 to $7, while weekly express bus passes will swell from $62 to $64.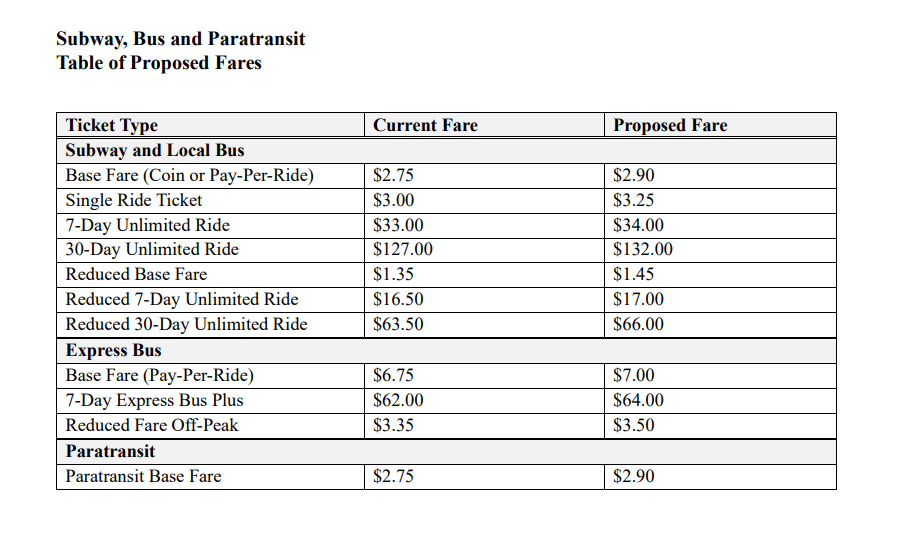 The MTA is also raising fares on the Long Island Rail Road and Metro-North, with fare revenue set to increase overall by an average of 5.5%.  Unlike subway and bus fares, commuter rail prices change based on distance.
Tolls on the MTA's bridges and tunnels will go up an average of 6% for E-Z Pass and 10% for tolls sent to drivers' homes in the mail, effective on Aug. 6. E-Z Pass tolls on most MTA crossings will increase from $6.55 to $6.94 while mailed tolls will bump from $10.17 to $11.19.
The increases were stipulated in this year's state budget, which called for a 4% jump in the MTA's fare revenue as part of a financial rescue package for the authority. MTA Chair and CEO Janno Lieber acknowledged Wednesday the difficulty in asking riders to pay more, but said the move was a necessary component of forestalling financial calamity at the authority.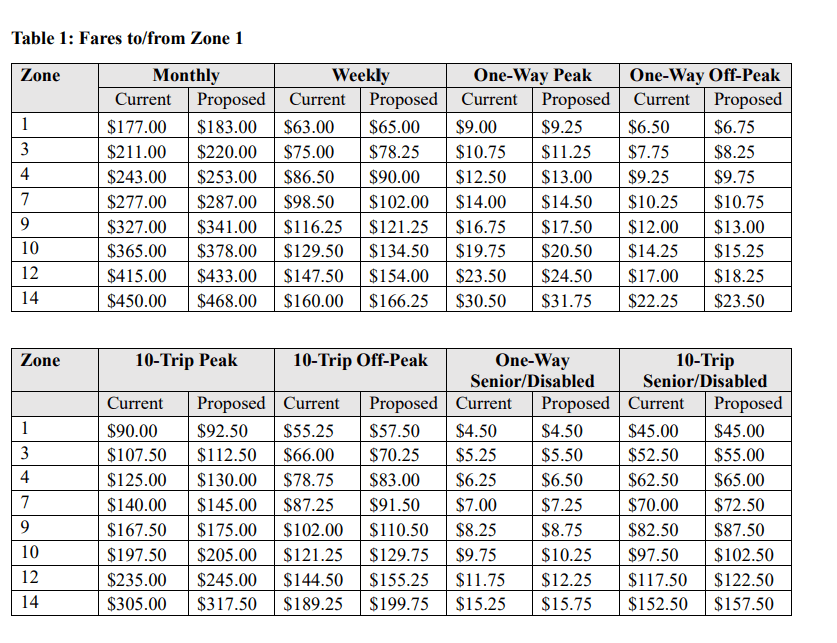 "We're making good on this last brick in this amazing edifice that is the restoration of the MTA's financial stability. It is an important moment," Lieber said. "It's not without its downsides, because any time you're asking people to pay a little more, you know that has consequences.
"But for everybody who depends on this transit system…if it had been allowed to go bankrupt, we'd be talking about something very different, in terms of fare increases and service cuts and layoffs," Lieber continued.
Last year, State Comptroller Tom DiNapoli estimated that without government intervention, the agency would potentially have to raise fares to $3.50. The MTA Board's finance chair, Neal Zuckerman, said the approved fare increase was "modest" in comparison to what otherwise could've occurred.
"This is not a fare hike," said Zuckerman. "A hike is something like double digits, this is no hike."
The MTA now projects a balanced budget through 2027, likely forestalling talk of service cuts or layoffs, though it could face large deficits at the end of the decade.
The agency is again set to raise fares by 4% in 2025, which would bring the price of a subway or bus ride above $3 for the first time. Going forward, the MTA intends to resume a schedule of fare increases every two years, which was interrupted by the pandemic.
Along with the fare hikes, the MTA is amending some of its discount programs. The agency is expanding its CityTicket program for LIRR and Metro-North trips within the city, with peak trips now covered with a $7 ticket in addition to the $5 off-peak fare, though that also means the elimination of the $5 Atlantic Ticket on the LIRR, which also includes a free subway transfer.
Fare-capping on OMNY after 12 trips per week is also being modified: free trips will be available after a dozen rides in any seven-day period, not just Monday through Sunday.
Still, the pains of inflation over the course of the pandemic era means some riders worry the fare hike will hit them hard.
"I have to make a few small sacrifices, cut back on some stuff, probably go to the food pantry. It will be tough, I don't think it's a good idea," said Ursula Chicot, a postal worker from Brooklyn, at the Bowling Green station Wednesday morning. "They can't really take it on us, because our pay is the same."
The recently-passed city budget slightly bumps up the income eligibility for Fair Fares, the half-priced MetroCard benefit for low-income New Yorkers, though the increase was less than that sought by MTA honchos and the City Council.
The state budget, meanwhile, included a provision requiring the MTA to run a pilot program for free bus service; on Monday, the agency announced the five bus lanes, one in each borough, that will helm the experiment, which will launch in September.