The MTA has recorded its billionth rider on the subway for 2023, the second year in a row the system has surpassed ten-digit ridership in the post-COVID era.
New Jersey resident Brian Jones was the lucky billionth rider, using OMNY to tap into the A train station at 175th Street in Washington Heights on his way to work, after arriving by bus at the George Washington Bridge bus terminal.
"Didn't wake up knowing I'd be the one billionth customer," said Jones. "But life is full of surprises and this is one of them."
For his achievement, Jones was rewarded with a $100 OMNY gift card, an OMNY-branded T-shirt, and a subway map-themed glasses cleaner.
The milestone came six weeks earlier than it did last year, demonstrating the continued post-COVID influx of riders back to the system.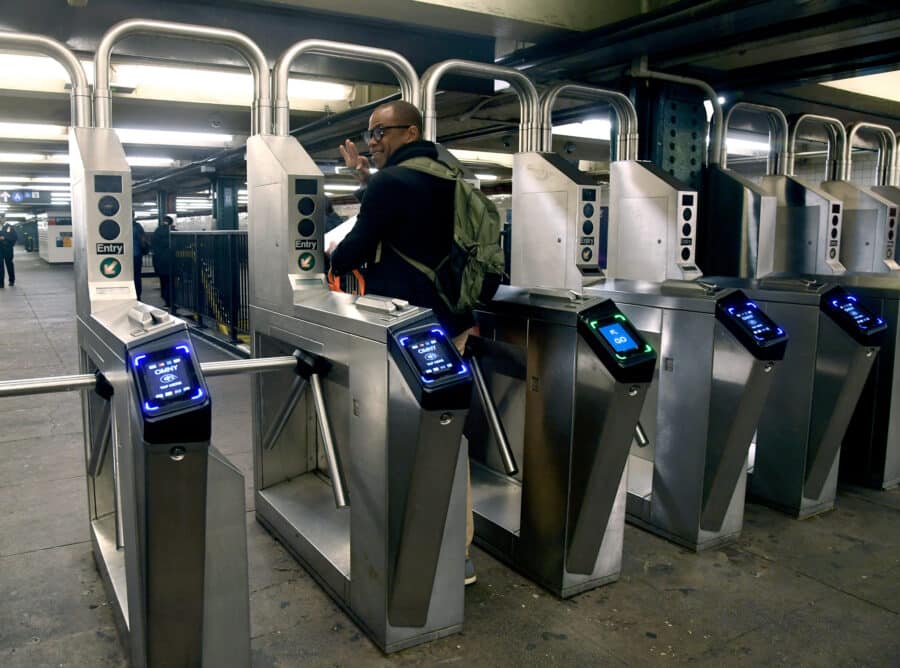 "It's a milestone that we reached in late December last year," said MTA NYC Transit president Rich Davey. "Almost six weeks earlier today because customers are coming back."
MTA ridership declined massively at the onset of the COVID-19 pandemic in 2020, as New Yorkers were instructed to stay home if possible. But while ridership has increased since then, it's still well below pre-pandemic norms as more and more people permanently settle into working from home or hybrid working.
An average of 5.5 million people rode the subway each day in 2019, a number that has not been seen again since the pandemic started, though the system has regularly surpassed 4 million day riders this year.
Daily ridership on the subway is typically about 70% of what it was on a comparable pre-pandemic day, according to MTA ridership data. Ridership is closer to pre-pandemic levels at off-peak hours, like at night, midday, and on weekends, and is adjusting service accordingly.
The MTA also insists the real number of riders is actually much higher due to an increasing number of people skipping the fare, and are still holding out hope that the subway can return to its previous splendor.
"We're looking forward to 2024 and new ridership records that we hope to break," said Shanifah Rieara, the MTA's chief customer officer. "And we really hope to get back to 5 million riders each day."