A Chelsea exhibition by local artist Judi Harvest explores the world of bees, including their important role in pollinating plants for the global food supply, the ongoing issue of their disappearance in large numbers, and raising awareness of the need for their preservation.
"SEED" opened in early February at David Krut Projects, at 526 West 26 St. The exhibition includes oil paintings and sculptures that were made with expert glassmakers in Italy.
Judi Harvest is a Chelsea resident who has been fascinated with bees since colony collapse disorder, and the importance of bees in the ecosystem, gained more attention in the mid-2000s.
Harvest also spends time in Venice, where she has had many shows over the years, and in 2013 she realized a parallel with bees and the struggles of the glass blower industry in Murano, an island of Venice.
Handmade glassmaking has declined in Murano do to imports of mass produced items, Harvest noted, and a factory there was losing most of its jobs. "Wow, this is the same thing happening to the bees," Harvest recalls saying at the time.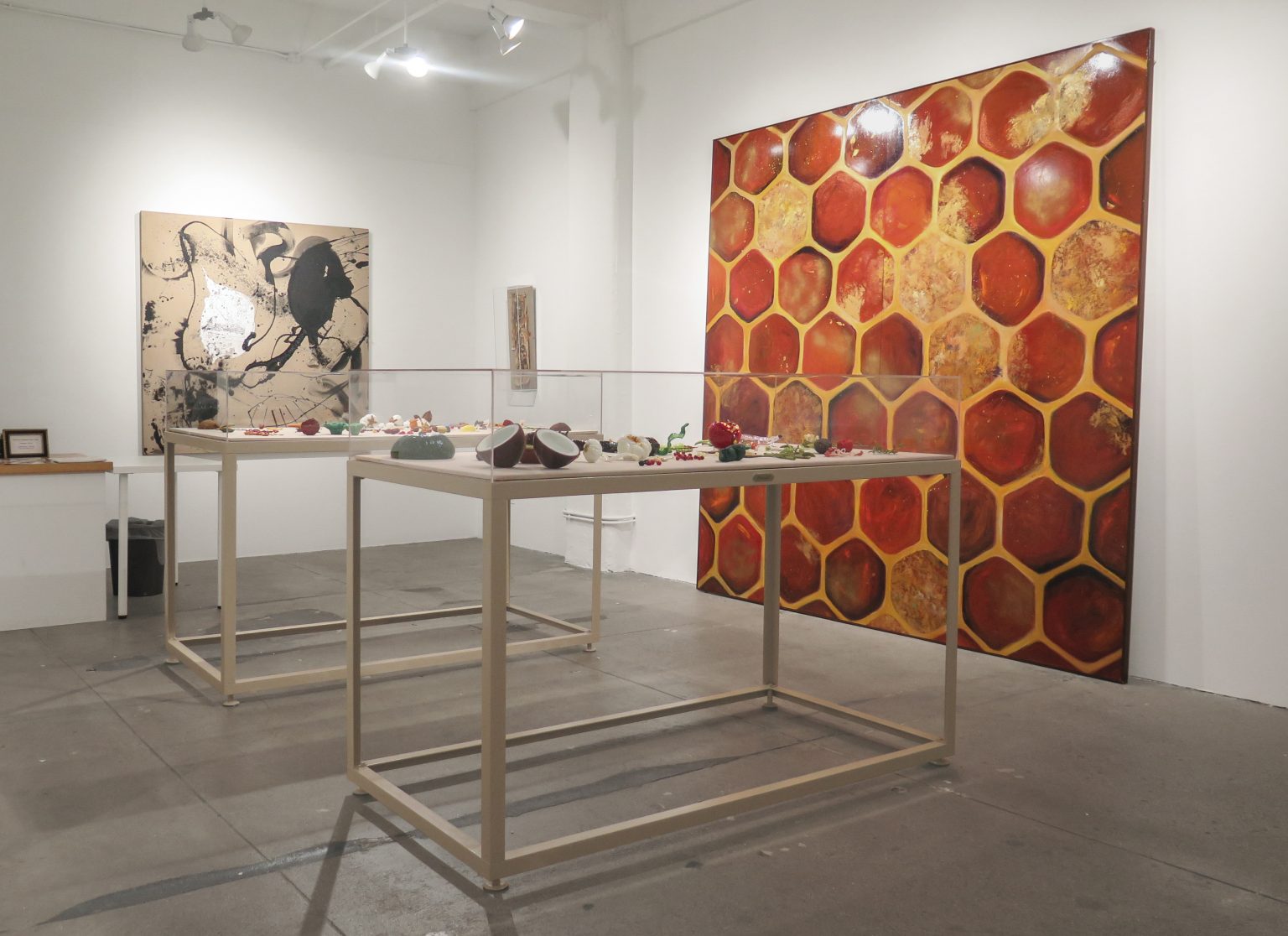 She conceived of the exhibition as a way to bring attention to nature and the factory, working with Murano glassblowers to create sculptures of bees, honeycombs, fruits and seeds of all types. "This project was amazing and really worked," she said.
The project also included making glass jars into honeycomb shapes, using hexagonal chicken wire to form the glass. Buyers of the jars also get honey with it, which comes from bee colonies Harvest has set up, and which are replenished every year.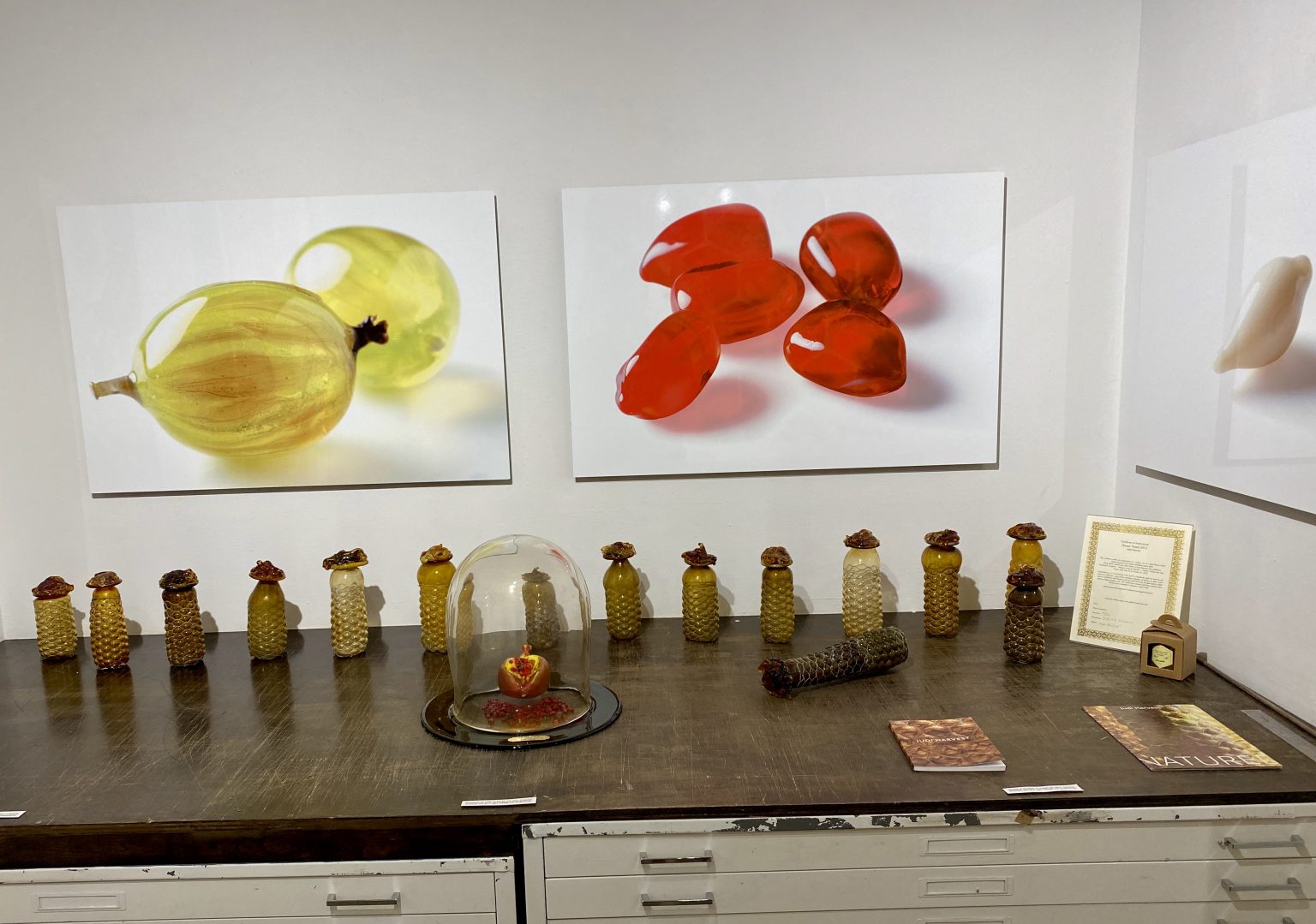 The exhibition first ran in Venice, then went to Miami. The objects were then brought to Harvest's Chelsea studio, which is down the hall from David Krut Projects. In a happy accident, people from the gallery noticed the artworks and that led to the show, Harvest noted.
Harvest had several hives on the roof of the Chelsea building, but the bees' health started to decline, especially after the nearby Hudson Yards development was built, Harvest said, and they went back to a home in Connecticut. "I really miss them," Harvest said of the bees, who she would talk to, and sold some of the honey at Union Square.
The glass objects in the exhibition have three sections: Past, Present and Future. Past and Present are based on items from the garden Harvest started just next to the Murano glass factory, an ongoing project since 2013.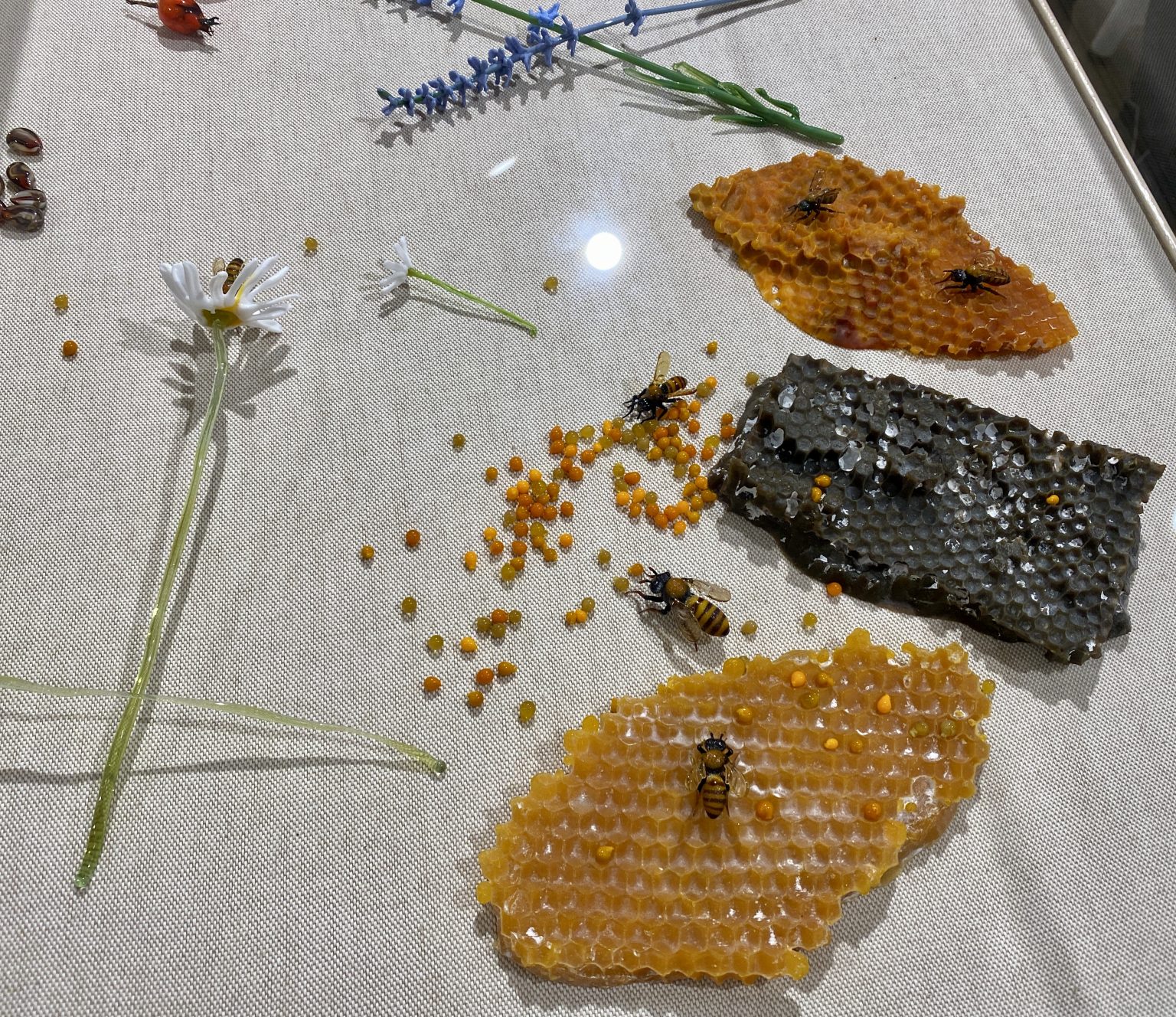 The Past sections includes various types of plants, seeds and honeycombs. Present includes fruits and vegetables, but Harvest says they are also a comment on our current food industries, because beneath the colorful surfaces, there may be chemicals or pesticides in food. "Who knows if everything we're eating that's organic is really organic, which is what this Present case is about," Harvest said.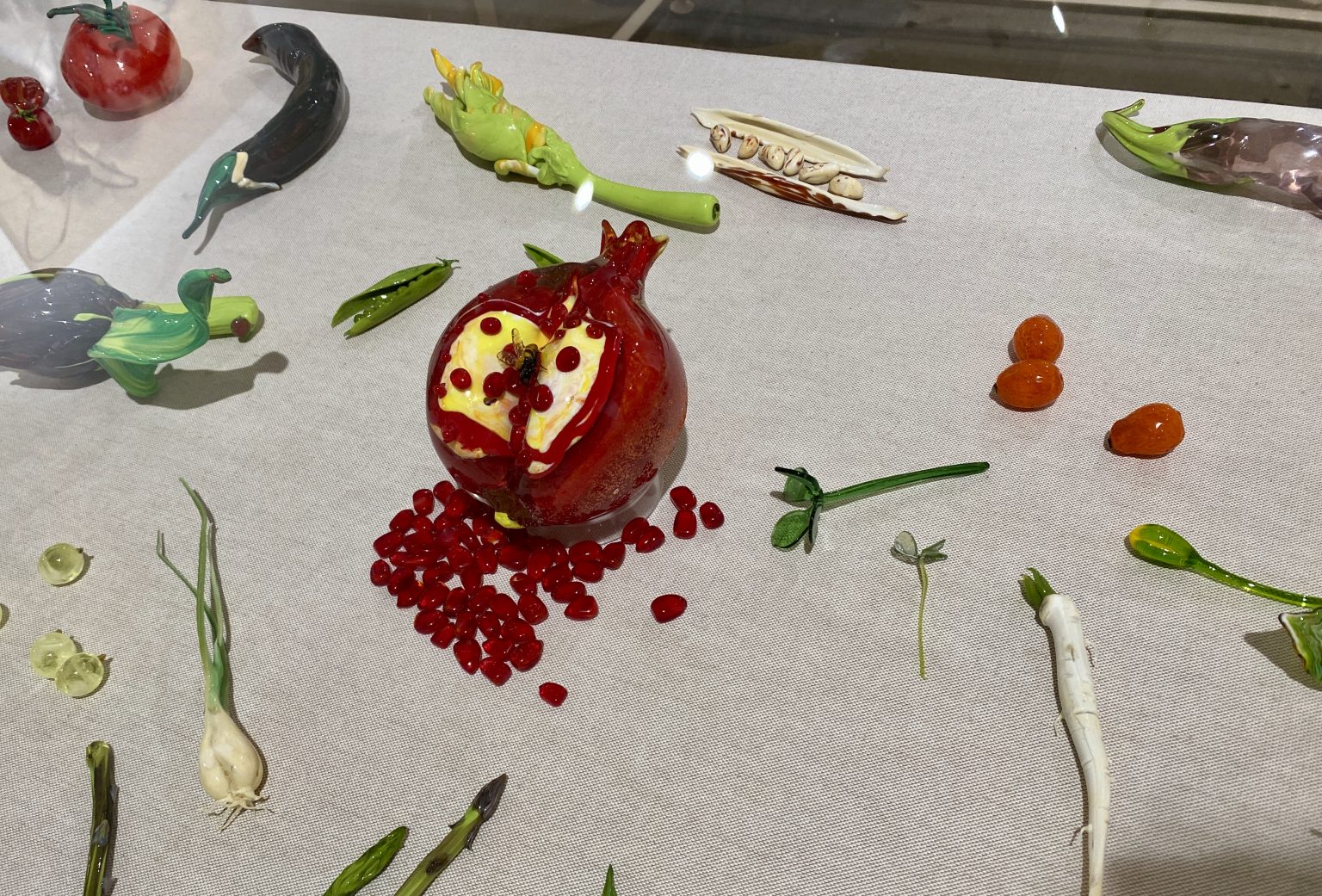 The Future section features clear, "frozen" versions of plants and seeds, and came from Harvest's interest in a seed bank in Norway which stores over 850,000 types of seeds. "People have to protect seeds, because if they don't this whole natural balance we have will be gone," Harvest said.
Oil paintings in the exhibition includes a look at honeycombs in different seasons, and homages to the waggle dance, used by bees to communicate important information like the location of flowers and water.
Harvest's love for animals has gone into her work beyond just bees. In 2001, she did a show based on rhinos and particularly their endangerment because of the market for their horns. She also used glass in her rhino show, along with making glass pillows for a show about dreams.
Harvest said there is a magical quality to working with glass, and one that relates to environmental issues. "The essence of glass is fragility, and the medium is the message," she said.
Her next show will include bats and their pollination of plants at night, to complement bees in the daytime. "I think this exhibition is just the perfect link into that," Harvest said of the upcoming bat show.
Harvest said there were parallels with bees and the teamwork with glass makers that it took to make the bee project happen.
"One honeybee alone can't accomplish anything, one artist now can't accomplish anything. It takes a team," she said. "I love to have something that's meaningful and brings awareness when I do my work."
More information about the exhibit can be found at davidkrut.com.