The citywide 7-day positivity rate for COVID-19 infections grew to 5.79% on Friday, April 22 — a number that previously would have caused new restrictions in New York City, but hasn't triggered nearly the same level of concern now.
That's because hospitalizations and deaths connected to COVID-19 remain stably low, according to the latest data from the city's Department of Health and Mental Hygiene. While the city saw 2,310 new COVID-19 cases detected on April 19 alone, just three people were hospitalized for COVID-19 symptoms that same day. 
No COVID-related deaths were recorded on April 19, or April 18, for that matter. According to the city's Health Department latest data, the most recent COVID-related death occurred on April 17. 
The low hospitalization and death rates have kept the city's Health Department alert status at "low" even with a higher number of COVID-19 infections reported across the city thanks to the highly-contagious BA.2 subvariant.
Manhattan continues to have the highest citywide transmission rate, at 311.84 cases per 100,000 residents — well above the citywide average of 186.02 cases per 100,000. Staten Island's transmission rate has grown higher in the last six days — from 182.51 back on April 19 to 200.99 on April 24.
Two Manhattan communities logged 200 or more new COVID-19 infections between April 13-19: Manhattan Valley/Morningside Heights/Upper West Side (10025, 252 cases, 7.86% 7-day positivity) and Lincoln Square (10023, 233 new cases, 12.25% positivity rate).
Six other Manhattan neighborhoods had 150 or more new infections during the same period: Upper West Side (10024, 164 cases, 9.92% positivity rate); East Village/Gramercy/Greenwich Village (10003, 161 cases, 10.34% positivity rate); Chinatown/Lower East Side (10002, 158 new cases, 11.92% positivity rate); Kips Bay/Murray Hill/NoMad (10016, 156 new cases, 11.69% positivity rate); Upper East Side/Yorkville (10128, 155 new cases, 10.05% positivity rate); Hell's Kitchen/Midtown Manhattan (10019, 150 new cases, 9.55% positivity rate. 
Manhattan also has 12 of the 15 New York City neighborhoods with the highest 7-day positivity rate between April 13-19, with Lincoln Square's 12.96% having the second-highest rate overall.
Breezy Point, Queens lead the way with a 13.73% positivity rate, but just seven new cases were detected in the tiny seaside hamlet on the western tip of the Rockaway Peninsula.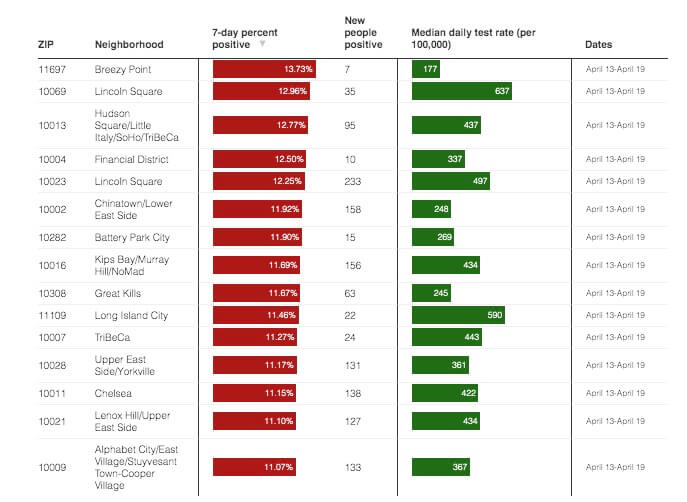 In another sign that the virus is still making the rounds across New York City, just Breezy Point and two Bronx neighborhoods were the lone areas of the Five Boroughs with fewer than 10 cases diagnosed between April 13-19.
The Bronx neighborhoods were City Island (10464, 6 new cases, 10% positivity rate) and Hunts Point (10474, 6 new cases, 3.82% positivity rate).
Nonetheless, the low hospitalization and death rates in New York City serve as further evidence that the vaccines and available antiviral treatments continue to prove effective at preventing severe COVID-19 infections, thus keeping the vast majority of New Yorkers out of the hospital.
Still, even a mild COVID-19 case can prove problematic for the infected long after the infection ends, according to the CDC. Health experts continue to recommend that vaccinated New Yorkers get a booster shot, but only 37.3% of the population has received an additional dose of the virus.
For information on where to get a booster shot, visit vaccinefinder.nyc.gov.