New York City is now in a state of emergency amid potentially historic flooding as Mother Nature delivers yet another September soaking to the Big Apple.
After enduring four straight days of rain and gloomy skies from the remnants of Tropical Storm Ophelia, the rain again began to fall in New York Thursday night, and only grew heavier overnight and into Friday. The National Weather Service indicated that parts of the five boroughs could see between 3 and 5 inches of rain from the event, with locally heavier amounts and flash flooding possible.
As of noon, Friday was the wettest day since Hurricane Ida in 2021. Parts of the city reported 6 or more inches of rain by midday, with more to come later.
Mayor Eric Adams told New Yorkers to remain alert and keep safe.
"I want to say to all New Yorkers, this is time for heightened alertness and extreme caution. If you are home, stay home. If you are at work or school, shelter in place for now," Adams said during a press briefing Friday morning.
"Some of our subways are flooded and its extremely difficult to move around the city," Adams added. "This is a time for caution, but it's also a time for community. Check on neighbors … Check on your friends, relatives, and especially those who are most vulnerable, such as the elderly and individuals with health conditions."
Conditions continue to deteriorate.
 

 

View this post on Instagram

 
The MTA reported limited subway and Metro-North service due to flooding.
Service as of noon was fully suspended on the B, G and W trains and the Franklin Avenue Shuttle. Meanwhile, the 1, 2, 3, 4, 5, 6, C, D, F, J, and L trains, and the Staten Island Railway, were experiencing partial service suspensions. In addition, the Q train was rerouted, while the rest of the system is experiencing delays.
The MTA advises residents to stay home if they do not need to travel. Visit MTA.info for updates on train service.
Meanwhile, as of noon, there was no Hudson, Harlem, or New Haven Metro-North service in either direction between Manhattan and the Bronx due to the storm.
The rain is also impacting air travel; the city's Emergency Management department reported that LaGuardia Airport's Terminal A has been closed due to severe weather, with passengers being transported to Terminal C. Sources with the Port Authority say the airport's fuel tank farm is being inundated with water. 
 

 

View this post on Instagram

 
The Port Authority, as of noon, reported that flights are still arriving and departing from both LaGuardia and John F Kennedy Airport.  However, there are 15 minutes delays on departures from JFK. The delays are expected to increase.
The rain, however, has had no impact on the AirTrain JFK at this time.
Gov. Kathy Hochul declared a state of emergency in New York City, the Hudson Valley and Long Island "in response to the significant, dangerous rainfall that is currently impacting the region, and is expected to continue for the next 20 hours." The declaration opens up additional state resources to help respond to the weather crisis.
The flood watch is in effect for the metropolitan area through 6 a.m. Saturday morning. A flash flood warning in place across Brooklyn and Queens was extended through 12:30 p.m. Friday as a particularly heavy band of rain rolls through the area.
10:10am: Torrential rain continues with widespread flooding in the NYC Metro and surrounding areas. Latest short-term models suggest this will continue for at least a few more hours. The situation could become dangerous in some areas with flash flooding continuing. pic.twitter.com/0vCP9Mu7ST

— New York Metro Weather (@nymetrowx) September 29, 2023
Residents in low-lying areas that are prone to flooding should take precautions to guard against property damage and be prepared to move if they become inundated with water. Administration officials have advised those living in basement apartments to be at the ready to evacuate to higher ground.
FDNY Commissioner Laura Kavanaugh, at a press briefing Friday, said there have not been any fatalities from the storm so far, but emergency workers have received several calls from people trapped in basements or their cars. Six people had been successfully rescued from flooded basement apartments as of noon, officials said.
Meanwhile, the city's Emergency Management department issued a travel advisory for Friday, urging New Yorkers to stay off the roads and use public transit. 
"Excessive runoff from heavy rainfall will cause flooding of urban areas, highways, streets and underpasses as well as other drainage areas and low-lying spots," the Emergency Management department posted of X, the platform formerly known as Twitter.
Several roadways are closed due to flooding. In Queens, all lanes on the Cross Island Parkway have been closed in both directions at Bell Boulevard in Bayside. The BQE closed in both directions at Queens Boulevard. Meanwhile, the Grand Central Parkway was closed at 86th Street Friday morning but has since reopened.
Parts of Brooklyn and Lower Manhattan are already experiencing severe flooding, with streets becoming small streams. 
Hochul noted that Brooklyn was being particularly hard hit.
"Brooklyn is seeing some of the heaviest impacts of this rainstorm — all Brooklynites should be extremely careful right now," Hochul said on X, the platform formerly known as Twitter, on Friday morning. 
Residents posted photos and videos of the storm on social media.
8am, street barricades are floating down Gowanus streets, 5th Ave in Park Slope is already a river, and we have a full day of rain ahead. Stay safe #brooklyndeluge #nyc #Ophelia pic.twitter.com/tSvR6Tcxu6

— Stephanie Riggs (@immersiveriggs) September 29, 2023
Public schools remain open and they have "safety plans" and personnel in place to handle the conditions, said Department of Education (DOE) Chancellor David Banks at a press conference morning.
Banks said about 150 of the city's 1,400 public schools have taken on some water, but "nothing has impacted the ability for us to safely educate our students in any of those schools."
The chancellor said P.S. 132 in Brooklyn had to be evacuated due to a smoking boiler. The students were moved to I.S. 78 three blocks away.
Some private schools have closed due to rain, such as Middle Village Prep and Christ the King High School in Queens.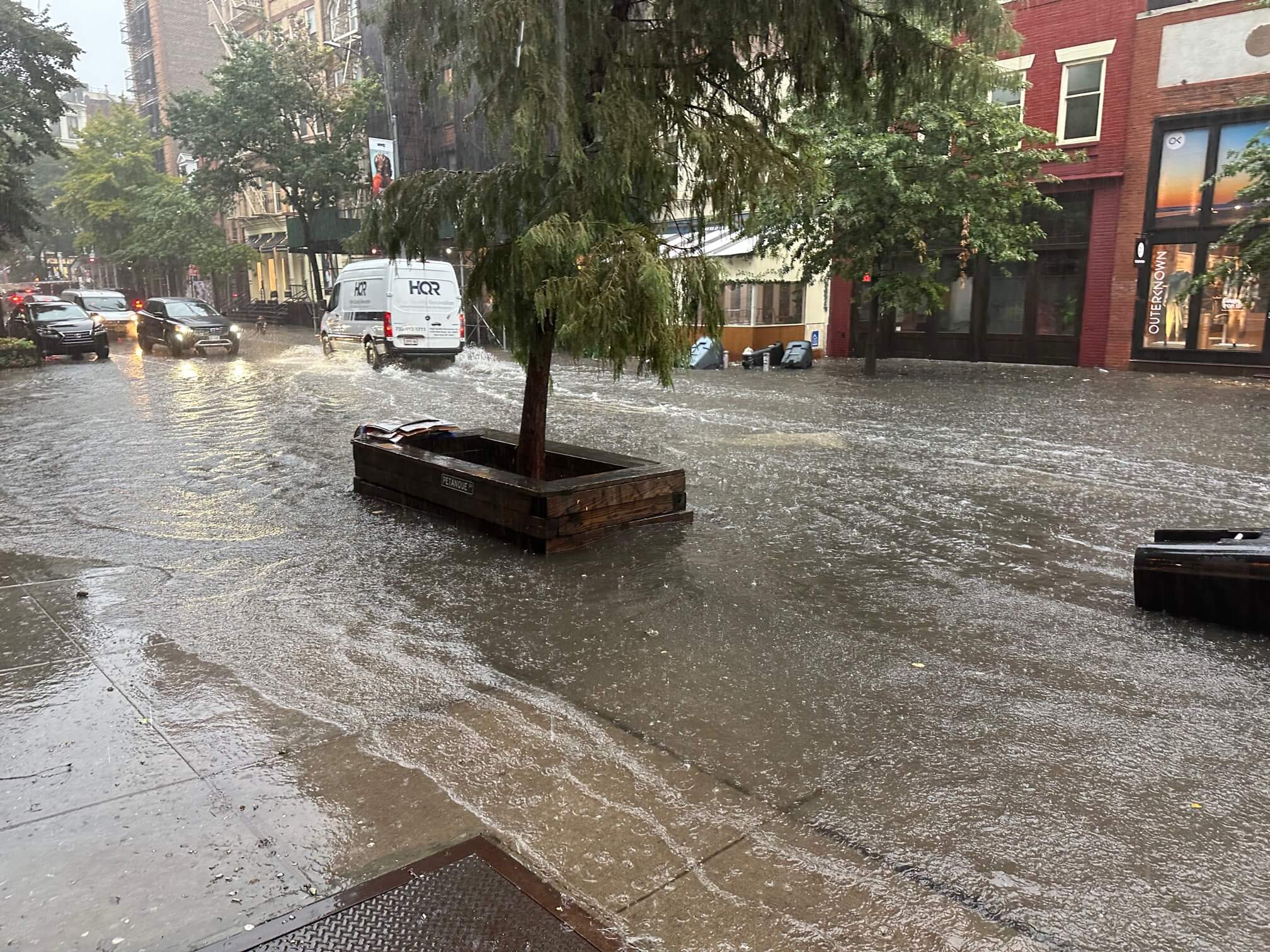 Portions of the Brooklyn-Queens Expressway in Astoria, Queens are also flooded out.
📍 The Brooklyn-Queens Expressway is completely underway.#NewYork #Flooding #ClimateChaos #ClimateCrisis

— Unframed Soulset (@unframedai) September 29, 2023
The MTA has activated its situation room to monitor weather conditions and address weather-related service issues. The authority says it has deployed crews to check "flood-prone locations, pre-staging equipment, keeping signals, switches, and third rails operating, and attending to any weather-related challenges."
If you are traveling outside today, allow yourself extra travel time and use caution. Avoid traveling into flooded roadways. 
The city's Department of Transportation announced that alternate-side parking is suspended Friday. The rules are also suspended Saturday for the Jewish observance of Succoth.
Maspeth #queens streets have turned into rivers, manhole covers are coming off, and basements are once again flooding. @1010WINS @wcbs880 #NYC #Flooding #flashflooding pic.twitter.com/jiYMBO49ko

— Samantha Liebman (@SamiLiebman) September 29, 2023
Traffic is a mess in Queens and across NYC as heavy rain comes pouring down.

We're seeing street ponding and flooding in several spots, including at this construction site on I-678 near JFK.

LIVE updates all morning on AccuWeather 📺 📲 💻 pic.twitter.com/RQQM2SJL0i

— Bill Wadell (@BillWadell) September 29, 2023
The National Weather Service forecasts heavy rain and the occasional thunderstorm throughout Friday, with temperatures rising into the mid-60s. Cloudy skies are expected to linger through Saturday, before finally giving way to sunshine on Sunday and temperatures that are expected to reach 75.
Updated on Sept. 29 at 8:30 a.m.
Some serious flooding in Brooklyn right now. #nyc #rain pic.twitter.com/ndG2S9Gu3v

— Jonathan Gardner (@thejongardner) September 29, 2023
Marcy Ave. & Flushing Ave. in Brooklyn. Streets are worse than Ida at 8:45 AM. #flashflood #flashflooding #flooding #flood #newyork #newyorkcity #nyc #brooklyn #rain #rainstorm #storm #downpoor #streetflooding pic.twitter.com/SMS37h7OVn

— Steve Kastenbaum (@SKastenbaum) September 29, 2023