A three-car pileup on the Long Island Expressway in Queens on Sunday left one man dead, three people injured, and an alleged drunk driver in custody — capping off a particularly deadly weekend on the city's streets.
At around 4:30 a.m. on Nov. 19, police say 24-year-old Reginald Nash, of Roosevelt in Nassau County, was driving his Honda Accord sedan eastbound on the LIE with four fellow passengers when he struck a crash barrier at Exit 17, near the Greenpoint Avenue overpass in Long Island City.
Police said the crash caused Nash's car to rotate clockwise, causing a Toyota Rav-4 driven by a 44-year-old man to crash into the Honda. The Toyota then crashed into a Kia Telluride SUV driven by a 51-year-old man.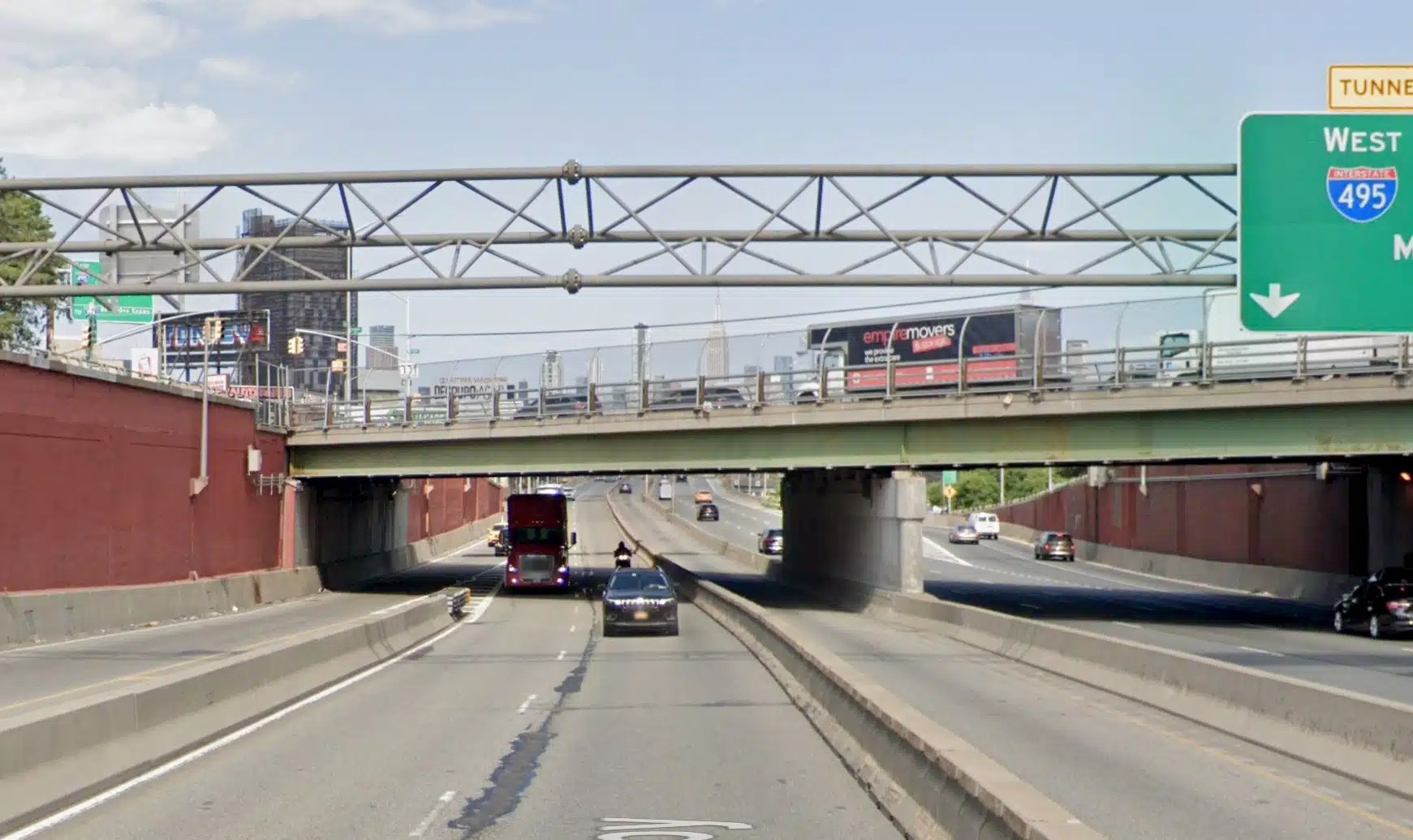 Following the collision, a passenger in Nash's car, 23-year-old Cameron Mency of North Baldwin, Nassau County, was ejected from the Honda; she was taken to Bellevue Hospital, where she was pronounced dead.
Three other passengers of Nash, two 22-year-old women and a 36-year-old woman, were taken to Elmhurst Hospital in critical condition. The drivers of the other vehicles were not injured.
Police arrested Nash on the scene and charged with vehicular manslaughter and driving while intoxicated.
Other deadly collisions
Mency's death was just one of several from traffic collisions on city streets this weekend.
Robert Sala, a 59-year-old from New Jersey, was killed by a pickup truck driver attempting to turn left in Midtown early Friday morning.
Later that day, 19-year-old Ommatt Cruz of Staten Island was fatally run over by a lift truck in the East Village as he attempted to assist the driver in traffic.
On Saturday, two senior citizens were crossing Woodhaven Boulevard near Forest Park in Queens when they struck by the sideview mirror of a BMW, and immediately thereafter were struck again by a Toyota, this time knocking both of them to the pavement.
EMS took 71-year-old Tonci Budija of Briarwood to Jamaica Hospital, but she could not be saved and was pronounced deceased. The other person, a 73-year-old man, was taken to NewYork-Presbyterian Queens Hospital in critical condition.
Then, on Sunday, 32-year-old Jasmine Hunter of East New York, Brooklyn was on the side of the Bruckner Expressway in Soundview, the Bronx after a collision when she was struck by a driver traveling westbound, who then fled the scene.
The force of the collision pushed Hunter over the edge of the elevated Bruckner Expressway, falling to the pavement below on Bronx River Avenue. Hunter was taken to Jacobi Hospital but could not be saved.
The NYPD recorded 220 deaths in collisions on streets in the five boroughs as of last week, one fewer than had been seen at the same time last year.
Deaths are down this year in the Bronx and Brooklyn and up slightly in Manhattan and Staten Island, but Queens has seen a significant 40% jump in traffic fatalities this year compared to 2022, according to the latest NYPD statistics.