BY CLARISSA-JAN LIM |  The Community Board 2 Traffic and Transportation Committee is spearheading efforts to push the city to make the Seventh Ave.  / Seventh Ave. South / Varick St. corridor a so-called "complete street."
A complete street is designed with pedestrian and cyclist safety in mind, which includes adding or enhancing pedestrian safety islands, wide, visible crosswalks, protected bike lanes and narrowed traffic lanes, among other improvements.
This kind of street treatment is in line with "Vision Zero," Mayor de Blasio and the Department of Transportation's initiative to reduce traffic injuries and fatalities.
C.B. 2 voted unanimously in September in support of conducting a feasibility study of the avenue between W. 14th St. and Canal St., to determine whether it can be redesigned as a complete street.
The board's resolution — which is advisory only — also urges city D.O.T. to complete the study "within a six-month time frame in order to begin much-needed improvements as quickly as possible."
According to New York Police Department statistics, more than 16,000 pedestrians and cyclists were injured in traffic accidents in the city last year, and 178 were killed.
In particular, Mulry Square — where Seventh Ave. turns into Seventh Ave. South — is a high-traffic, six-street intersection where accidents involving pedestrians and cyclists are commonplace. In a tragic incident that occurred in 1981, two children, ages 6 and 3, were crushed to death by a 12-wheel tractor as they were attempting to cross the street with their mother.
C.B. 2 has also asked D.O.T. to expand the proposed West Village Slow Zone to stretch another block east to Sixth Ave. As many as 20 schools, both public and private, as well as after-school program centers, pepper the area. D.O.T. has said it will consider the request.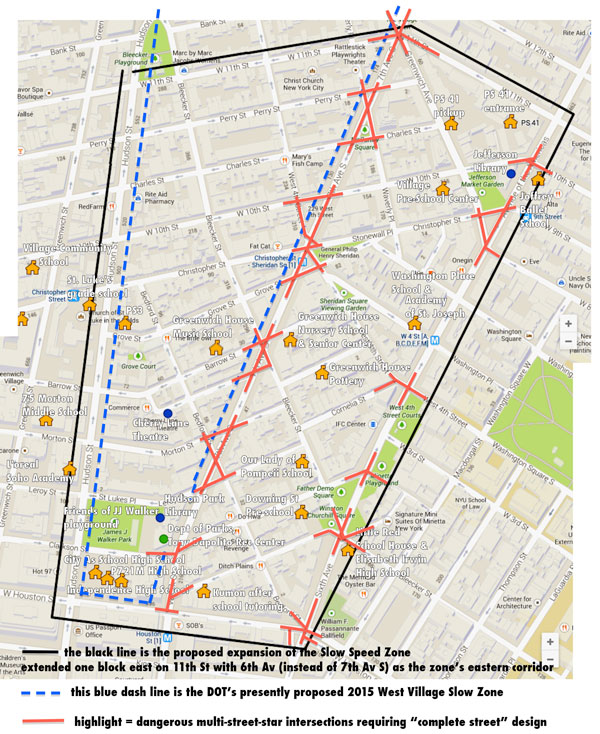 In a letter from P.S. 41 Principal Kelly Shannon to Margaret Forgione, D.O.T. Manhattan borough commissioner, Shannon wrote that Seventh Ave. South and lower Sixth Ave. "are the only D.O.T.-defined 'pedestrian crash corridors' that have clusters of streets forming multiple odd-angled intersections."
If efforts to implement both the complete street and the slow zone are coordinated and succeed, the number of pedestrian deaths could be vastly reduced, advocates assure.
More than three decades after the death of the two children in 1981, Shannon stated in her letter that she had, last June, "witnessed a taxi turning off Sixth Ave. — striking and throwing two-year-old Liam Seiden from his stroller and fracturing his babysitter's back" as they were crossing to fetch Liam's sister from school. "When children's safety is involved, it is difficult for any group of supporters to be patient," wrote Shannon.
In an e-mail to The Villager, Heather Campbell, chairperson of the P.S. 41 Parent Action Committee, wrote that every day she is "blown away by the dangers of the street crossings" as she walks her children to school and after-school activities.
Also, as co-chairperson of the C.B. 2 School and Education Committee, Campbell noted, "We are very interested in the D.O.T. presenting a timely and comprehensive plan for both side streets (the extended West Village Slow Zone) and complete street designs for the extremely dangerous avenues. I'm hopeful that the D.O.T. will meet C.B. 2's Traffic Committee's six-month deadline for a Seventh Ave. South complete street presentation and look forward to understanding D.O.T.'s full and complete plan."
State Senator Brad Hoylman has thrown his support behind both resolutions, and has written to Forgione to set a time frame for the West Village Slow Zone and urge consideration for the complete street.
"Heavily traveled roadways like Seventh Ave. South should be safe and accessible for all users," Hoylman told The Villager. "Redesigning Seventh Ave. South to be a complete street will help enhance safety for pedestrians, bicyclists, motorists and public-transit riders alike. I look forward to working with D.O.T. to examine the area for potential improvements."
Mayor de Blasio's ambitious Vision Zero project was announced in January, soon after he took office. The C.B. 2 resolution states that the complete street "would be in keeping with Vision Zero's goal for street designs that reduce traffic-related fatalities and promote safer streets."
However, despite C.B. 2 having unanimously approved resolutions for both the slow zone and complete street, D.O.T. has yet to present the board with a plan for either resolution.