A Manhattan horse carriage driver has been hit with animal cruelty charges related to his treatment of Ryder, the horse who infamously collapsed on a Hell's Kitchen street last year and died a few months later, sparking new calls to ban horse carriages in the city.
Ian McKeever, who was holding the reins of the carriage pulled by Ryder when the steed dramatically collapsed to the street in August 2022, was charged in Manhattan Criminal Court on Wednesday with overdriving, torturing, and injuring animals, a Class A misdemeanor. Manhattan District Attorney Alvin Bragg said McKeever was abusing Ryder by working him all day despite his age and pre-existing health conditions.
"As alleged, Ryder should not have been working on this hot summer day. Despite his condition, he was out for hours and worked to the point of collapse," Bragg said in a statement. "All animals deserve to be treated with the utmost care and the type of abuse that Ryder allegedly suffered is unacceptable."
Prosecutors say in their complaint that McKeever's actions "unjustifiably injured, maimed, mutilated, and killed an animal" and deprived him of necessary sustenance.
McKeever, a 54-year-old Long Islander, was driving Ryder and the carriage in Hell's Kitchen in the midst of a summer heat wave when the horse fell to the street, unable to get up from the hot asphalt for more than an hour.
By the time of his 5:10 p.m. collapse, Ryder had already been working for eight hours that summer day with temperatures in the mid-80s, prosecutors allege. The horse was observed by witnesses to be thin and frail, and he was seen walking slowly while panting and sticking his tongue out, which are signs of exhaustion.
As Ryder lay on the street, McKeever could be seen on video unsuccessfully pulling the horse by the reins to get back up, yelling at him and even whipping him at points. He did not provide any water to Ryder while he was on the street, and didn't even detach him from his carriage harness, prosecutors say. The NYPD eventually showed up, detached Ryder from the carriage, and doused him with water for 45 minutes until he was able to stand back up.
Ryder would later be taken upstate for medical tests at Cornell University and later to a ranch for rest and recuperation, but not before the New York Post published photos showing the horse looking worryingly gaunt. His handlers at the Manhattan stable, repped by the powerful Transport Workers Union Local 100, initially said he was suffering from a neurological condition called Equine Protozoal Myeloencephalitis (EPM), caused by possum droppings in food, though that diagnosis was later ruled out.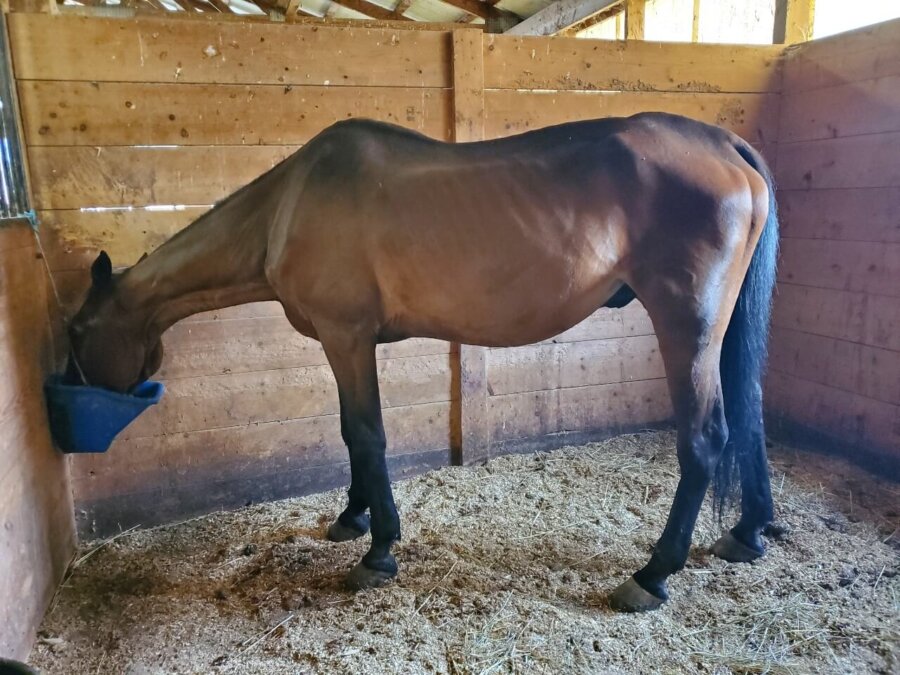 The vet at Cornell, Dr. Laura Niestat, determined Ryder to be about 26 years old, twice the age McKeever had initially reported to cops. At that age, Ryder was an elderly horse and beyond working age, advocates charged. The doc said Ryder was suffering from pancytopenia, a condition causing decreased blood cell levels, and was also suffering from mild heart disease, free fluid in his abdomen, a thickened large intestine, and showed signs of previous lung damage.
The vet also suggested the horse was suffering from cancer, specifically Equine Lymphoma, after examining abnormal cells, and concluded that Ryder should not have been working. In October, Ryder was euthanized at the upstate farm.
Speaking to reporters outside the courthouse on Wednesday, McKeever and his lawyer Raymond Loving both called the charges "politicized" and snickered as anti-carriage activists with New Yorkers for Clean, Livable, and Safe Streets (NYCLASS) called him an animal abuser who had "worked Ryder to death."
"It's all politicized," McKeever said. "I've never harmed a horse in my life. Ever."
Ryder's collapse and eventual death reignited calls to ban the horse carriage industry from New York by activists, who contend Midtown Manhattan is too chaotic an environment for a horse.
 "We commend the Manhattan DA for pressing charges against Ian McKeever for his criminal animal abuse of Ryder," said Edita Birnkrant, NYCLASS's executive director. "However, it's not enough to end the suffering of so many other horses continually forced into traffic 10 hours a day while elderly, injured, and unwell — just like Ryder was."
Activists are supporting a bill in the City Council, nicknamed Ryder's Law in his honor, that would do just that, and replace horse-drawn carriages with electric, horseless carriages. Current carriage drivers would get first dibs, but TWU has vehemently opposed the measure.
"We can't undo Ryder's agony and death," said Birnkrant. "But we can make NYC more compassionate and humane by ending the abuse of all the horses still suffering on our streets every day by passing Ryder's Law."
The City Council bill, Intro 573, currently has 19 co-sponsors in the 51-member legislative body.
"Animal cruelty should never be tolerated in our city, and I applaud Manhattan DA Alvin Bragg for pursuing justice on behalf of Ryder," said the bill's primary sponsor, Queens Council Member Bob Holden. "The barbarism of the horse carriage industry must end, and TWU's protection of this abuse on behalf of a few owners is unacceptable. We have a viable solution for both the horses and workers – it's time to make it a reality."
McKeever, a former longtime spokesperson for the Horse & Carriage Association trade group, is no longer driving carriages, nor is his brother Colm, according to TWU carriage shop steward Christina Hansen, though Ian still holds a stake in a carriage medallion. Loving, McKeever's lawyer, is not affiliated with the TWU.
Based on the Cornell vet's diagnoses, Hansen agreed that Ryder "shouldn't have been working," but contends that neither McKeever nor any other carriage driver knew Ryder's true age when he was sold into the industry, a few months before his collapse.
Hansen and other carriage drivers argue TWU has made robust changes to care for horses in the wake of Ryder's death, hiring a new vet whose team comes to the Midtown stables every other week to examine the horses, though activists still contend the steeds should not be working in the five boroughs at all. Still, Hansen did not criticize Bragg's decision to charge McKeever.
"I trust the system," said Hansen. "If the DA's office has gone through over a year of investigation, and now feels like they have enough evidence for a misdemeanor count of animal cruelty, then that's what the system is for. Nothing in New York City goes uninvestigated, unregulated with regards to the carriage horses."