Hundreds of volunteers worked since before dawn Tuesday to pack Thanksgiving meals for New York City shelter residents.
Around 500 adults and children donated their time at Chelsea Piers on Nov. 22, tirelessly working to pack thousands of meals for those who would otherwise not have a dinner this holiday. The donations are organized by FeedingNYC, a nonprofit that strives to ensure underprivileged families have the opportunity to celebrate Thanksgiving.
The initiative was started in 2001 by Robert LoCascio after the 9/11 terror attacks in an effort to help those in need. The giveaway has persisted over the past two decades, surviving the COVID-19 pandemic to bring joy to families across the five boroughs.
"Today we're going to be feeding 8,500 families full turkey dinners, frozen turkey and all the trimmings. So, basically, what you're seeing here, we're packing all the boxes with about 500 volunteers. And then we go out in trucks and we go all around to the shelters in New York City, where there's families who are homeless, and we feed them these turkey dinners," LoCascio told amNewYork Metro. "To show up and to be able to give them something that they can sit around at a table and enjoy that one moment. It's amazing."
Inside Pier 60, volunteers of all ages spent the morning arranging boxes, packing frozen turkeys, juice, canned goods, and more. The meals were not only being packed on Tuesday, but they were also shipped out the same day. Trucks carrying the load traveled around the five boroughs, delivering the good tidings to the doorsteps of those who needed it most.
Christine Quinn, President and Chief Executive Officer of Win, the largest provider of shelter, social services, and supportive housing for homeless families in New York City expressed her thanks for the meals. Much of the bounty will be heading to those in the Win Shelter system. In 2022, many shelter residents are asylum seekers fleeing hardships and Quinn believes their first Thanksgiving will be their most meaningful.
"We have 5,000 people a night, 2,500 of them are children right now. Seven hundred of the children are refugee children. We don't have the money to buy all of them these items, which means if it wasn't for FeedingNYC, our families wouldn't have a Thanksgiving dinner. Everybody in the shelter has suffered some kind of trauma. But these [migrant] families have suffered trauma on a level that for us as Americans it is hard to even understand. They're grateful in a way that really is beyond description," Quinn said. "I hope Thanksgiving moving forward will be remembered as the day New York rallied behind them."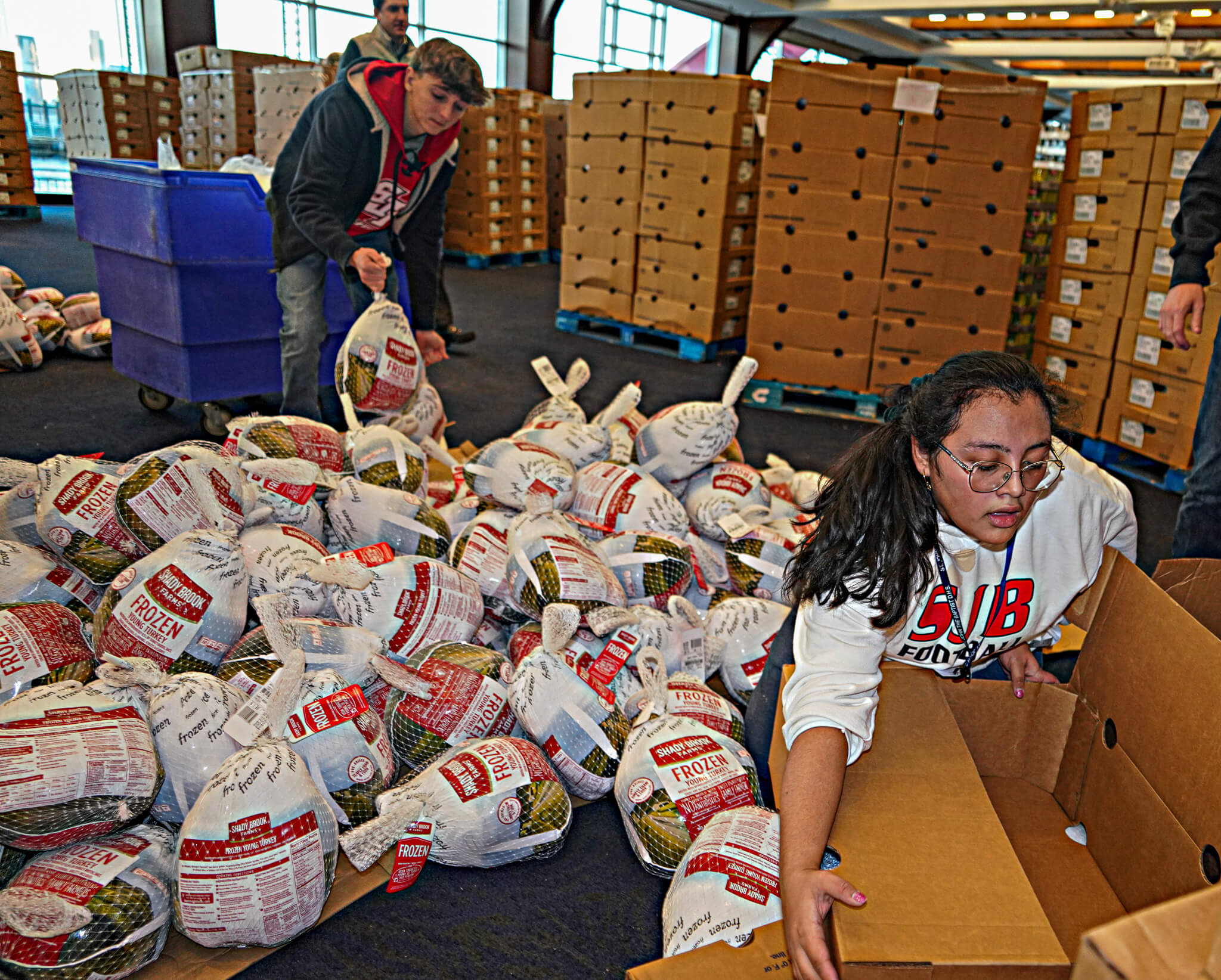 In addition to those receiving the meals, volunteers were thankful to help. Barry Lamm has been donating his time ever since the first packing event over twenty years prior. Lamm told amNewYork Metro that over the years he has learned just how imperative donations like these are.
"One of the most profound experiences I ever had doing this was when we were on a delivery one time and the truck had some extra turkeys in it. People from the neighborhood lined up at the truck and when we were running out, we were ready to close the doors to go to the last stop, you could see the panic in their eyes. So that was when it really hit home for me," Lamm said. "You have a tendency to think, oh, somebody else will do it. Some other organization will do it. That was the first time for me where it was like, wow, if we weren't here, these people wouldn't have a meal."
This year, FeedingNYC shared that it will have delivered its 100,000th Thanksgiving dinner to New Yorkers in need.