(Posted May 7, 2015 and last updated May 13) Taste of Tribeca chefs say mother knows best. Many of them reminisced about the first meal to inspire them and a trend was noted: mom was usually the cook responsible.
They learned a lot from mom over the years and now they have chosen to pass down some of that knowledge to us, such as which cookware will serve us best in our quest for culinary perfection. But do not be too intimidated – even professionals have their guilty pleasures. Read more chefs' answers at DowntownExpress.com.
Taste of Tribeca, the outdoor culinary festival, features dishes from over 60 of Tribeca's most renowned eateries, benefitting the neighborhood's elementary schools, P.S. 150 and 234.  It's Sat., May 16 from 11:30 a.m. – 3 p.m. rain or shine on Duane St. between Hudson and Greenwich Sts. A general admission ticket is $45 online or $50 the day of the event and allows patrons to taste any six dishes from the festival's attending chefs.
Chef – Maurizio Marfoglia

Tutto IL Giorno
114 Franklin Street
212-274-8100
tuttoilgiorno.com
What are you serving at Taste of Tribeca and why?
We are going to do "fresella con polpo arrostito."  Fresella is a Neapolitan bread and is typically hard and in order to use, you have to soak the bread in salted water for a little bit and then mixed with various ingredients for flavor. In our case we will add chopped tomatoes, cucumber, olives, basil and top the dish with roasted octopus.  I wanted to use this Neapolitan ingredient because it is not well known and it carries a lot of history. Because it's a dry bread it travels well and the story goes that fishermen in Naples would carry it with them out to sea.  They would then dip it in the salty sea water and mix it with whatever the sea was offering that day and various other ingredients that traveled well like olive oil, vegetables, cheeses, etc.
Who cooked the first meal you loved and what do you remember about it?
One of my first memories about cooking is helping my tata (my grandmother who is still alive and coming to America shortly) cook risotto.  She used to pay me in candy to stir the risotto!  For those who know, risotto needs to be stirred frequently. Come to think of it now, it was a dangerous job for a 6 year old boy….but fortunately nothing ever happened to me besides create my love for cooking.
For amateur chefs, what knife and which pot or pan do you think would help them the most?
Even as a professional chef myself with various gadgets in my home at my disposal, the tool I use for almost everything is a very old chef's knife.  It's actually a cheap one and the blade barely holds sharpness anymore but it was my first knife on my first job, so I still use it for almost everything.  Beyond that, my advice to chefs that are just learning is to get a nice large sauté pan, it will help you do almost any trick you want.
What would you make if you only had 15 minutes to prepare a meal?
In 15 minutes …pasta pasta pasta!!!  By the time the pasta is done, I've quickly whipped up some sauce improvised from the ingredients I'll find in the pantry and fridge.
Is there a packaged food that is a guilty pleasure for you?
I like spam (please dont tell my wife!). Whenever I buy a can, she'll find it and toss it in the garbage.
Chef – Ryo Hasegawa
Nobu Next Door
105 Hudson Street
212-219-0500
noburestaurants.com
Dish served?
Nobu inaniwa noodles.
First meal?
Home cooked rice – my family grows rice.  I still remember the smell of the rice cooking.
Knife and pot or pan?
You must have a stainless steel blade which is clean and very sharp.
15-minute meal?
Miso soup!
Guilty pleasure?
Chuka zen mai noodles.
Chef – Pavlos Xenopoulos
The Greek
458 Greenwich Street
646-476-3941
thegreektribeca.com
Dish served?
This year we will be serving a spring-celebration selection that will consist of a triangle spinach pie, an oven baked lemon potato and a small serving of tzatziki. A classic vegetarian combination that is refreshing and fulfilling, celebrating the coming of this long-awaited spring.
First meal?
The first food that I remember fondly was prepared by my mother. It was a nice piece of pastitsio; its heaping layers of béchamel sauce with pasta and ground beef captured my taste buds and my imagination. I was five years old then, and ever since this memory has filled me with the joy of love-filled, well-made food.
Knife and pot or pan?
I believe that for an amateur chef, it's all about the basics. For me, the basics are a chef's knife, a stainless steel pan with a thick bottom to disseminate the temperature better and a three to five quart stainless steel pot.
15-minute meal?
I would make one of the most classic, easy taverna dishes that are so popular all around Greece because of its simplicity and tastefulness. Spetsofai is prepared after simmering a village sausage in olive oil by adding fresh colorful peppers, onion, fresh tomato and finishing it with some wine. A classic, easily prepared dish that is one of my favorite creations for The Greek.
Guilty pleasure?
My most guilty pleasure is for sure the Petit-Beurre papadopoulou, which has been the omnipresent, childhood-staple cookie for every Greek person. It's a versatile cookie that can be enjoyed both with your morning coffee or end up at the bottom of the feta cheesecake crumbled.
Chef – Pail Gioe
Smith & Mills
71 N Moore Street
212-226-2515
smithandmills.com
Dish served?
Oysters and a few mignonettes and condiments to pair with them. Downtown N.Y.C. was built on oysters, and we love paying homage to that. Our cooks' uniforms allude to the American worker, and oysters were originally that type of food. They've only recently become a luxury item.
First meal?
Of course, my mother. She taught me how to cook. Two fried eggs with onions and fried sweet plantains. So simple, but my earliest memory of food. And while eggs are the simplest food to cook, they can be the most difficult to get right.
Knife and pot or pan?
I love Japanese knives, like Shun. Get an 8-inch chef's knife and a pairing knife. That's all you need! Get a Le Creuset Dutch oven. It only gets better with age, and you can use it for so many dishes. It's worth the investment.
15-minute meal?
Grilled squid with a bagnet vert over some mizuna. As much as I love eggs, seafood owns my heart. The freshness of the herbs in bagnet vert can breathe life into any dish, and I love anything that's bitter, which in this case is the mizuna.
Guilty pleasure?
Nutella! I hide it from my wife.
Chef – Seiji
Ninja New York
25 Hudson Street
212-274-8500
ninjanewyork.com
Dish Served?
Crème brûlée topped with raspberry sorbet. You will enjoy the texture of caramelized sugar on top. Currently, it is very popular in our restaurant.
First meal?
It was at the Michelin 3-star restaurant Buerehiesel in Strasbourg, France. They were Chef Antoine Westermann's dishes. I asked a sommelier about wine pairing for dishes and they were so great. I still remember how they tasted.
Knife and pot or pan?
I recommend a Japanese brand called Misono UX10. I have tried varieties of brands but it is one of the top three. As for the pan, Staub's pico cocotte. It is a French brand. With this one, it will bring extra fineness to your cooking.
Guilty pleasure?
Yes, there is this Greek supermarket by my apartment; they carry this delicious chocolate wafer.
Chef – Michael Cariglio
The Butterfly
225 W Broadway
636-692-4943
thebutterflynyc.com
Dish served?
We are serving hummus with house-made flatbread and beer cheese with house-made rosemary crackers. I wanted to provide something that would highlight general manager Rob Cryan's drinks.
First meal?
Pizza is my favorite food — I could literally eat it every day of the week! My family has owned and operated Lorenzo's Pizzeria in Ohio for over 35 years. It was the first thing I remember eating, and the reason why I'm a chef. I love that I also get to continue my family's heritage by making pizzas at Nicoletta in the East Village.
Knife and pot or pan?
A dull $300 knife is going to work just as well as a dull $10 knife. Either buy cheap ones and replace them often or buy a nice one and learn to sharpen it or have it professionally sharpened. We have an amazing knife store right here in Tribeca called Korin. I highly recommend checking it out. 
I recommend a 10-inch All Clad sauté pan, they will last you the rest of your life if you take care of them. You can make everything from a killer grilled cheese to pan-roasted steaks and fish. My wife and I have a whole set and it has really changed the quality of our meal prep at home. 
15-minute meal?
You can make a killer cacio e pepe pasta in 15 minutes. Lots of garlic, black pepper and pecorino romano.
Guilty pleasure?
Can't beat a frozen White Castle cheeseburger at 3 a.m. Don't know what I'm doing up at 3 a.m., but if I'm awake I can crush a whole box, easily.
Chef – Phil Dixon
Dirty Bird To Go
155 Chambers Street
212-964-3284    
Dish served?
Fried chicken sliders because they are Dirty Bird in a bite.
First meal?
Mom cooked it. It was a traditional El Paso stew called chile Colorado. She would start it in the morning and the house would fill up with the smell of roasting chilies and stewing beef. You would really work up an appetite by the time it was ready. It was best served with handmade flour tortillas, right off the skillet.
Knife and pot or pan?
I would start them off with a regular workhorse chef knife, with a long and wide blade and a plastic handle. Your first knife is going to take a beating, but once you are more skilled you can upgrade to a fancy one. Invest in a good, thick (the thickness must follow up the edges too) polished steel pan like All Clad makes. Never teflon or nonstick! If you use a steel pan correctly and get it really hot before you use it, stuff won't stick. Nonstick is only for eggs.
15-minute meal?
Grilled chicken tacos with fresh salsa.
Guilty pleasure?
Ramen noodles.
Chef – Madeline Lanciani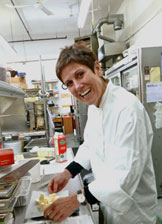 Duane Park Patisserie
179 Duane Street
212-274-8447
duaneparkpatisserie.com
Dish served?
I am serving a warm molten chocolate cake with bittersweet chocolate sauce. 
First meal?
My mother cooked the best codfish cakes and a Portuguese soup called caldo verde. It was delicious.
Knife and pot or pan?
10 or 12-inch chef's knife. 12 or 14-inch cast iron skillet.
15-minute meal?
A very tasty one! Probably fish.
Guilty pleasure?
Mikesell's potato chips from Cincinnati, Ohio.
Chef – Shane Lyons

Distilled NY
211 W Broadway
212-601-9514
distilledny.com
Dish Served?
Chicken liver pate with whipped honey and red wine pickled shallots because it is a signature Distilled item.
First meal?
My dad made Chex Mix crusted chicken. It made me fall in love with overeating.
Knife and pot or pan?
A non-serrated sharp knife, regardless of brand or type and a properly seasoned cast iron pan.
15-minute meal?
Something that only takes 15-minutes to make.
Guilty pleasure?
Terra root vegetable chips.
Chef – Francisco Castro
Tablao Tapas y Restraurante
361 Greenwich Street
212-334-4043
tablaonyc.com
Dish served?
Pulpo a la gallega (octopus with olive oil, paprika and sea salt), this dish reminds me of my family in Spain.
First meal?
My mom made mixed seafood with garlic sauce. I remember that not only did I love the dish, but also she would make it because of me and I would be excited for days before I actually ate it!
Knife and pot or pan?
Utility knife and a 12-inch sauté pan.
15-minute meal?
Grilled veal, heirloom tomato and onion salad, and homemade French fries.
Guilty pleasure?
Spicy lime flavored pork rinds.
Chef – Ryan Skeen
Church Street Tavern
313 Church Street
212-804-7766
churchsttavern.com
Dish served?
Royalton Farm's Wagyu roast beef with horseradish aioli, arugula, smoked tomato and crispy shallot.
First meal?
David Cook owns a restaurant in Cincinnati, Ohio, called Daveeds with his wife, Liz. They built the place themselves and put so much into it, so every time you eat there you feel like they invited you into their home. Not to mention David's foie gras dishes are still some of the best dishes I've ever had. He's an amazing chef who showed me how a chef can transcend his vision to his guests.
Knife and pot or pan?
A 10-inch utility knife and a French black steel pan. You can pretty much cook anything with these two items, and maybe a Japanese mandolin.
15-minute meal?
Croque monsieur.
Guilty pleasure?
The ring dings at Murray's Cheese Shop on Bleecker Street.
Chef – Renato Poliafito
Baked
279 Church Street
212-775-0345
bakednyc.com
Dish served?
Brooksters, lemon loaf bites and granola.
First meal?
My Aunt Tina cooked it when I was about 9. We were living in Sicily for the summer and I would go to her house for dinner almost daily. It was a simple pasta alla norma dish (pasta with tomato sauce,  fried eggplant and topped with ricotta salata and fresh basil). There was nothing special about it, meaning its a really typical dish, but it's one of those meals that I still remember to this day.
Knife and pot or pan?
I love my kyocera ceramic chefs knife. I use it for pretty much everything.  I also love my all-clad non stick saute pan. It is perfect.
15-minute meal?
Pasta with a quick skillet sauce. Amatriciana? Aglio e olio? Pesto? One of those.
Guilty pleasure?
Tough one. Do chips count? I love those cheddar cheese flavored popped rice snacks by Quaker. I can eat a whole bag in one sitting. Otherwise, Stella D'oro roman egg biscuits. I love those things.
Chef – Kenneth Johnson
Gran Morsi
22 Warren Street
212-577-2725
granmorsi.com
Dish Served?
Spicy Berkshire pork sandwich. It is a new and exciting item we are adding to our spring menu. I am experimenting with putting sandwiches on our dinner menu to break the trend of the traditional dinner entree. Summer is a time to be relaxed and I believe my menu should reflect a fun and relaxed menu selection.
First meal?
The first meal I loved was by my mother, and although it was nothing truly special, it was cooked by mom. She made swedish meatballs, broiled potatoes and frozen spinach. The meatballs were cooked in a cast iron pan until golden brown cripsy, then she added flour to the pan and a little broth. She probably did not even realize that she made a roux. The canned chicken stock was piled with sodium, but it was the 60s.
Knife and pot or pan?
An 8-inch chefs knife and a 10-inch sautee pan.
15-minute meal?
Any kind os pasta! Use your imagination.
Guilty pleasure?
Pretzel rods.
Chef – Jason Weiner
Almond
186 Franklin Street
212-431-0606
almond.nyc
Dish served?
House smoked bluefish with a salad of grains and pickled onion. All great local stuff. Perfect for springtime.
First meal?
My mom made it. She used to make this amazing lentil soup with marrow bones. I remember being so impressed that something could be so much better than the sum of it parts. Upon reflection, that's pretty much the definition of a successful dish.
Knife and pot or pan?
Utensils are more important: A rubber spatula and a japanese mandoline.
15-minute meal?
This time of year, some spaghetti with fava beans and parmesan.
Guilty pleasure?
I'm a sucker for anything "buffalo" flavored.