BY TRAV S.D. | What to make of the state of the world when pillar institutions (e.g., the government in Washington, ostensibly) become the loose cannons, and experimental arts organizations become anchors of stability? We are thinking specifically of the Downtown theatre La MaMa, which is now about to enter its 56th season as New York's premier Off-Off-Broadway venue, and is now in the midst of launching a major capital project and an innovative archiving initiative even as it unrolls one of its most exciting seasons in years.
Here are just some of the things that are on the calendar. In observance of the 50th anniversary of the founding of the Ridiculous Theatrical Company and the 30th anniversary of the death of its founder Charles Ludlam, his partner and heir apparent, Everett Quinton, will direct a production of Ludlam's "Conquest of the Universe or When Queens Collide" (Nov. 2-19). On Nov. 11, an edition the Sat. afternoon educational performance series "Coffeehouse Chronicles" will be devoted to Ludlam. On Oct. 7, "Chronicles" focused on the late Sam Shepard, many of whose earliest plays premiered at La MaMa. Readings of his plays will happen throughout January. Maria Alyokhina of Pussy Riot will be joining the Belarus Free Theatre in "Burning Doors" (through Oct. 22). Split Britches (Peggy Shaw and Lois Weaver) premiere "Unexploded Ordnances (UXO)" Jan. 4-21, 2018. Performance artist John Kelly stars in "Time No Line" Feb. 22-March 11. And there will be international projects, like Motus Theatre (Italy) in collaboration with Great Jones Repertory Company on "Panorama Part One," a show about race and immigration (Dec. 28-Jan. 21). And "ALAXSXA | ALASKA" by Ping Chong and Ryan Conarro (through Oct. 29), as well as "Don't Feed the Indians" by Murielle Borst-Tarrant (Nov. 2-19, part of of La MaMa's Safe Harbors Indigenous Collective programming).
Why all this activity now? Is La MaMa rising to the specific challenges of this political moment?
"Most of our shows this fall have been in development, for some a year or two," said artistic director Mia Yoo. "Artists are hyper-sensitive to the world around them. They guide us and show us the direction we need to be going. And our season's programming and concept grow out of that urgency that they feel."
The long view seems to be very much on La MaMa's minds these days. Even as they undertake this ambitious season, they are launching a three-phase $50 million construction project called "Restore a Building, Remake a World," which will begin with the oldest of their four properties at 74 E. Fourth St. According to Nicky Paraiso, Director of Programming at the Club at La MaMa, work on the first leg is slated to begin in January, necessitating the temporary closing of the popular Club Space and First Floor Theatre for at least two years. The two spaces will be merged into one, with a raised ceiling and more flexible seating and staging areas. La MaMa will upgrade their technical equipment in the space, and make it wheelchair accessible. Further, they will add a studio above the theatre, in a space that was once La MaMa founder Ellen Stewart's apartment. This will be used as rehearsal space, and for the presentation of their Coffeehouse Chronicles series, play readings, and children's theatre productions.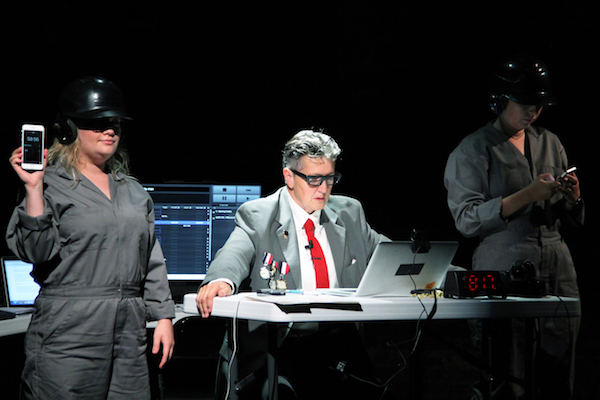 During the construction, Paraiso added, "There will be an interim club space in the lobby era of the new Downstairs Theatre [at 66th E. Fourth St.], where we can continue to do solo performances, readings, and small productions of plays and music events. It will be called Nicky's Paradise Lounge and will open right after the New Year."
"This isn't just about making nice new spaces," Yoo noted. "The buildings are in dire need of help, after years and years of constant use. We want to make sure it exists for future generations. Just as in the very beginning, when Ellen [Stewart] looked at the needs of the community, saw that the Downtown theatre needed a space to work, and she provided it. We're thinking about the future of our community, who they are, and creating a space where people can connect to people."
In a similarly forward-looking vein, La MaMa has recently announced a project to make their video archives more available to the public, made possible by a $100,000 grant from the National Historical Records and Publications Commission. La MaMa's audiovisual archives date back to the 1970s, documenting many seminal, now historic productions. But much of the material exists in now obsolete formats and is degrading. It's now being digitized, which will both preserve the information and make it widely accessible. La MaMa's archives, which also include correspondence, photographs, play scripts, show posters, and other historical ephemera is not just significant in relation to La MaMa itself. Because of La MaMa's central role in the development of Off-Off Broadway, it amounts to a documentary record of the birth of a movement.
"Martin Luther King spoke of a 'network of mutuality,' " Yoo said. "We need each other, in our society, in our community. Theatre is so much about storytelling, about seeing through the eyes of another human being. This is the time when art can make us think. It's a big part of what we can do."
For more information on the season, visit lamama.org.