Friday's planned protests over the outbreak of war in Israel and Gaza were largely peaceful, but still resulted in dozens of demonstrators being cuffed around the city, police reported.
A human tidal wave of pro-Palestine protesters flooded into Times Square on what was dubbed "day of Jihad" after a former Hamas leader called for violence across the country. Yelling "free Palestine," the crowd climbed subway station entrances and even traffic lights as they waved flags above the masses below.
The NYPD responded in force, attempting to contain the swarm by using metal barricades standing guard around the demonstration as those supporting Israel began to gather in response.
"Shame!" those with ties to Israel yelled from across the street, going as far to call those in favor of Palestine "terrorists!"
After several hours, the pro-Palestine group broke loose from their makeshift cage and took the roadway, from 42nd Street and 7th Avenue toward the Israeli consulate. Several skirmishes did break out along the way, resulting in about three arrests. Cops could be observed in stare-downs with masked figures while others were swiftly whisked away in the back of a NYPD wagon.
During the march, one protester attempted to insult rivals by wrapping the Israeli flag around his shoe and dragging it into the ground while others reportedly set it on fire. The chaos was punctuated by moments of tranquil calm when some of the Muslims stopped to make prayer before again returning to their cause.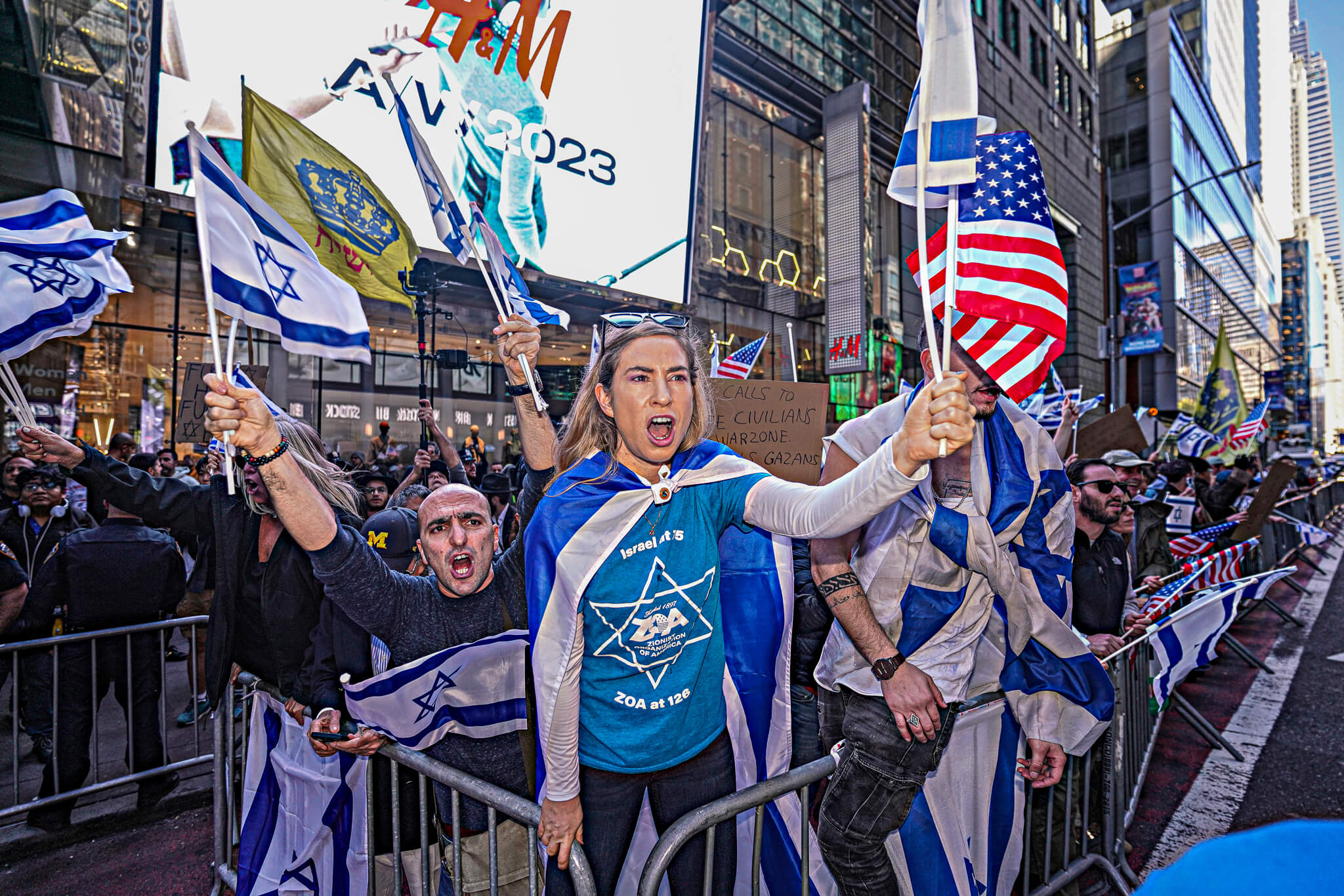 Police maintained a show of force, not allowing the crowds to get close to the consulate, which instead sent them attempting to protest outside of the United Nations where they were again blocked by metal barricades.
Meanwhile in Brooklyn's Grand Army Plaza, arrests reached the double digits as about a thousand Jewish New Yorkers from Jewish Voices for Peace (JVP) performed a sit in on the roadway near Senate Majority Leader Chuck Schumer's home. The group implored the senator to call for a ceasefire in the Middle East.
"We recognize that for many, the call to unconditionally support Israel, including sending increased military funding, is coming from a place of deep grief, fear, and anxiety," JVP Rabbinical Council co-founder Rabbi Alissa Wise said, "but we know that more weapons will only bring more harm to everyone."
According to police sources while some 60 people were arrested on Friday, the majority of these mostly resulted in summons for disorderly conduct, leaving many of them to be subsequently released.
Among the arrested was Queens Assembly Member Zohran Mamdani, a Democratic Socialists of America member who has a history of criticizing Israel.