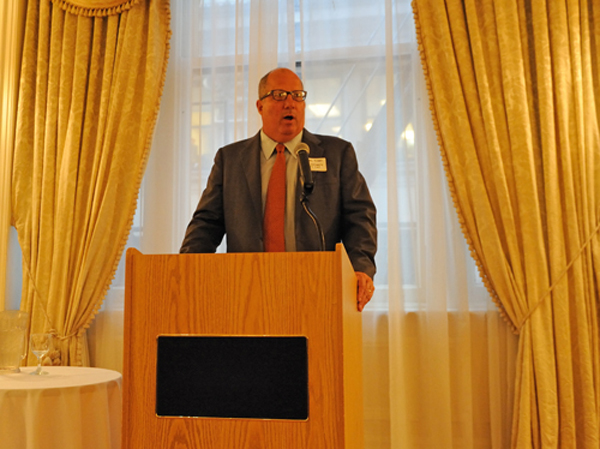 BY ALINE REYNOLDS  | Chris Ward delivered one of his last public speeches as chief of the Port Authority of New York and New Jersey at the Lower Manhattan Marketing Association's breakfast meeting Wednesday, Oct. 5.
Ward, who has served as the agency's executive director since 2008, will be leaving the Port Authority at the end of October. Rather than focus on his imminent departure, however, he spoke to the importance of sustaining and enhancing infrastructure throughout the Tri-state area — including a needed reconstruction of the Tappan Zee Bridge.
"The Tappan Zee Bridge has reached the end of its useful life,"  he said. Today it is sitting on what can be called a "bowl of oatmeal."  Reconstruction costs are $5 billion at the low end, and up to $14 billion at the high end, which would include passenger rail and heavy rail to further connect the critical region to the rest of the country.
While Ward defended the Port Authority's recent hike in tolls at Tri-state bridges and tunnels, the additional payments, he said, aren't enough subsidize such costly infrastructure upgrades.
"What I'm arguing is that there is a level of economic expansion and growth which has fueled the region, and we haven't found a way to reinvest in the infrastructure that created the wealth," said Ward. "You can't raise tolls to the level anymore of what they'd have to be to self-sustain."
Regional airports, Ward said, also need significant makeovers.
"We need to tear LaGuardia down," said Ward.
Both LaGuardia and Newark Liberty International, Ward continued, need to be rebuilt.
"We need to make [the airports] bigger, faster, more convenient and beautiful, but mostly we need to make them more efficient," said Ward.
Finally, Ward said, the Tri-state's bus network could benefit from a high-efficiency bus garage in Midtown. He described how buses to the Port Authority bus terminal come in with commuters in the morning, head to N.J. empty during the day for warehousing, only to return empty to Manhattan at evening rush hour to take the commuters home. The existing bus terminal, he said, needs vast improvement.
"[Buses] have to be part of an infrastructure system – otherwise, we're stuck with the type of congestion and environmental problems the current network operates under," said Ward.
He also noted that the recent scaling back of the tolls from the original proposal meant that Midtown bus improvements were taken off the table.  He reiterated that there has yet to be an  understanding or consensus on how to fund infrastructure in the process of creating wealth in the region.  Unless that dialogue happens, Ward said, there will continue to be traffic congestion on the George Washington Bridge, at the Holland Tunnel and at JFK.
Ward then turned his attention to Downtown, which he said is "a remarkable example of what can get done when a lot of hard work goes into tough decisions."
The National Sept. 11 Memorial, Ward noted, is proof alone that such sizable projects can be seen to completion. The Memorial, Ward said, is poised to become a vital public amenity for the city and will define New York the same way Central Park does now.
"It's not temporal in the sense that it's [just] telling you what happened on 9/11… it's public space that'll be your space," said Ward. "It will become a democratic mixing bowl of this town — that's what it'll be. A hundred years from now, 20 years from now, that'll be in your D.N.A. as a New Yorker."
The completion of the Memorial Plaza in time for the 10-year anniversary, Ward continued, was critical to maintaining the structural and emotional integrity of Lower Manhattan.
"I don't think people would have tolerated [not having] a place for people to gather and reflect. We would have been vilified," said Ward. "After all the debate… people are left with a soaringly beautiful piece of public space."
As to the commercial real estate part of the Ground Zero equation, Ward said the essential understanding the Port Authority reached with Larry Silverstein is that the "the real estate will rise when we need it to," and that it will prosper in due time.
"Downtown will be realized," said Ward, "[as] a truly remarkable achievement."
A person in the audience inquired about St. Nicholas Greek Orthodox Church, whose new location has yet to be determined. Its former structure at 155 Cedar Street was destroyed on 9/11, and church authorities have since demanded that the Port Authority allow them to rebuild at 130 Liberty St.
Ward vaguely replied, "We have to evaluate all options for the siting of the church."