Mid-season struggles aren't new to the New York Jets or Aaron Rodgers. 
How they've handled those struggles couldn't be more different though.
While Rodgers has been looking to return from his Achilles injury this season – a medical miracle in itself – the Jets have hit a wall on the offensive side of the ball. At 4-5, New York has not scored an offensive touchdown in 11 straight quarters while consistently being penalized at one of the highest rates over the last month.
While most of the fanbase hasn't been surprised by the mid-season slump, it won't kill their season in the mind of their injured quarterback – so long as the offense fixes what needs to be fixed.
"It's tough because we're nine games in," Rodgers said on the Pat McAfee show Tuesday afternoon. "A lot of the issues we've had have been with us for a lot of this season…The most important thing is to stick together. It's a wild business but that's what makes this thing beautiful."
Rodgers later explained that he expects to join the team after Thanksgiving – a welcome sign for a locker room looking for answers to their recent offensive struggles. 
Those struggles, though, have been easily attributed to the quarterback and play-caller. Nathaniel Hackett was brought in as the offensive coordinator with the intention that he would pair nicely with his good friend, Rodgers. Those plans were cut short after four plays in the NFL season. 
Now, Hackett has tried to form the offense to fit Zach Wilson's skillset better. To say it hasn't been a smooth transition though would be an understatement. New York's scoring drought continues, and they rank at the bottom of the league in most statistical categories.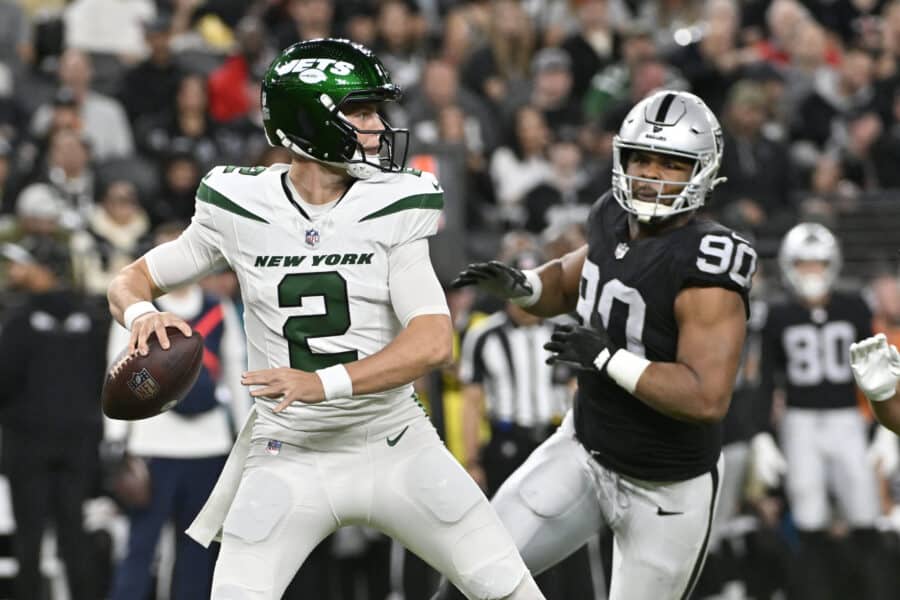 It may seem easy to blame both quarterback and coordinator, but Rodgers has made it clear that all blame should not go to those places. 
"I won MVP twice in the same offense. So I'm a believer…there's a lot of positions that need to play better."
New York's offense is expected to be a lot better when Rodgers is back on the field though. An initial report from Melissa Starks during the Jets' Sunday night loss to the Las Vegas Raiders last week detailed that the thought from Rodgers' camp would be that the quarterback would return in mid-December – a mere four months after his initial surgery. 
While the four-time NFL MVP did not deny that the mid-December timeline was accurate, he did clarify that Stark's report was based on word from his doctor, not himself. 
"I never said anything definitive," Rodgers explained. "She talked about having a conversation with my amazing doctor about if it would be insane to come back in three months and he responded that when you bring together a specific type of surgery and a specific patient…then there is a possibility."
So where does that leave the Jets and their injured quarterback? The stubbornness of Rodgers has made it clear that he will be back in 2024 but also expects to potentially help save the 2023 season. The only way that could change though is if the organization isn't in contention by December.
Being 4-5 in the year with upcoming contests against the Buffalo Bills and Miami Dolphins means that the team will need to stay alive to make Rodgers' return worth it. Should the Jets get to the 5-6 win range by the time of mid-December, that should give New York plenty of opportunity to show Rodgers that they could compete in a wide-open AFC playoff race. Of course, that's a lot to ask for an offense that has failed to score a touchdown in their last two games. 
For the quarterback though, there isn't any level of lost confidence in the team that is eagerly waiting to see him again. 
"I expect us to be in it and I expect to come back."
Miami Dolphins (-340)
Buffalo Bills (+370)
New York Jets (+1400)
New England Patriots (+100000)
For more Aaron Rodgers and New York Jets news, turn to AMNY.com