It's never good when a top offensive weapon is gruntled on a playoff team. That's the current state of the New York Giants though as rookies report for training camp. 
Saquon Barkley and the Giants were unable to come to terms on a long-term agreement before Monday's deadline and now the Pro Bowl running back will be required to play the entirety of the 2023 season on the franchise tag. It's something the former second-overall pick wasn't too thrilled about following the passing of the 4 pm deadline for franchise-tagged players. 
"It is what it is," Barkley said in a tweet following the news breaking. 
But while Barkley is certainly within his right to be frustrated over the lack of a long-term deal, when searching for who is at fault for the impasse, the difficult answer is that no one is in the wrong. 
Contract negotiations are always difficult to take sides with. Teams need to stay under the salary cap while players are more than in their right to get as much money as possible in a sport that has a very short shelf life for certain positions. That basic premise has been even harder for running backs over the last few seasons. While important positions like quarterback, wide receiver, and edge rushers have all received a major boost in per-year earnings recently, only the running back position has seen a decrease in value. Now, the average cost of a running back is actually lower than the average cost for kickers. 
And it's not the Giants', or Barkley's fault either. 
The running back position is one of the few positions that are highly dependent on a completely different group to succeed. If a team has a poor offensive line, the chances of a running back having a good year are slim. Then you add in the massive number of touches most backs receive whether it be running the football, or receiving, and the shelf life for a quality back is significantly lower for other major position groups. 
NFL organizations are beginning to understand this more and more as top running backs have smaller shelf lives than in previous seasons. Todd Gurley was a two-time All-Pro in his first four seasons. After receiving a massive extension, his knees began to crumble and he didn't even make it to his seventh NFL season. Le'Veon Bell sat out an entire season of football in the hopes of getting a new deal and didn't get to 500 yards rushing in the two years following.
Even Ezekiel Elliott, once seen as the face of the Dallas Cowboys, immediately began to break down following his lucrative contract extension and is now a free agent. It's also why Dalvin Cook continues to remain a free agent despite having touched the ball significantly less than the running backs mentioned. 
No team is willing to hitch their wagon on a position that is so dependent on others, and easily replaced. 
Over the last 13 seasons, the only team to pay a running back top money while still winning the Super Bowl was Seattle's Marshawn Lynch in 2013. Every other contending team has realized that it's worth spending money on positions of value to achieve success. Even the Giants championship the year prior was won thanks to a "running back by committee" approach.
It also doesn't help that the recently signed Collective Bargaining Agreement (CBA) required that all rookies would have to wait until the second to last year of their rookie deal to begin negotiating for a long-term extension. This means that the value running backs truly give is usually gone by the time they negotiate a new contract. 
No matter where a player like Barkley turns, the value of his position does not help him out in looking for a long-term deal. He's only had two years of playing healthy football, and even last season showed why his value isn't the same as other positions. In five of his last seven regular-season games last year, Barkley failed to rush for over 82 yards (his average per game last year). He had a reduced role in the postseason and was non-essential to the Giants winning their first playoff game in over a decade. 
All of these reasons are why the Giants refused to budge in negotiations. Barkley is well within his right to seek the highest offer, and even sit out games for that reason. No one would blame him and he would continue a trend of recent running backs doing just that.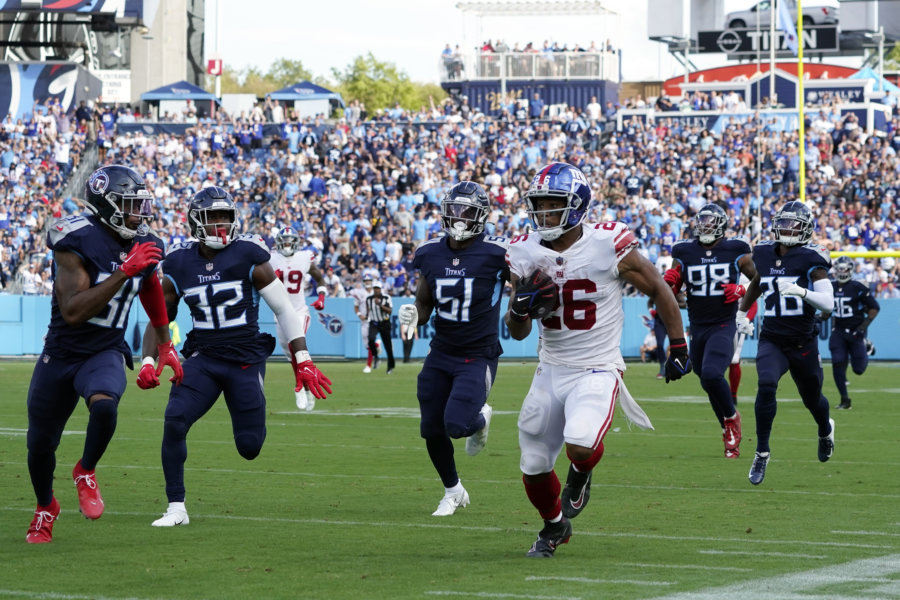 But no one would blame Big Blue either for understanding the market price for the position and not moving past it. Only incompetent teams would pay a position of poor value for the sake of keeping a player or fans happy. New York is now in the championship race with a dynamic new front office. It's for that reason that the Giants are not at fault for Monday's deadline miss. They understand that if they are going to be a championship contender, getting good players at high-value positions is extremely important. 
If that means the team would eventually need to move on Barkley, then the Giants have shown they are willing to do so. 
Welcome to the modern NFL for the running back position. 
For more New York Giants news, turn to AMNY.com