We are getting closer and closer to the New York Jets not just welcoming back Aaron Rodgers to the facility, but potentially to the practice field as well. 
New York's Hall-of-Fame quarterback is looking to be back on the practice field as early as December 2nd as first reported by Jay Glazer. Glazer later noted on FOX Sport's NFL Pregame show that the four-time NFL MVP sent a workout video that 'kind of blew the minds" of the Jets organization. 
Rodgers suffered a torn Achilles four plays into his Jets debut in Week 1 against the Buffalo Bills. While the normal recovery timeline for athletes suffering this injury is 6-9 months, the quarterback has defied the odds and could potentially return to the field in late December – a mere four months since the injury was suffered.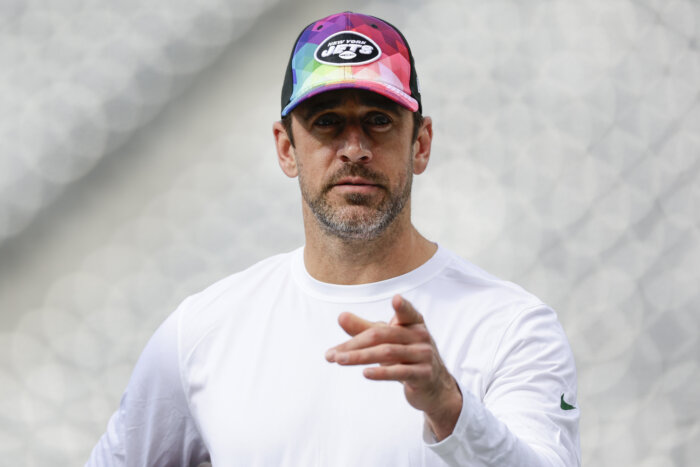 Ian Rappaport of NFL Network reported earlier that the Jets could see Rodgers return to game action as early as a Week 16 contest against the Washington Commanders on Christmas Eve. 
To make Rodgers' return possible, though, the Jets need to stay in the hunt in the AFC Playoffs. New York currently sits at 4-5 on the year and is on a two-game losing streak. Their upcoming matchups against the Bills and Miami Dolphins could determine if Gang Green is alive to compete late into December.
New York did get good news leading up to kickoff in Buffalo Sunday morning with both first-round rookie Will McDonald, and wide receiver Garrett Wilson all expected to play. A win against the Bills would not only move the Jets back to .500 but would allow them to remain in striking distance for the AFC East crown as well. 
New York and Buffalo kick off their Week 11 contest at 4:25 in Western New York. 
UPDATE
New York's inactive list came out just under two hours before kickoff and the big surprise came with Michael Crater II being inactive for Sunday's contest. Carter suffered a hamstring injury in Saturday's walkthrough and was expected to play as early as this morning according to ESPN. 
Now, the Jets will be without their top slot corner against an offense that does some of their best work inside. 
For more New York Jets news, turn to AMNY.com