FLORHAM PARK — After multiple days of mediocre work, the New York Jets offense responded in a very positive way to conclude this week of practice Thursday morning. 
Even without pads, the Jets offense moved the ball at a much better pace than they have done in previous weeks with their offensive line being a major reason why. Outside of all the concern the group has caused from media and fan analysis, the starting group has not diminished confidence from their head coach.
"I think individually we have a good set of guys. All of them can play football. It's just becoming a unit. I don't think there's a panic," Robert Saleh said after practice.
As always, there were plenty of other key takeaways from Thursday's practice at 1 Jets Drive. Let's get to them here. 
Injury Update
There have been no major changes on the injury front for New York. Alijah Vera-Tucker (ankle), Carl Lawson (back), and Laken Tomlinson (leg) were all kept out of practice Thursday. The good news is that each player did get individual work done on the side field for rehabbing players. None of these injuries are considered serious according to the coaching staff.
Dalvin Cook, recently signed to a one-year deal, also was at practice, but he was with the rehabbing players as he recovers from his shoulder injury. He told reporters after practice that he expects to be on the field with the offense over the next few days.
Second Preseason Game Plan
It's going to be much of the same for the Jets on Saturday when they take on the Buccaneers in the second week of the preseason. It may be New York's third preseason contest, but it's another opportunity for Zach Wilson to continue to improve on his already impressive camp. 
As Saleh put it "He's gonna be in this league for a long time. He's gonna start for a long time."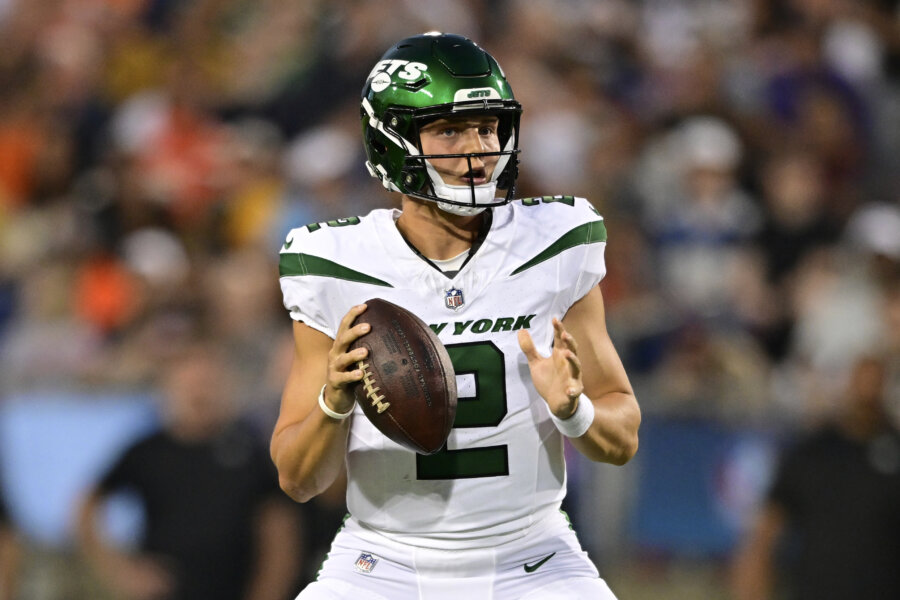 Outside of Wilson, the Jets will deploy the same gameplan for starters and backups on Saturday as they did in Carolina. That means Aaron Rodgers will not play at MetLife Stadium this weekend. Saleh did say that some defensive starters would be making an appearance in the game but did not disclose who they would be. 
Regardless, it's the Zach Wilson and Tim Boyle show against Tampa Bay.
Offensive Update
A lot happened on Thursday but the good news is that almost all of it was positive. First, Mekhi Becton took his first reps in 11-on-11 at right tackle. Saleh confirmed that this would be the plan and has been encouraged by the results he's seen from his former first-round pick. 
"He wants to be on the field. Feels like he's a completely different person…It's the most confidence I've had in him in awhile," Saleh said of his tackle. 
Becton wasn't the only player who performed admirably without pads though. 
Breece Hall returned to the first-team offense without pads on and looked like his old self. The running back caught a slant pass while being positioned out wide and "would have easily scored" according to Saleh. Hall recorded over six yards per touch last season before his ACL injury and looks to be quick on his way back. He may be tempering expectations this season but it's hard not to see how this offense could use him in all different ways.
The only downside to Thursday's practice was that the Aaron Rodgers-Garrett Wilson connection seemed to have its first hiccup. Neither were on the same page for most of practice and it showed even in walk through. The obvious piece to this is that we're still weeks away from the start of the NFL season and a simple mediocre day from two All-Pro caliber players isn't going to turn the panic needle. 
Finally, an underrated player who has looked pretty solid and deserves a note is Trystan Colon. Colon has been primarily with the second team throughout camp but has played at both guard and center. He isn't overpowering, but he has consistently won his battles throughout practices and continues to look good for the Jets. 
If the Jets were looking for a Nate Herbig replacement, Colon might be it.
For more New York Jets news, turn to AMNY.com