Armed with a boatload of draft picks and talented young prospects, the New York Knicks have become one of the trendiest teams in the NBA when it comes to trade rumors. 
So far this offseason, we've already covered rumors about Damian Lillard, Bradley Beal, DeMar DeRozan, Karl-Anthony Towns, and Kristaps Porzingis. 
Now it's time for another. 
As the NBA Finals get underway, rumors swirl about the availability of Boston Celtics All-Star guard Jaylen Brown, who could potentially become available following Boston's elimination during the Eastern Conference Finals at the hands of the Miami Heat.
After making the All-NBA team this season, it was thought by many that the Celtics would be looking to re-sign Brown, who could become a restricted free agent after the 2024 season, and keep him and Jayson Tatum together for years. Given that Brown is eligible for a supermax extension this off-season, which means that he can re-sign with the Celtics for five years and $290.3 million, it seemed like a continuation of the relationship made the most sense. 
Yet, after another playoff disappointment, the Celtics now have to decide whether they want to pay about $600 million to keep Tatum and Brown together for the next five years or if they'd rather move Brown for a star player with fewer years on his contract and some potential draft compensation as well. 
That obviously leads to speculation about the Knicks.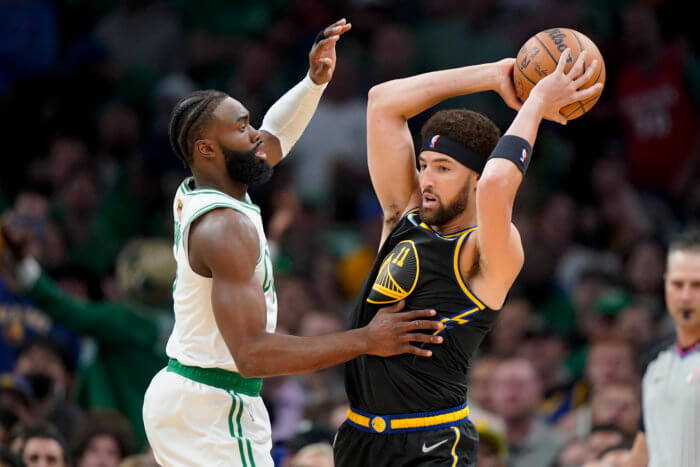 On the surface, Brown is the exact type of player that the Knicks are looking for. He's just 26 years old, a two-time NBA All-Star, and a solid two-way wing who can create his own shot off the dribble and shoots 36.5% from beyond the arc for his career. 
During the regular season, Brown was named to the All-Star team and All-NBA Second Team, after averaging 26.6 points, 6.9 rebounds, and 2.5 assists in 67 games.
His ability to defend both guards and forwards would make him a great complement in the starting lineup next to Jalen Brunson and RJ Barrett. At the same time, his shooting percentage would indicate that he could also give the Knicks the floor-spacing they're looking for in their starting lineup. 
However, despite that success, Brown is coming off a playoff collapse similar to the one Knicks' fans are lambasting Julius Randle for.
In a crucial Game 7 against the Miami Heat in the Eastern Conference Finals, Brown shot just 8-of-23 from the field while committing eight turnovers. In fact, in the whole series, Brown failed to perform at his normal level, hitting just 7-of-43 shots from three (16.3%), while averaging just 19.0 points. He also had more turnovers than assists.
If Knicks fans are willing to hold that against Randle in terms of his star qualifications then should they feel the same about Brown?
Perhaps more importantly, Miami forward Caleb Martin spoke after the series and admitted that the Heat plan is "always" to force Brown to drive to his left. That led to threads appearing on the internet of Jaylen Brown turning the ball over when he tries to dribble left. 
Tatum essentially neutralized as a playmaker on offense. The ball is forced into Jaylen Brown's hands and Jimmy Butler rips him every time he goes left. I mean EVERY time. pic.twitter.com/ESaKdfYMjt

— Savage (@MSavage901) May 30, 2023
In fact, Brown had a 16.4% turnover rate when driving left this year and just a 9.8% turnover rate when driving right. He's obviously a professional who can spend all off-season working to get more comfortable with his left hand, but this is certainly an issue if you're paying him huge dollars to be a playmaker and an offense-generator. 
What's more, even in an All-Star season, Brown finished 32nd among shooting guards in Wins Above Replacement (WAR) according to RAPTOR. That was below potential free-agent targets like Donte DiVincenzo.
Perhaps more interestingly, Brown finished 35th in defensive RAPTOR among shooting guards, which is just barely over average. In 2021-22, he finished 25th among shooting guards, so while those numbers are better than what the Knicks have had at shooting guard in the recent past it might not be the elite defensive metrics people expected. 
Still, Brown's talent is unquestioned. Despite his poor performance against Miami, he averaged 24.6 points on 54.1% shooting and 47.1% beyond from the three-point line in the first two playoff series against the Atlanta Hawks and Philadelphia 76ers.
The concern for the Knicks would be that acquiring Brown would obviously require a sizable collection of assets. Given that Brown could opt for free agency in a year, New York would need to be confident that they could re-sign him. That would likely mean being able to match a four-year deal worth around $185 million, which is what he could get in free agency. 
Given that price tag, acquiring Brown would have to mean trading away RJ Barrett or Randle to make the salary cap situation work. Would the Celtics be interested in either player? Are the Knicks better with Brown instead of Randle?
Those are the big questions the organization needs to ask before they decide whether or not to pursue Brown.