The city's Department of Transportation is cutting the number of lanes on a section the Brooklyn-Queens Expressway from three to two in each direction effective Monday, Aug. 30. 
The new layout along the nearly mile-long stretch between Atlantic Avenue and the Brooklyn Bridge is part of Mayor Bill de Blasio's recently-announced efforts to prolong the life of the crumbling highway's triple-cantilever section by 20 years. 
"This lane remarking may be inconvenient for some, but it is essential to making the road safer immediately and for decades to come," said DOT Commissioner Hank Gutman in a statement Friday. "During this necessary work on the BQE, we strongly encourage drivers to seek alternate routes and use public transportation."
Work on repainting the lanes started Friday evening, Aug. 27, and DOT warned drivers should expect "substantial delays" due to the change. 
Traffic officials advise motorists take public transit instead, and trucks or essential vehicles should opt for alternative routes using the Hugh Carey Tunnel and the New Jersey Turnpike.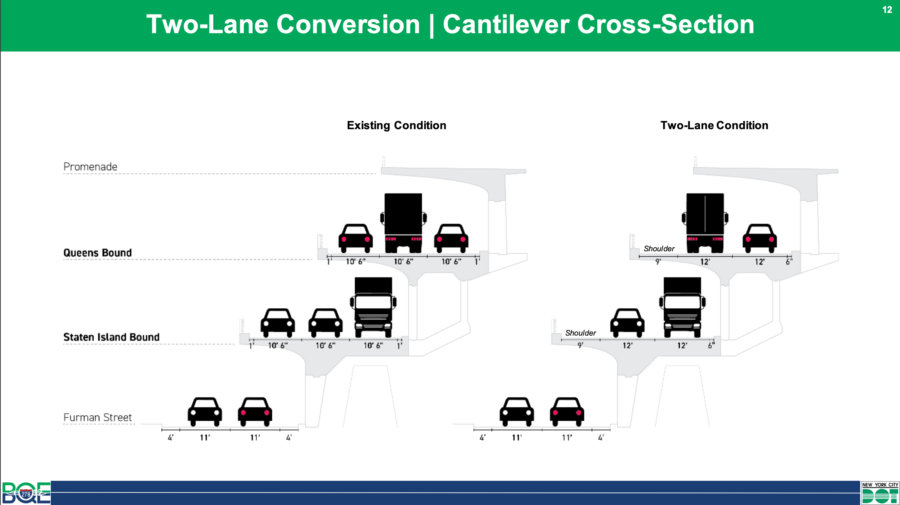 The lane reduction will immediately lighten the load on the tiered section of the highway wrapping around Brooklyn Heights and create dedicated new exit and entrance lanes and a shoulder in case of traffic incidents. 
An expert panel appointed by de Blasio to come up with a solution for the deteriorating 67-year-old roads previously said the triple cantilever could become unsafe by 2025, and advised the city to downsize the lanes from six to four in early an early 2020 report by the mayoral brain trust. 
The study also recommended upping enforcement on overweight trucks, which make up about 15-25% of heavy-haulers, according to recent DOT data, and cause outsize damage to the BQE. 
De Blasio promised enforcement police enforcement blitzes of trucks, but was slow to embrace the lane reductions until earlier this month when he lauded the traffic restrictions as part of a four-point plant o extend the 1957 highway's lifespan until officials can come up with a better solution for what to do with it — what DOT labelled a "long-term community vision." 
Other measures by DOT include preventative maintenance work to reduce corrosion by improving drainage, halting salting the surface in the winter, and waterproofing the joints. 
The agency has also been doing spot repairs on the most-damaged sections of a retaining wall, which shores up the triple cantilever, and plans to fix up deck spans in 2022, which will likely require partial or full closures on nights and weekends. 
To keep track of any issues with the BQE, DOT will set up more sensors along the BQE as well. 
Agency reps will start meeting with local community groups up and down the Interstate 278 corridor this fall, starting with Brooklyn's Community Board 2 Transportation Committee on Thursday, Sept. 16, at 6 p.m.
More information about the CB2 meeting is available at www.nyc.gov/brooklyncb2. For more information on DOT's BQE project visit www.nyc.gov/BQE