House Republicans want to slash funding for Amtrak's Northeast Corridor, the busiest passenger railroad in North America, by 92%, and are still holding out on the verge of a government shutdown despite bipartisan calls to restore funding.
The House GOP budget proposal would take a meat cleaver to Amtrak's finances, slashing annual funding for the typically Democratic-leaning Northeast Corridor from $1.3 billion to just $99 million. Nationally, the GOP plan would cut funding by 64% for Amtrak, which Republicans say has been "overfunded by Democrats."
Under the GOP plan, funding for Amtrak would be slashed to below what it was 20 years ago in 2003.
Amtrak CEO Stephen Gardner has said that should the GOP proposal become law, Amtrak would have to "radically reduce or suspend service on various routes across the nation" — leaving customers with longer delays, higher fares, and fewer options to get to their destination by rail.
"At a time when Amtrak has nearly returned to pre-pandemic ridership levels and is busy generating increased revenue, creating a historic number of jobs, and investing in the American economy, these proposed cuts would harm the country and take us in the wrong direction," Gardner said in July.
Now, a group of 77 lawmakers from both parties are demanding full restoration of funding, arguing the massive proposed cuts are "shortsighted" and would decimate service for the millions of passengers who ride Amtrak each year and undermine ongoing projects to maintain and expand the railroad's infrastructure.
The letter drew co-signatures from lawmakers across the political and geographic spectrum, including Democrats and Republicans representing New York. Big Apple Democrats who signed on include Alexandria Ocasio-Cortez, Jerry Nadler, Dan Goldman, and Jamaal Bowman; New York Republicans who signed on, bucking their party leadership, include Nicole Malliotakis, Andrew Garbarino, Mike Lawler, and Marc Molinaro.
"Underfunding Amtrak's annual appropriations will undermine necessary state-of-good repair work, inhibit progress on other capital projects, and runs counter to the interests of millions of our constituents who rely on efficient and reliable rail services," the lawmakers wrote in a Sept. 22 letter to House Speaker Kevin McCarthy and other Congressional leaders. "This means fewer trains, longer delays, and increased travel costs for hardworking Americans who depend on Amtrak for intercity and regional train travel for commuting, work, or leisure."
Republican disarray may lead to shutdown
Funding for Amtrak is just part of a larger budget debacle taking place on bitterly divided Capitol Hill. But this time, it seems internal strife within the Republican side of the House is the biggest hindrance to a funding deal.
If the Republican-led House and Democratic-led Senate don't agree to a budget by Sunday, Oct. 1 — an increasingly likely scenario — the federal government will shut down, leaving hundreds of thousands of federal workers furloughed and myriad government services suspended.
Spokespersons for Speaker McCarthy did not return a request for comment by press time. 
McCarthy — who won the speakership in January after 15 rounds of voting and political horse-trading — is facing intense pressure from furthest-right members of the Republican caucus to hold the line on the GOP's drastic austerity agenda, even if it means shutting down the government. One right-wing Congress member has even threatened a motion to "vacate the chair," a maneuver that could force McCarthy out of the speaker's seat, if they don't get their way.
In July, Gardner gave praise to the funding proposal from Senate Democrats, which would maintain operational funding for Amtrak at baseline levels.
Impacts of funding cut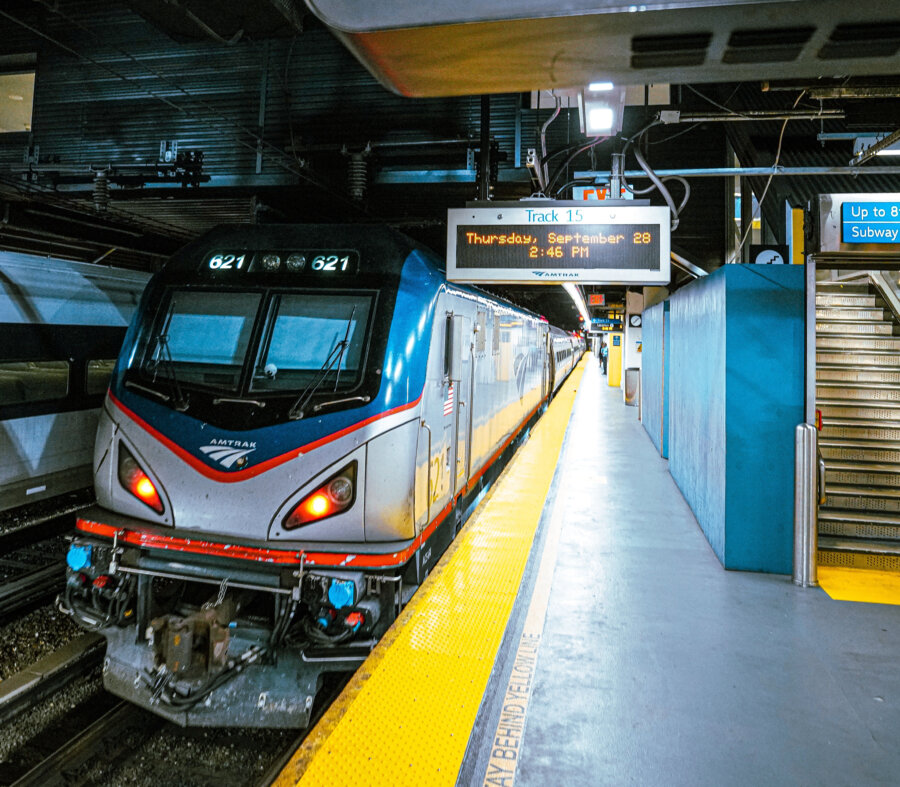 The cuts would particularly devastate the Northeast Corridor, which runs from Boston to Washington, DC and includes the nation's only high-speed rail, the Acela Express. It's the country's busiest passenger rail line, carrying 9.3 million riders last year, and is a crucial transportation link between the major northeast cities, including New York.
The Northeast Corridor is also a favorite of President Joe Biden, who regularly used Amtrak while a senator to commute from Capitol Hill to his home state of Delaware.
"Slashing funding from $1.3 billion to $99 million would interrupt service, bring a halt to essential infrastructure repairs and equipment overhauls required to keep trains running, and cause an immense strain on the millions of commuters, leisure travelers, and businesspeople who rely on this corridor daily," the lawmakers wrote in their letter.
The 2021 federal infrastructure bill earmarked billions of dollars for Amtrak to pursue major capital projects that would modernize and expand America's aging rail infrastructure. But the money set aside by the infrastructure law can only legally be spent on infrastructure projects, with much of it limited to specific projects for which states, cities, and transit agencies apply for grants.
For example, in July the Biden administration approved a $6.88 billion grant to New York and New Jersey to construct new tunnels for Amtrak and New Jersey Transit under the Hudson River, supplementing the century-old tubes that were severely damaged during Hurricane Sandy and significantly increasing rail capacity between the Empire and Garden states.
That eye-popping amount of money can only be spent on the Hudson River tunnel project, also known as Gateway. If the GOP funding proposal were to become law, Amtrak could not pull from the Gateway money to fund its operations and smaller state-of-good-repair projects.
Further, if the cuts were approved, the railroad's ambitious network expansion plans funded by the infrastructure bill would effectively become a fool's errand, as the agency wouldn't have nearly enough trains or crew to run expanded service; in fact, many Amtrak services across the nation would have to close entirely.
"This proposed budget does not take the task of governing seriously, ignoring the needs of hundreds of Amtrak-served communities in favor of scoring cheap political points," said Jim Mathews, president of the Rail Passengers Association, a national straphangers advocacy group. "We stand ready to work with House and Senate leadership to come up with a responsible budget that preserves essential transportation and economic services."