Now that's a subway sandwich!
The Metropolitan Transportation Authority launched a transit-themed sandwich together with Italian sub shop Alidoro and Katz's Delicatessen Thursday.
Named "1904" in honor of the year the first subway train rolled out of City Hall on Oct. 27, it is a spin on the classic pastrami on rye with some twists from the boot-shaped country, and will be available for $14 at four Alidoro locations in Midtown through the end of October.
"Mass transit has always been the best way to get around and take advantage of all our city has to offer," said MTA Chairperson and CEO Janno Lieber at a Sept. 29 press conference in Penn Station's Moynihan Train Hall. "And now we have this delicious sandwich to remind us of that."
Pastrami at the iconic Lower East Side eatery is topped with garlic confit cream, Calabrian pepper dijon slaw, and aged provolone, on a rye sourdough hero to make up the recipe for the 1904.
"This is a dream collaboration for us," said Alidoro CEO Jon Streep. "We wanted something that perfectly represented the city's culinary beginnings."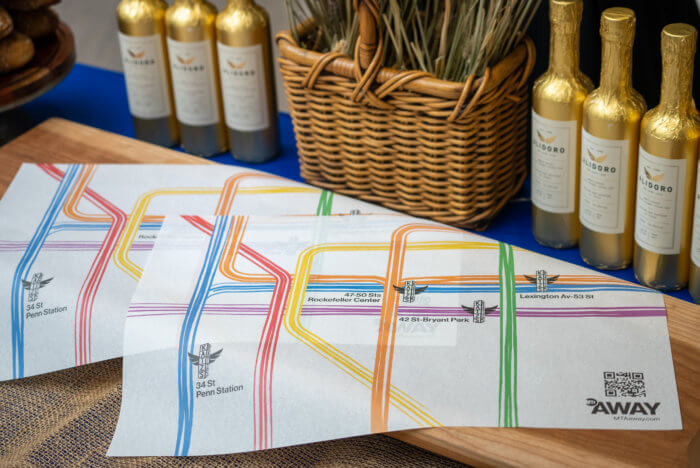 It comes covered in wrapping with hand-drawn subway lines inspired by the 1972 Vignelli map, including the stations near the Alidoro outposts that will sell the sandwiches over the coming month.
It's even ok to eat it on the train — as long as you don't make a mess, said Lieber.
"I'm never been one of those who says 'ban food,' but I do think that everybody's gotta be respectful of people next to them," the transit big said. "I'm sure New Yorkers, who are so good at managing stuff and how to share public space, will get it — and they've got that fabulous MTA-style wrapper to make sure that they don't make a mess."
There's also a $17 lunchbox option with chips and a cookie, and 75 lucky buyers of that package could get a $50 OMNY card or a gift card with that amount in fares for the subways and buses.
Katz's third-generation owner praised the effort for combining Big Apple institutions. 
"We are part of the Lower East Side and people don't get to us without the MTA," said Jake Dell.
"Sure it's a little confusing sometimes to people who first move here, but that's part of the charm," he said. "Just like moving through Katz's is a little confusing when you first get there, but then you figure it out, and then you're a pro, and then it's great."
The Penn Station Alidoro is in Moynihan's new food hall run by developer Vornado Realty Trust, the same firm looking to build a sprawling office campus connected to the renovation of the transit hub advanced by Governor Kathy Hochul. 
Vornado CEO Steven Roth is a big-time donor to the governor's campaign.
"I want to thank Steven Roth and the amazing team at Vornado, not only for hosting us today, and curating all of the incredible brands in this new magnificent food hall, but also for the larger project they've quietly started here," said Streep. "They're a modest bunch and don't like to talk about themselves."
The 1904 is available for $14 or $17 as a lunchbox through Oct. 31 at four Alidoro locations: 
Bryant Park (18 East 39th St.)
Rockefeller Plaza (1 Rockefeller Plaza, concourse level) 
Moynihan Train Hall (383 W. 31st Street) 
The Hugh (601 Lexington Ave.)