In 1964, painter and educator Mercedes Matter, with a group of students and faculty, founded the New York Studio School of Drawing, Painting and Sculpture (NYSS) in Greenwich Village. That it remains a vibrant and successful institution today has much to do with its adherence to the founding principles as its contemporary viewpoint.
Matter stated back then that, "The study is demanding and difficult; it places emphasis on what is learned rather than what is produced, on deep rooted insight into art of the past as well as of the present, on individual authenticity rather than borrowed idioms of fashion."
Today, Associate Dean for Academic Affairs Kaitlin McDonough adds that the school's vision statement is, "We come to look and we learn to see." She adds that the classes are geared not to handing the students rote assignments, but instead pushing them towards "finding the right questions."
While there is still an opportunity for the artists to have a shared experience — such as the traditional scene of a group all sketching a model — now there is equally an emphasis on the students "finding their own artistic voice."
McDonough offers the analogy of musicians spending their time practicing scales versus writing their own songs. "Today," she says, "we want them to be doing both."
Walking through the building at 8 West 8th St. — which has a rich history of its own, being a combo of four separate buildings that was the site of the original Whitney Museum — one feels the energy of the students' work in each studio. The aspiring artists range in age from late teens to early 80s, with some working towards an accredited MFA (the only degree they offer) and others there for the sake of their own artistic development.
"Their common denominator," McDonough notes, "is that they are attracted to the idea of working hard."
That particular attribute comes in handy for anyone participating in the marathon classes, which can run every day for two weeks with students creating art from 9 a.m. till 6 p.m., and sometimes longer.
Char Healey, who will soon graduate with an MFA from NYSS, notes that, "All of the energy and work I put into the program, I received back tenfold. From my studio space, to my brilliant instructors, to my supportive peer group, my time at NYSS has been unforgettable — a stellar learning experience." 
Andrew Bulger, a graduating certificate student, currently has his work hanging in the exhibition space that is open to the public.
"The New York Studio School is a magical place with a rich history and an amazing group of artists," he relates. "Studying here the past few years has had a profound impact on my growth as an artist. I greatly appreciate the generosity of the teachers and staff."
Irit Baniel, a certificate student, tells us that "NYSS is a place for me to realize a life long dream to uncover and expand my voice as an artist. I am elated and grateful every day."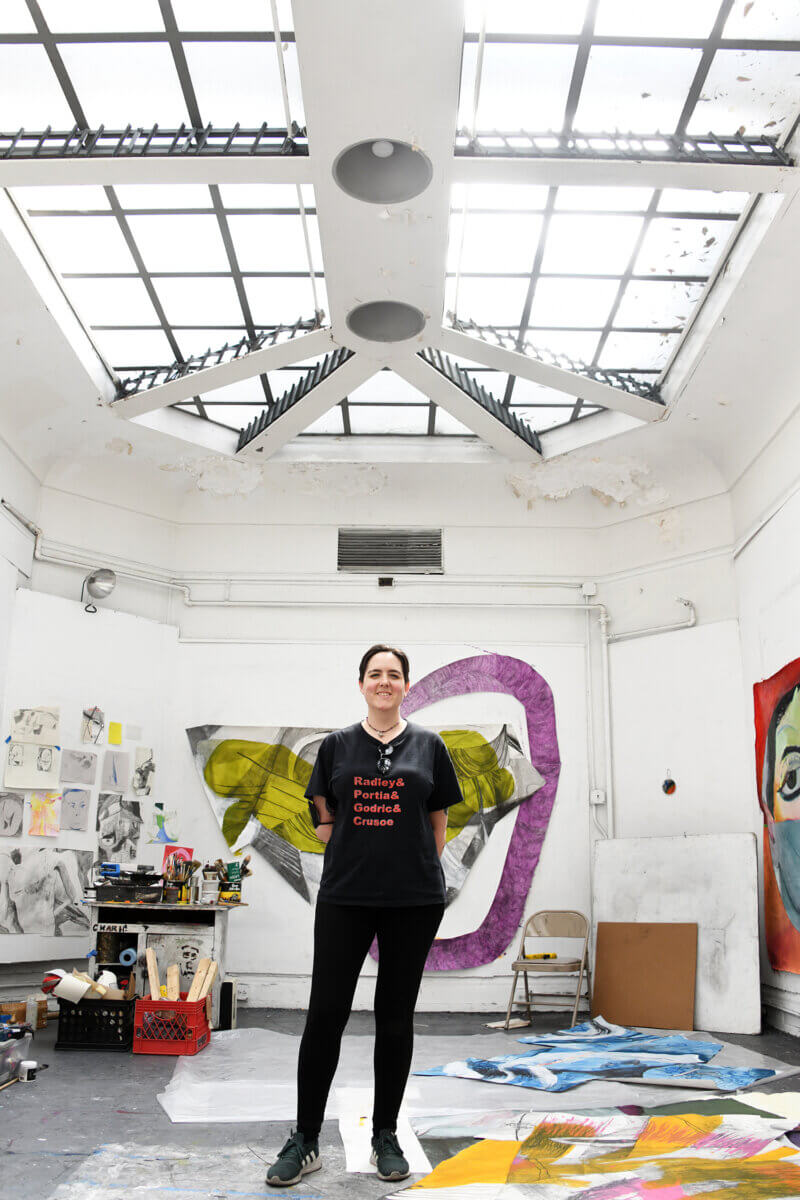 The school accommodates about 55 students, with additional artists joining in virtually from places as far away as Egypt and South Africa. McDonough stresses that "the goal is that after attending the school, they will have all the skills — not just technical but also philosophical — to sustain a lifetime vocation of being an artist."
For Suzanne Scott, a certificate student, the experience has been a "game changer." As she explains, "I came in hopes of expanding further artistically, breaking habits and pushing boundaries in my work. All of this and more has come to fruition and continues to develop throughout my studies. The instructors are top-notch and the students offer a thought provoking and inclusive community."
Graduating MFA student Paula Querido also notes her profound experience, noting that her time there "has been life changing" — adding that "the ethos of drawing from life and from other paintings has changed the way I see not only my work, but also the world around me."
Daniel Licht, another graduating MFA student, muses that "there's a belief at the Studio School that something important can come from just paying attention to things, something that genuinely matters in the world. It's the opposite of cynical, and I think that is what is so attractive about it to those of us that the school attracts."
The dean of the school since 1988, Graham Nickson, sums up the institution's mission statement quite simply: "We believe in the strength of art and its ability to change one's life."
More information about NYSS can be found at nyss.org, and you can follow their Instagram @ny_studioschool. The 2023 Certificate Completion Exhibition is up now and the 2023 MFA Thesis Exhibition opens on May 18.