A New York City carriage horse died earlier this week at a Midtown stable, reigniting controversy between activists who deem the industry abusive to animals and the carriage drivers who say they love their horses and are just doing an honest day's work.
The 17-year-old horse, Black Jack, passed away earlier this week after suffering from colic, an abdominal condition that commonly afflicts horses, a spokesperson for the Transport Workers Union Local 100, the union representing Central Park carriage drivers, confirmed to amNewYork Metro.
The union says stable staff noticed Black Jack was exhibiting signs of colic and started administering medication and consulting with veterinarians, with the intent of transporting him off-site for care, but the horse died before its vet could show up.
"The owners and driver of Black Jack and our stablemen, who all cared for him and tried to save him, are still in shock and are mourning," said Christina Hansen, a carriage driver and shop steward at TWU Local 100. "It happened so quickly. Hug your loved ones, whether they have two legs or four."
Colic is the leading cause of premature death among horses. The American Horse Council estimates about 10% of American horses suffer from colic each year, and 0.7% of them die, equating to about 64,000 horses.
New York City's carriage horses, like others, are not immune to fatal colic episodes: a Belgian draft horse named Billy died from colic in his Manhattan stall during a heat wave last summer, and five horses died of colic between 2019 and 2021, according to Health Department records shared with amNewYork Metro.
The majority of carriage horses die after retirement, which occurs upon reaching age 26 or being deemed not healthy enough to work, said Hansen, and they often leave the city at that point or move into less intensive horse occupations like trail riding or therapy.
But animal rights activists posit that Black Jack's death is just the latest example of fatal neglect and abuse in the industry, which they say involves dangerous and stressful work on chaotic Midtown streets.
"The tragic and agonizing death of Blackjack is another harrowing reminder of the horse owner lobby's persistent neglect and callous disregard for these animals," said Edita Birnkrant, executive director of New Yorkers for Clean, Livable, and Safe Streets (NYCLASS), a group seeking to ban the horse carriage industry in New York. "This is not an isolated incident, but a reflection of a profit-driven system that treats horses as expendable commodities. An investigation and necropsy are necessary to determine exactly what happened to Blackjack."
The horse carriage industry has been under heavy scrutiny since last summer, when a working horse named Ryder collapsed on a Hell's Kitchen street during a heat wave. The incident was captured on dramatic video that also showed his driver prodding the horse to get up and even whipping him instead of providing care and assistance.
The severely underweight Ryder was taken out of the city to be treated for what the union said was a nasty case of Equine Protozoal Myeloencephalitis (EPM). It was later determined that the driver, Ian McKeever, had told police Ryder was less than half his true age, and in reality should not have been working, especially in a heat wave. Ryder was euthanized a few months later for what vets suspected was cancer.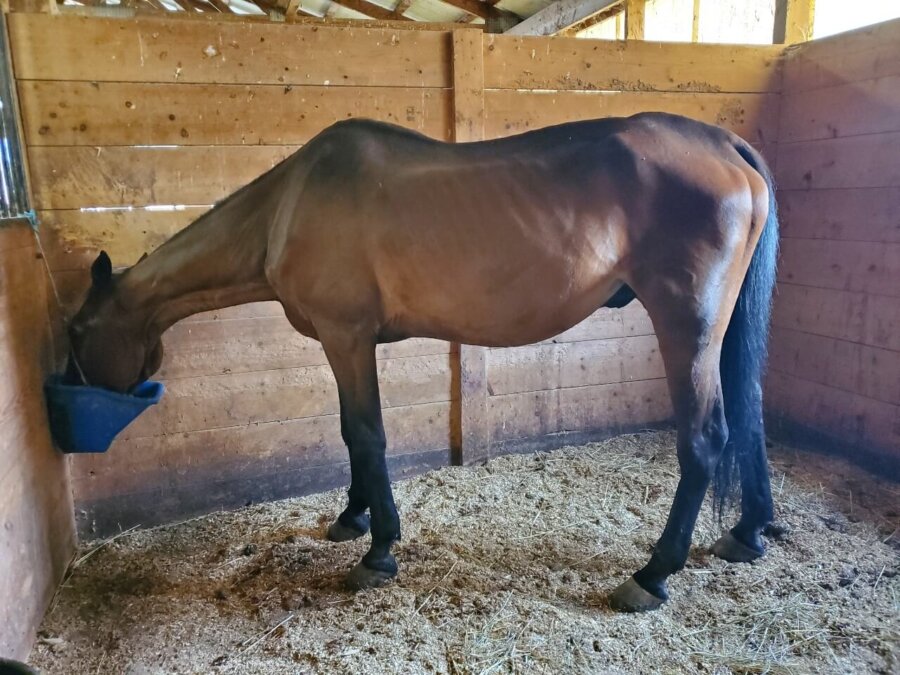 TWU has bulked up its veterinary practices for carriage horses since Ryder's death and the resulting media firestorm. The horses' new vet, Dr. Gabriel Cook, comes to the stables every other week to conduct city-mandated physicals on horses and consultations with drivers. In a statement, the vet, who works at the New England Equine Practice upstate, said that "all protocols were followed" with Black Jack and "there is zero fault to be placed on anyone."
The union has also brought in "expert horse caretaker" Tristan Aldrich to observe horses at Central Park once a week and flag any health concerns he sees. Aldrich comes to New York City after a career caring for horses in carriage competitions and at the Royal Mews of Buckingham Palace.
And last month, an equine surgery professor at North Carolina State University, Anthony Blikslager, conducted an audit at all three Midtown horse stables. He concluded that all the horses he saw were "in excellent body condition" and none appeared to be in any pain or distress.
Hansen, the de facto spokesperson for the carriage drivers, accused NYCLASS of exploiting Black Jack's death for fundraising and political clout.
"This is like a dog owner having his beloved dog die suddenly of a heart attack and then get publicly accused of being an animal abuser," said Hansen. "This group of extremists, who make horribly false accusations constantly to raise funds for itself, has zero credibility, and no shame."
But NYCLASS asserted that Black Jack hadn't received a veterinary exam since February, a point about which was confirmed by Hansen, who noted each horse gets physicals twice per year. Hansen says colic cannot be diagnosed until a horse is outwardly showing physiological or behavioral symptoms; in a 2017 video, she said that carriage horses "don't colic" because of their hay-rich diet, ready access to water, and constant movement.
Colic can be caused by all sorts of things, like gas accumulation in the gut, a twisted intestine, or blockage. It can also be caused by improper feeding, where horses eat moldy or dusty hay or eat too much grain compared to forage. The horses mainly eat hay at the stable, but consume grain while out and about to bulk up on calories.
Former Mayor Bill de Blasio famously promised to ban horse carriages, but never followed through amid heavy opposition by TWU and others.
But the movement has regained steam since Ryder's death last year: there are now 18 members of the City Council co-sponsoring a bill to phase out horse-drawn carriages and replace them with electric horseless carriages, with TWU drivers first in line to get licenses to operate the new cabs. The bill, Intro 573, is unofficially named after Ryder.
"Once again, we mourn the loss of yet another horse," said Queens Councilmember Bob Holden, the primary sponsor of Ryder's Law. "The continuous deception by the carriage industry about their horses' conditions is evident, with Blackjack and Ryder representing just a fraction of the suffering these animals endure. The call to transition to horseless carriages should have been heeded long ago, and New Yorkers demand an end to this cruelty."
This story was updated to more accurately reflect the prevalence of colic in carriage horses.