With more metropolitan cities abolishing horse-drawn carriages, animal rights activists say it's long overdue that New York City follows suit.
At a rally on July 13, the one-year anniversary of the introduction of Ryder's Law, representatives from NYClass, animal rights activists, and elected officials gathered outside City Hall, demanding the City Council finally act on the legislation.
Intro #573, dubbed Ryder's Law after the horse that dropped on a Manhattan street in August of 2022 and later died, would ban horse-drawn carriages and replace them with electric carriages.  
In a statement, Queens Council Member Robert Holden, the bill's sponsor, said "the urgency of ending the barbaric horse carriage industry" could no longer be ignored.
"By passing Ryder's Law and embracing alternatives like electric carriages, we can preserve the beauty of this tradition while ensuring the welfare of animals and providing better opportunities for workers, enabling them to earn more and operate throughout the year," Holden wrote. 
Manhattan Council Member Erik Bottcher, one of the 18 co-sponsors of Ryder's Law, said that New York City was behind the "rest of the world phasing out this antiquated tourist attraction." 
"It was over a year ago when we stood on the steps of City Hall and said horses do not belong pulling carriages in Midtown gridlock traffic. And here we are a year later, and it's still happening," Bottcher said. 
Edita Birnkrant, executive director of NYClass, said the situation had only gotten worse for NYC's carriage horses since the introduction of Ryder's Law.  
"Despite the empty promises from carriage owners and their representatives at the TWU, the troubling trend persists and can't be spun away: a rising number of sick and elderly horses are being forced to work in dangerous heat and air conditions," Birnkrant said.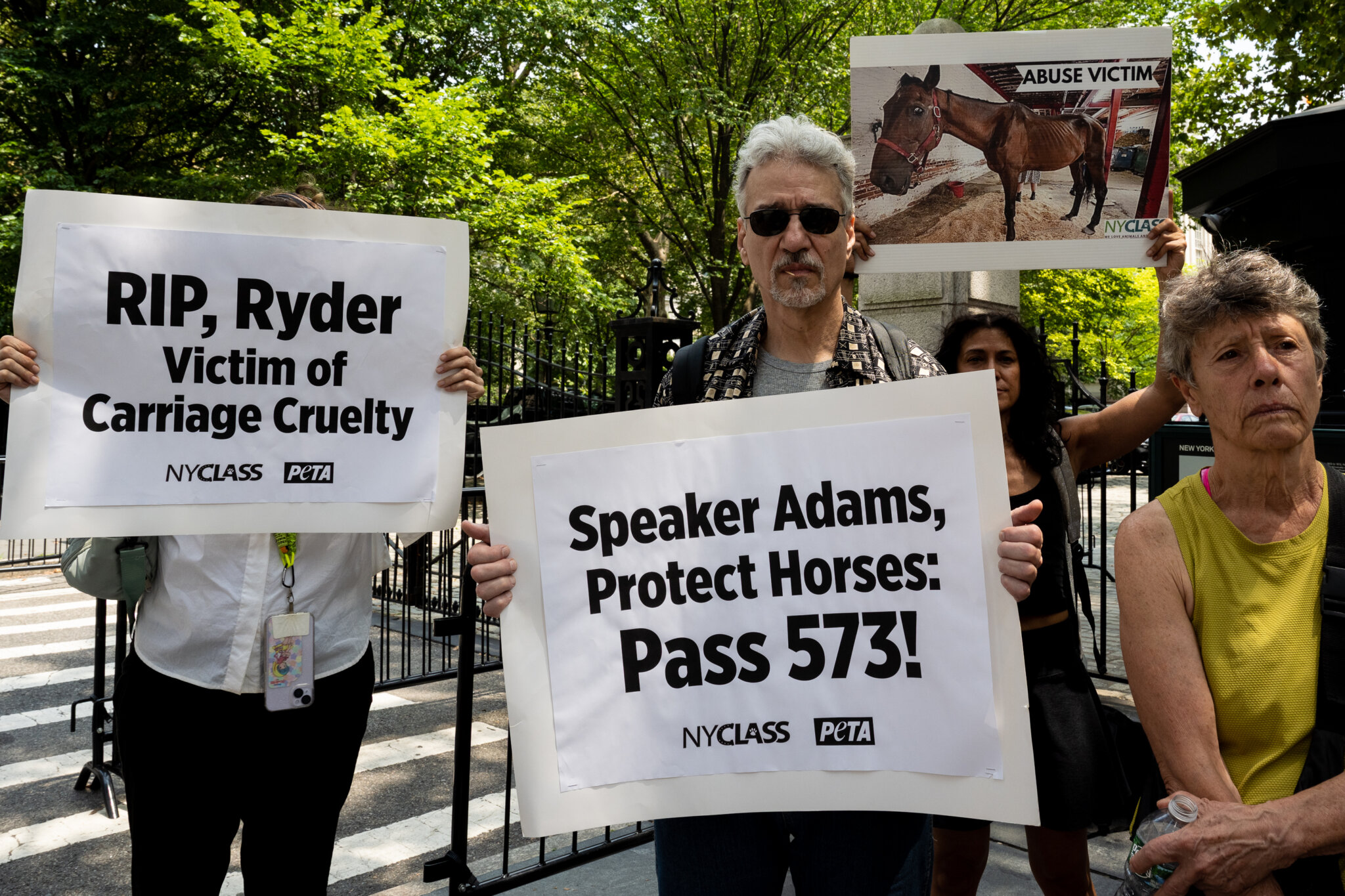 After a months-long investigation, longtime horse trainer and whistleblower Michael Petrelli unveiled his findings and sounded the alarm about the cruelty he witnessed. He called the current state of the horse carriage industry an "emergency" that possibly violates state cruelty laws. 
Petrelli videotaped many horses in what he deemed poor condition, ranging from lameness and soreness to hoof cracks and abscesses to open wounds and malnutrition. 
Petrelli said that horses were merely a machine to the carriage horse industry. 
"I know this because [I have been] doing my own research and investigating, talking with a few drivers who do seem to care, but are far too scared to speak," Petrelli said.
Some of the horses Petrelli documented were 18-year-old horse Raspberry, which looked underweight and exhibited head bobbing, associated with lameness, and 21-year-old horse Pepper, whose left ankle appeared swollen, and his hooves looked overgrown and breaking apart. 
Disputing charges of malpractice
Christina Hansen, union shop steward with TWU Local 100 and spokesperson for the horse carriage industry, refuted Petrelli's claim in an interview with amNewYork Metro and said both horses were seen and cleared by a vet. 
"All of our horses receive excellent farrier care," Hansen added. 
According to Hansen, the NYPD even looked for Raspberry in Central Park in response to complaints that the horse didn't have shoes. The complaint turned out to be unfounded, Hansen said. 
Another horse, 16-year-old Smokey, also displayed the signature head bobbing associated with lameness and leg injuries. The horse looked underweight with a poor coat appearance, according to Petrelli. 
Smokey's condition was reported to the NYPD, the Mayor's Office of Animal Welfare, and the Department of Health. On May 18, just two days after Smokey's condition was exposed publicly, animal rights activists believe he was taken away from the 37th Street stable on Manhattan's West Side in a horse trailer. 
When amNewYork Metro inquired about Smokey's current location, Hansen said the horse was "on vacation on a farm."
"Every New York City carriage horse gets at least five weeks vacation every year," Hansen explained. "Every individual [carriage horse owner] is required to send their horse outside the city for at least five weeks. That can be anywhere that's not in New York City."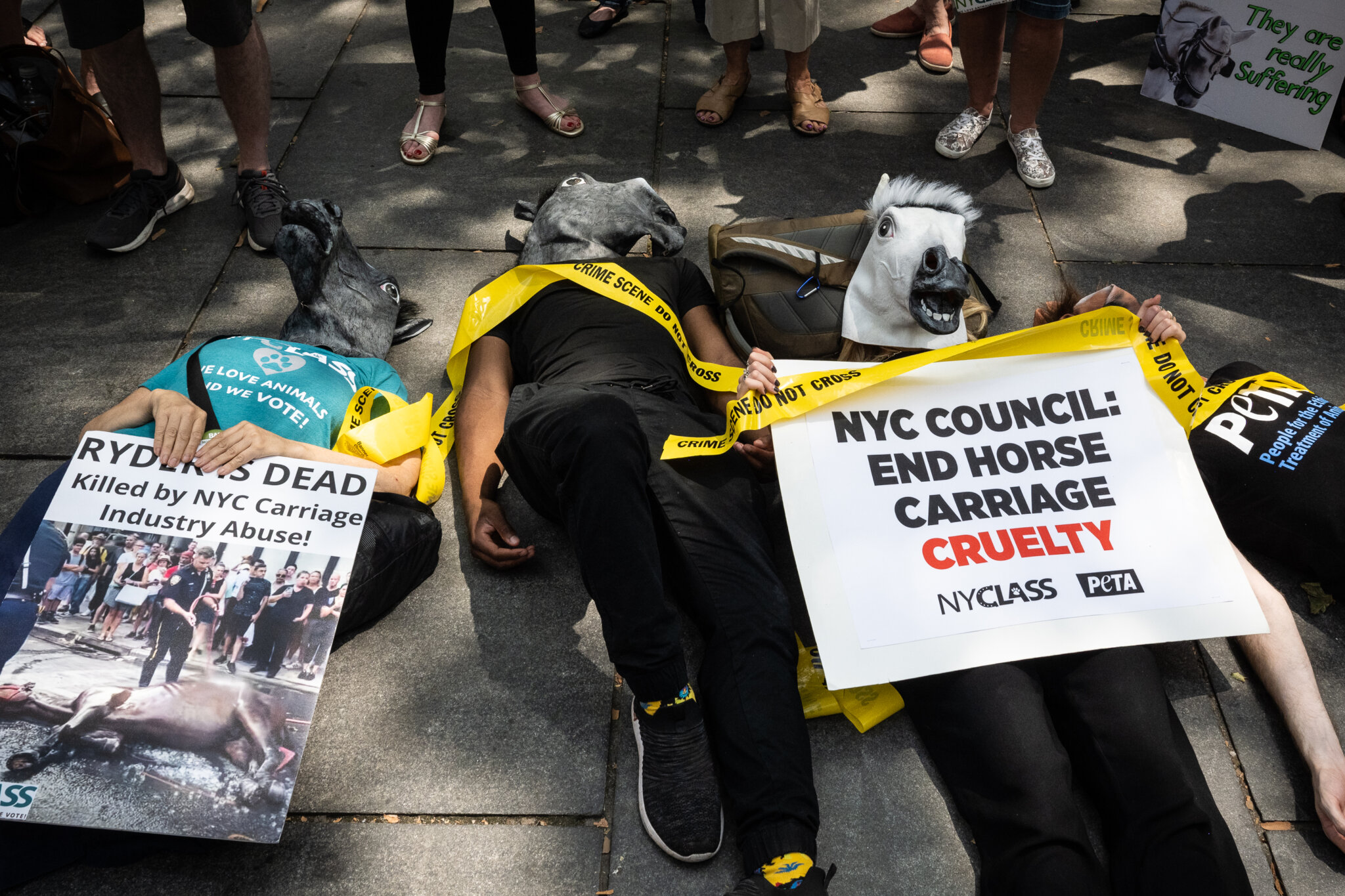 Hanson also pushed back on claims by NYClass that carriage horses are forced to work during temperatures above 90 degrees or the recent dangerous air quality from the Canadian wildfires.  
Hanson explained the New York City Health Department looked at guidelines from the California State Veterinary Association. 
"[The] 150 on the AQI is considered unhealthy for all groups of people and is often considered to be unhealthy for horses. So that was the number [the Health Department] set as the cut-off," Hanson said. "The Health Department department sends out text messages that we are suspended for whatever reason." 
After Ryder's death, TWU Local 100 introduced an array of reforms to ensure the horses' health and well-being, including an updated training manual, additional training,  heat protection, more water access in the park, and exams twice a month. 
Before the reforms, horses were examined twice a year, one full physical exam and a regular physical exam. 
Equine vet: Trust the reforms
Dr. Gabriel Cook, an equine veterinarian with New England Equine Practice in Patterson, NY, became the lead veterinarian in August 2022 for most of New York City's horse carriage drivers and owners.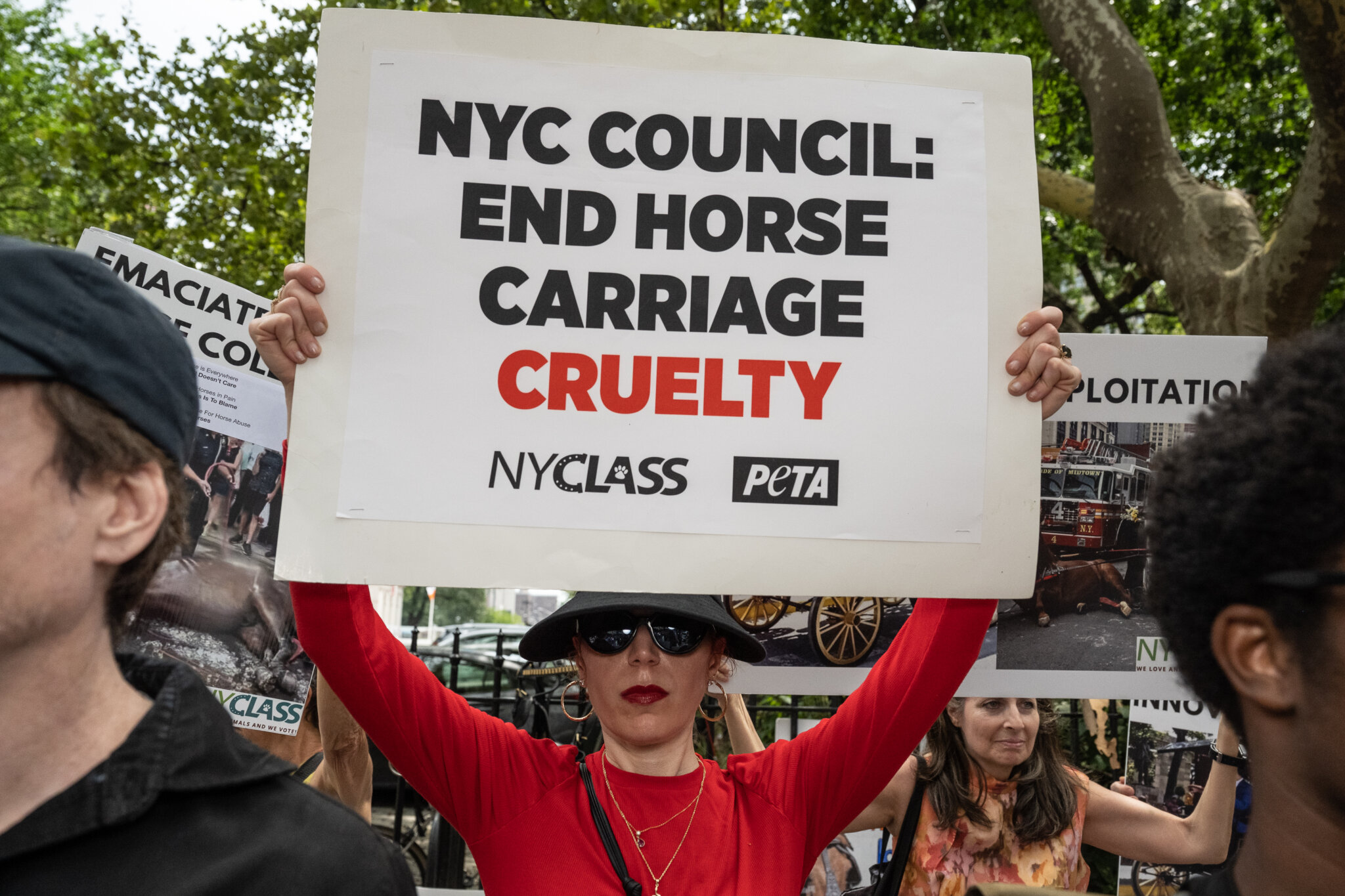 In a phone interview with amNewYork Metro, Dr. Cook acknowledged that Ryder's health condition was "abysmal," and the horse's actual age wasn't even close to the one on record. 
"If there was any continuity of care, no one would ever let [Ryder] ever work," Dr. Cook said. "And so that was a huge oversight."
With the new reform, health issues are detected earlier. 
"Now we're actually looking at their mouth, which helps us age them. And we're listening to their heart, looking in their eyes, and we're scoring their body score," explained Dr. Cook, who travels to New York City twice a month. "I am doing a lameness exam on every one of these physical exams."
Cook added that he follows strict criteria, stressing that, "if a horse is not sound at the trot and the horse is hurt, it shouldn't be working."