New York City's air quality is expected to deteriorate through Thursday as more smoke from the still-burning Canadian wildfires rolls through the area again.
The city's Health Department projects that air quality levels will be in the moderate range on Wednesday, between 51 and 100 on the air quality index (AQI), but will get worse tomorrow as the wildfire smoke, which has lingered over the upper Midwest the last few days, heads toward the east. 
On Thursday afternoon, New York state's Department of Environmental Conservation declared an air quality alert; the state will also use for the first time emergency cell phone alerts in areas where the air quality index exceeds 200.
It's not clear yet whether the Five Boroughs will experience the apocalyptic conditions of June 7, when the smoke was so thick that it covered the city in an eerie orange haze and emergency rooms saw an influx of patients with respiratory issues.
At the time, New York City's air quality ranked among the worst in the world, with the AQI index exceeding 300 at its peak. On Tuesday, as the latest smoke plume struck the Midwest, cities such as Chicago and Detroit saw similar AQI levels.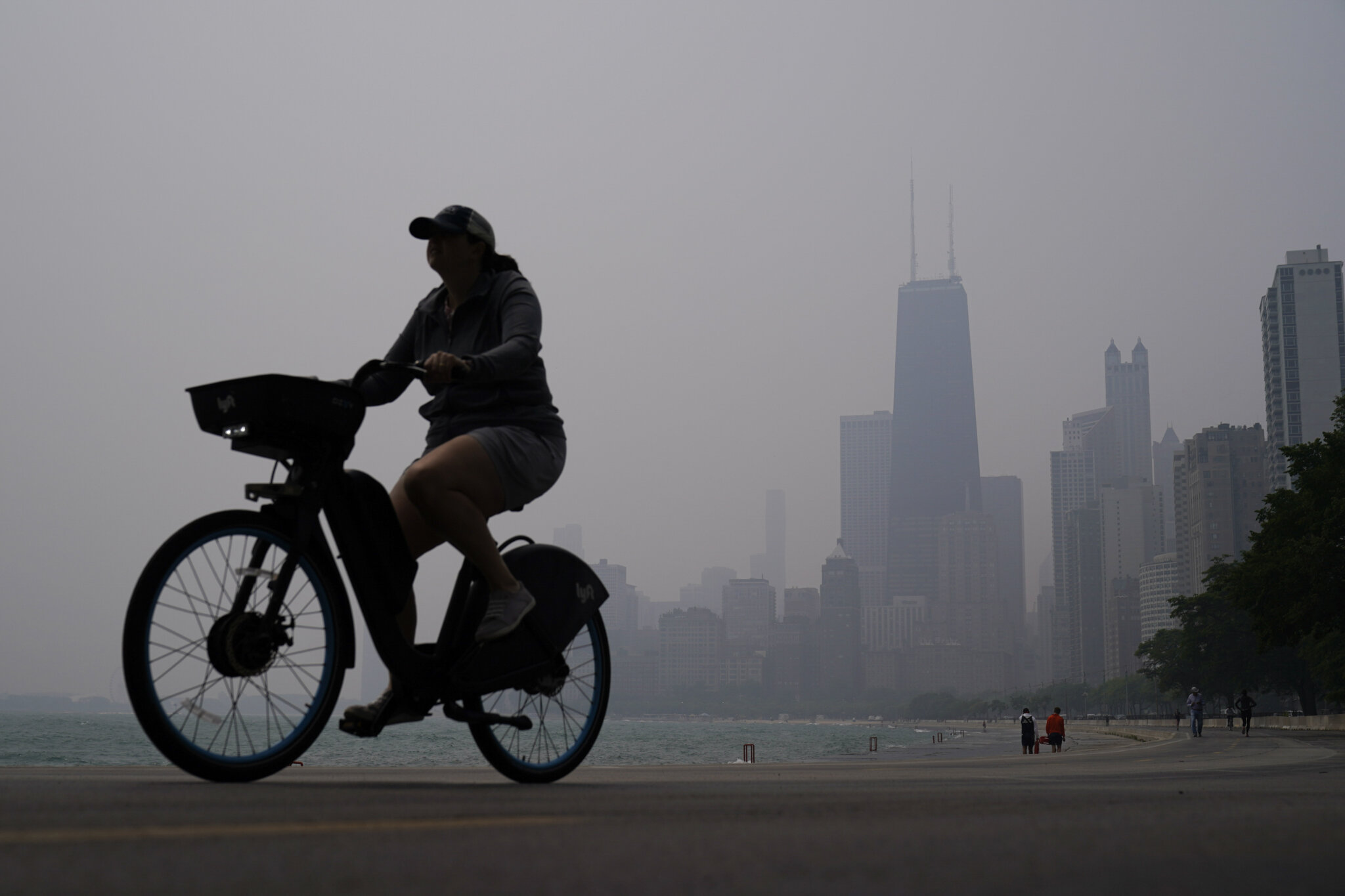 As of 7 a.m. Wednesday morning, the Environmental Protection Agency's Airnow.gov tracker had New York City's AQI at a moderate 60. The city's Health Department projects the AQI will range between moderate levels of 51 and 100 on Wednesday. Those numbers can change, however, up or down depending on wind patterns that carry the smoke.
Children, seniors and people with cardiac or respiratory issues are the most sensitive to the smoke's particulate matter. If the AQI exceeds 101, they should limit time outdoors, avoid prolonged outdoor activity, wear an N95 mask outside and seek immediate medical attention if they experience trouble breathing.
The Health Department warns that all New Yorkers should take such precautions if the AQI goes above 150. 
N95 masks remain available at all FDNY firehouses and NYPD precincts; stop by today to pick one up. The Health Department says it will expand supplies to areas most vulnerable to air quality issues.
While the smoke will dissipate in New York City, the wildfires in Canada rage on. Since Jan. 1, the Canadian Interagency Forest Fire Centre reported, more than 29,000 square miles of forests have burned. Presently, 490 wildfires are still burning, and 255 of them are out of control.
With AP reports