Residents of Canarsie are still pushing for a ferry stop in their southeast Brooklyn neighborhood with limited transit options, and lamenting an apparent about-face from Mayor Eric Adams, who once supported the campaign but now, as the city's chief executive, appears to have abandoned it.
The neighborhood is only served by one subway stop, the L train's southern terminus at Rockaway Parkway, which is located far away from many residents' homes, and locals consider the area a "transit desert" ripe for a ferry stop. As Brooklyn Borough President, Adams repeatedly lent his support to yearslong calls to add ferry service to Canarsie, but since arriving at City Hall as mayor in 2022, he has not considered it a priority, to the chagrin of local residents.
A spokesperson for the Economic Development Corporation, the quasi-public city agency which runs the NYC Ferry system, said the Adams Administration presently has no plans to expand ferry service, instead seeking to make the existing service more "accessible, equitable, and financially sustainable."
"NYC Ferry plays an important role as a transit option, and we welcome New Yorkers' advocacy and excitement about NYC Ferry and the recognition about the critical part it plays in our communities," said the EDC spokesperson, Adrien Lesser. "While we are not actively pursuing expansion options, our focus is on making our current service more accessible, equitable, and financially sustainable through the Adams administration's Ferry Forward plan."
City Hall did not return a request for comment.
Locals who have long pushed for a ferry stop at Canarsie Pier say they feel betrayed, with the neighborhood doomed to remain a transit desert for the foreseeable future.
And so, residents gathered at Canarsie Pier on Sunday to rally for a stop, the latest in a series of protests before and during Adams' tenure calling for the mayor's support, which locals say they'll continue until they get an answer.
"You have a system that brings New Yorkers around the city in a fast and eco-friendly way. You have a working-class Black community that's yearning for more options to get around," said Jibreel Jalloh, president of local advocacy group The Flossy Organization, at the rally. "So why not just put these two problems and create a solution?"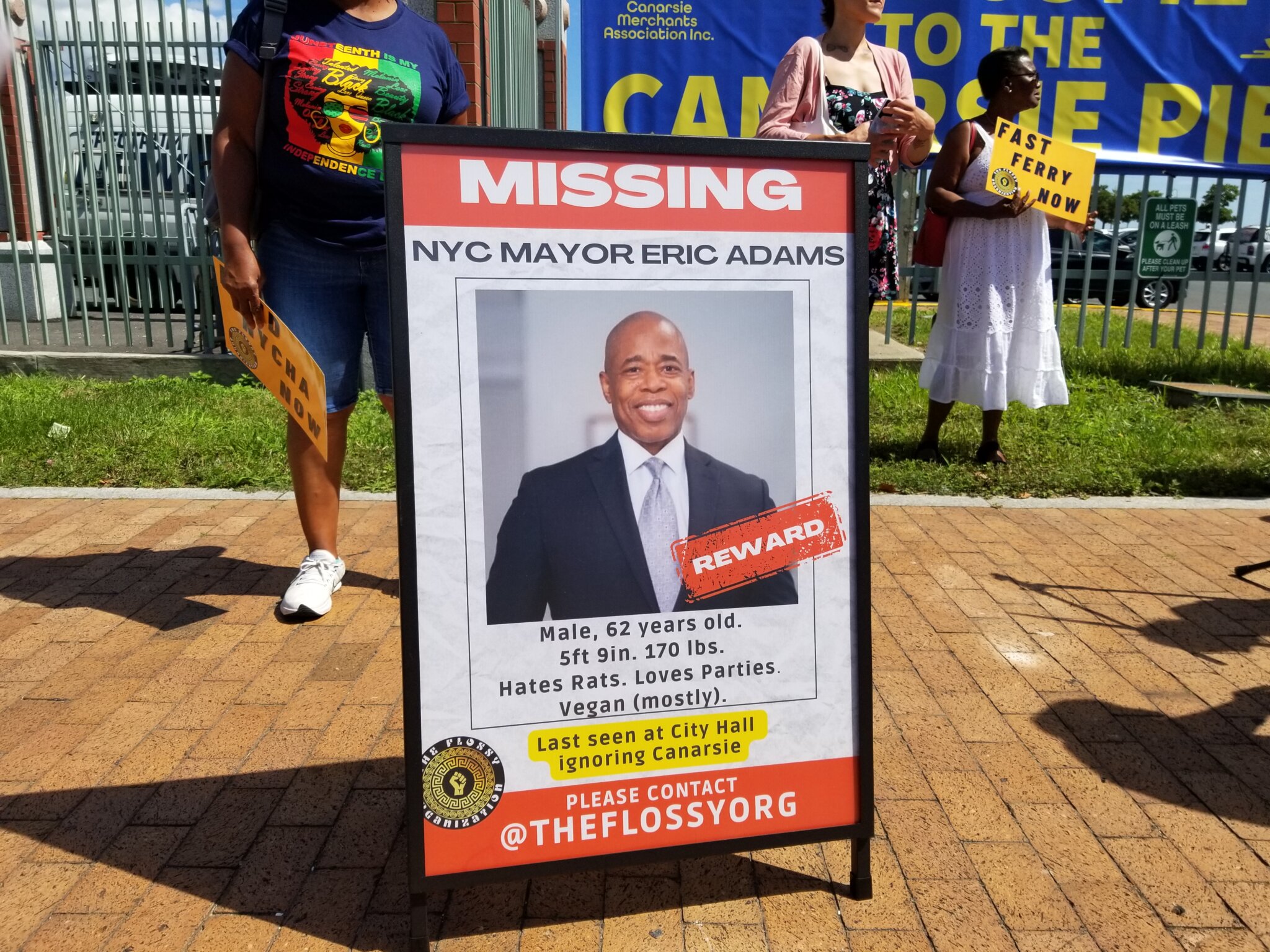 Residents have been pushing for a ferry stop at Canarsie Pier on Jamaica Bay since the NYC Ferry launched in 2017, arguing the waterfront nabe is just the kind of place where aquatic transit could do wonders. The Canarsie Improvement Association delivered 6,000 petition signatures that year demanding a ferry stop to then-Mayor Bill de Blasio, who promised to conduct a feasibility study.
But when the study came out in 2019, Canarsie was left in the dust, with officials claiming ferry service to the neighborhood wasn't feasible due to rules requiring all parking at the federally-administered Canarsie Pier be "recreational" in nature, instead of for commuting. Officials also said ferry service wouldn't enable faster trips from the outlying nabe to lower Manhattan, a contention that locals found dubious.
"We live in a community where they always say what we can't have," said Jalloh. "I am tired of hearing about what is not possible in Canarsie."
Ferry service did, in fact, exist between Canarsie and Rockaway in the 20th century, according to records from the Brooklyn Public Library.
The NYC Ferry system now has stops in waterfront neighborhoods as far away from Manhattan as Far Rockaway, Queens, and Throgs Neck in the Bronx, and also includes a line from Staten Island to lower Manhattan that at least partially mirrors the Staten Island Ferry.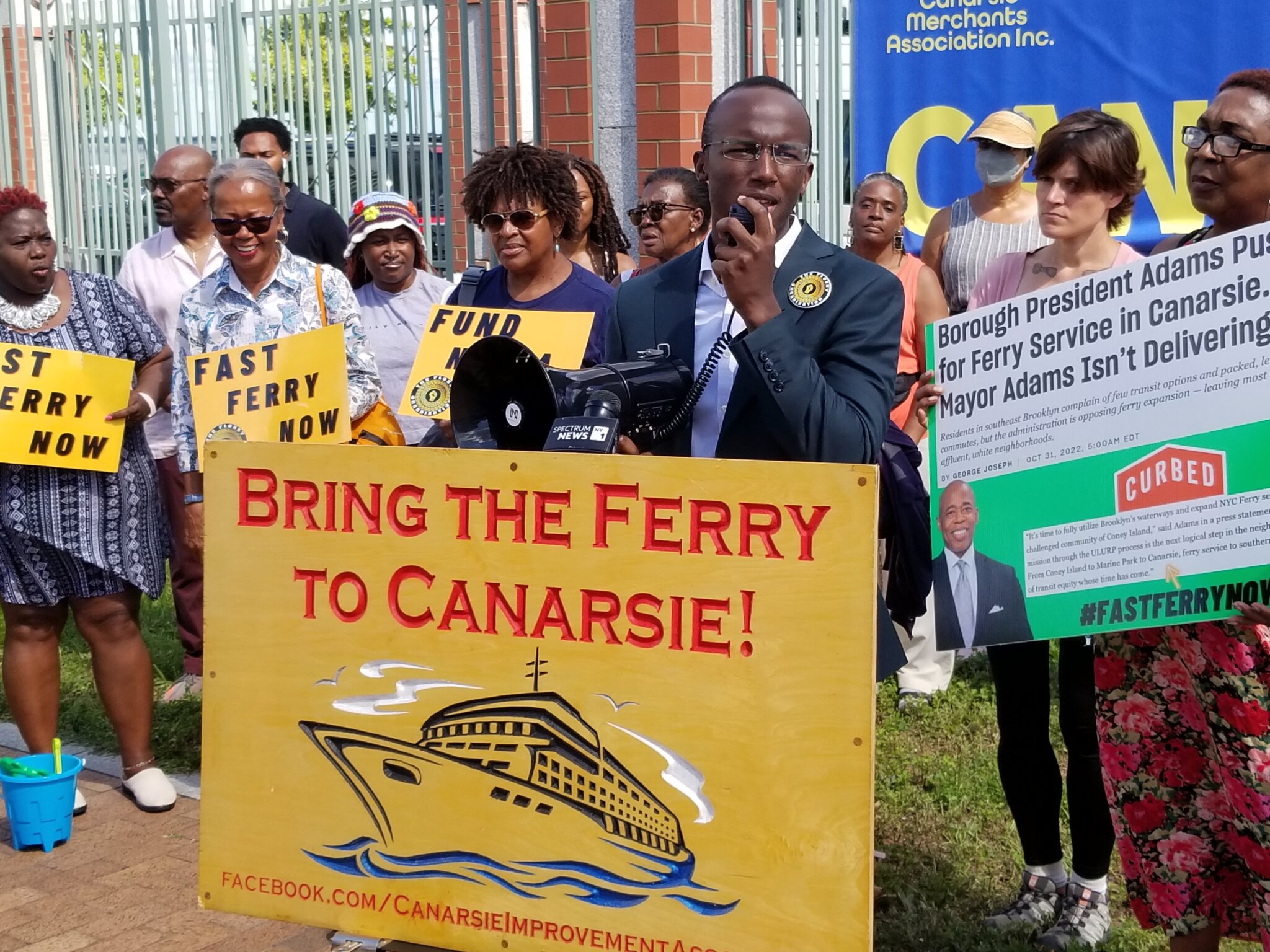 While Adams was supportive during his years as Borough President, demonstrators felt that he has largely overlooked the waterfront neighborhood since becoming mayor, despite the strong support he got from its residents in his mayoral campaign.
"Mayor Eric Adams, we haven't seen you in Canarsie for a while, so we just wanted to bring it back onto your agenda," said Jalloh.
Canarsie has been a community easy to overlook as mayor, perhaps because of its demographics, said Jalloh. Community District 18, which includes Canarsie and Flatlands, is majority Black and has a lower average per capita income than the citywide average, according to 2020 Census Data.
Richer, whiter waterfront neighborhoods never had to fight for a ferry, said Jalloh. Williamsburg, in fact, has two stops, in the northern and southern parts of the nabe.
"Instead of NYCHA, if this waterfront was lined by luxury condos, we'd have had a ferry years ago," he said.
Median travel times to work in the neighborhood are 1.5 times higher than the state average. 44% of residents commute by automobile while 36% take transit.
But the ferry wouldn't just be a transit option for commuting. It could also help activate Canarsie and its scenic pier as a destination for tourism, shopping, and restaurants, said Norine Medas of the Canarsie Merchants Association.
"Canarsie is a destination," said Medas. "We are looking to be able to get more to offer all of our businesses to new visitors."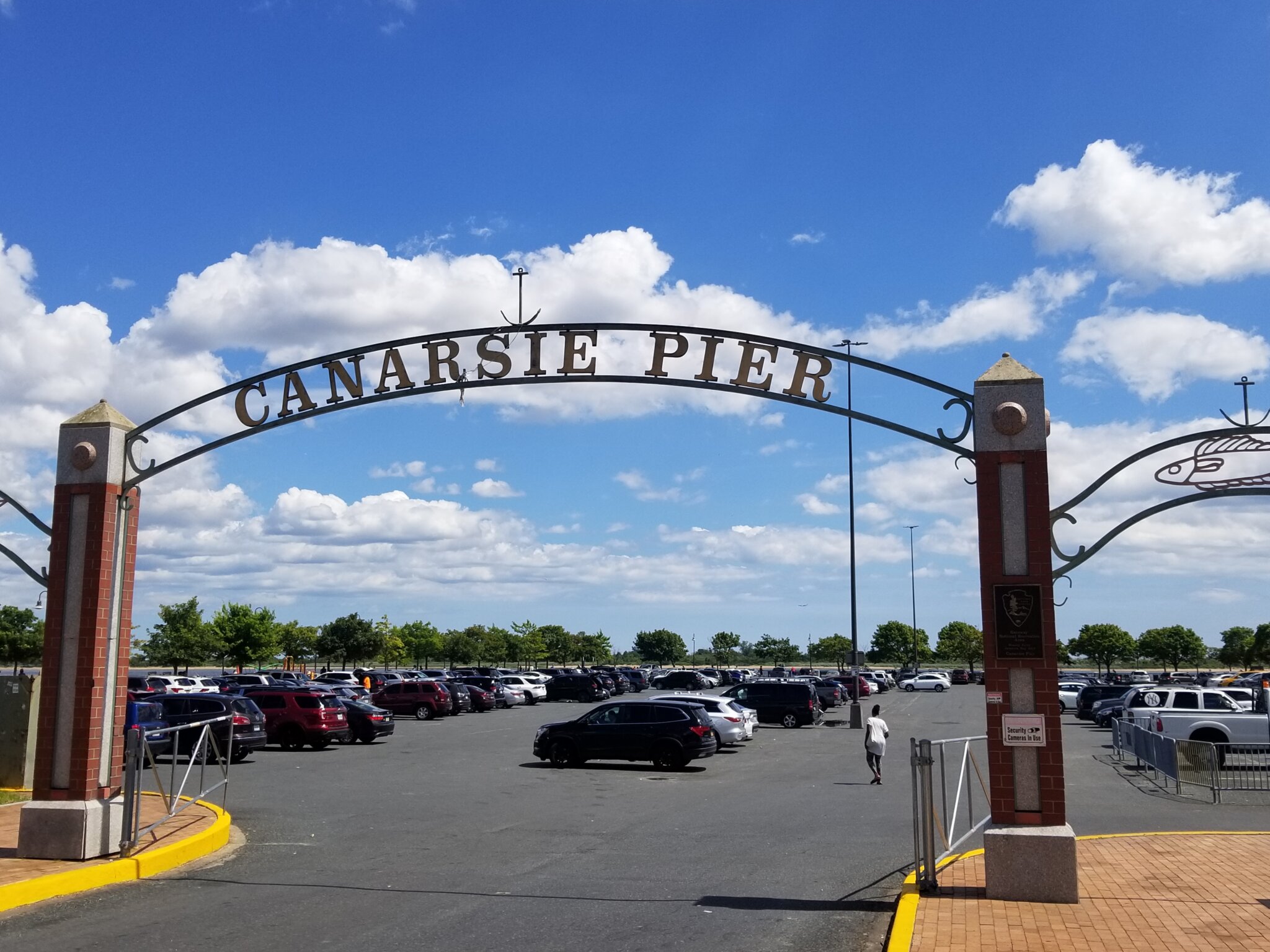 The ferry system has long been maligned as oversubsidized compared to other transit modes, while largely carrying passengers that are whiter and wealthier than the citywide average.
Last July, City Comptroller Brad Lander released a damning audit finding EDC had underreported subsidies to the ferry system by nearly a quarter billion dollars, meaning the city was funneling money to the ferry at a clip of $12.88 per ride.
That same month, Mayor Adams unveiled the "Ferry Forward" plan, which seeks to "improve equity and access to the ferry" while also reducing the excessive public subsidy required to run it.
A few months later, a single ride fare was bumped up from $2.75 to $4, intended for infrequent riders and tourists who could afford it. Ten-trip passes still mirror the price of a MetroCard, and discounts are available for seniors, disabled riders, and Fair Fares participants; the City Council passed legislation this year to make students eligible for the $1.35 fare.
Although the city claims it is not presently seeking to expand NYC Ferry service, in February EDC announced a new ferry line aimed at bringing Bay Ridge commuters to lower Manhattan within 20 minutes, saving them from a nightmare commute on the R train. This month, the city expanded that service to facilitate commutes during the afternoon rush, as well.
Canarsie is not the only southern Brooklyn nabe feeling left out of aquatic transit. Coney Island residents were hopeful that ferry service would finally come to the neighborhood when the city started dredging Coney Island Creek in preparation for a ferry stop there, but last year the dredging was halted after unanticipated issues with sand on the creekbed.
Residents had previously suggested building a ferry landing on the ocean, near the People's Playground's amusement parks, but that idea was nixed due to the sea's tides and winds that would push the cost of a jetty into the tens of millions of dollars. The city now has no plans for a ferry landing in the area.