Their faces were lit by the flickering candlelight; the only sound, the clicking of cameras. This was the scene in Foley Square on Monday night as dozens of journalists gathered to remember the lives of colleagues who perished bringing vital news to the public.
The candlelight vigil took place in the shadow of the Trump civil fraud trial, one of the country's biggest headlines as of late, and, in a way, the dead reporters were part of one last great story. Photojournalists, reporters and the public at large encircled a scene made up of the faces of the dead and the tools of the trade: cameras, helmets, bulletproof vests and the word "Press" at the center of it all.
Photojournalist David Delgado, the Pulitzer finalist who organized the vigil, became emotional as he spoke to amNewYork Metro, recounting friends and colleagues who died turning their cameras and pens to the darkest moments of humanity.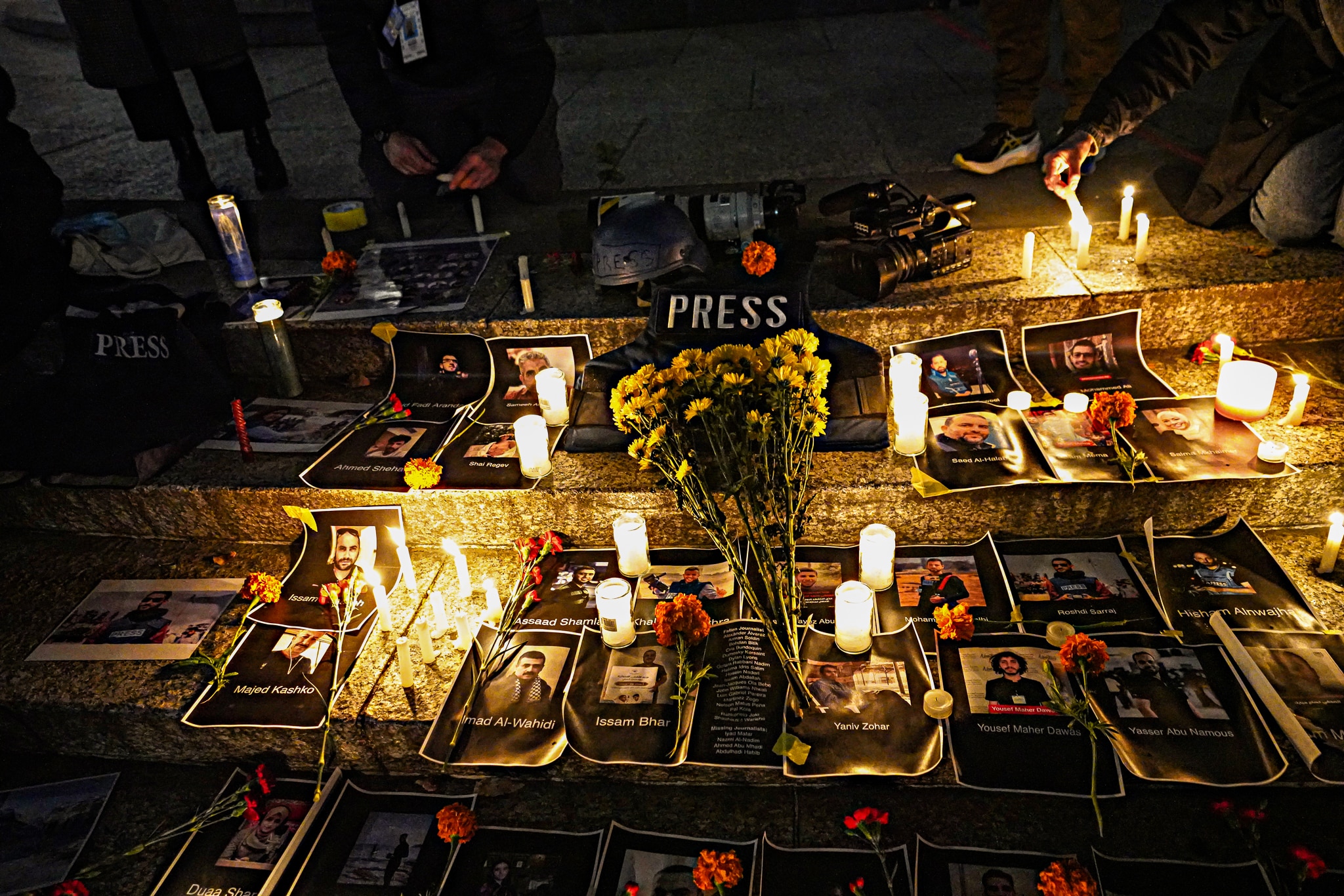 "Our goal is to speak truth to power and doing so, we also get overlooked," Delgado said, choking back tears. "In the past four weeks, we've had 40 journalists killed — 36 in Gaza, four in Israel. It's not about Israel or Gaza, it's about journalists being targeted."
At one time having "Press" imbued across a helmet or vest would signify an individual's impartial duty to convey information to the world, yet over the years, that viewpoint has been skewed, be it in war or during protests. In today's world, journalists and the media are often being used as scapegoats when the truth does not fit a desired narrative.
For Delgado, this has been exacerbated by armchair commentators who post on Instagram and X, the social media platform formally known as Twitter, uploading content charged with hate speech and harassment under the guise of journalism.
"It is very important to distinguish that because if we don't distinguish it, how will people know who to trust? It doesn't matter whether you hold the camera, whether you're on TV, whether you're taking a photo, whether you're doing a recording. A journalist is a person that follows ethics, and that's the guiding star for us," Delgado said. "You don't need to go to school to be a journalist, but you need to know ethics and you need to follow those."
While some journalists remembered Monday evening covered the war zones for larger outlets, others used their phones to document the ongoing conflict and resulting crisis — until they eventually became casualties themselves.
Photojournalist Melissa Bunni Elian told amNewYork Metro she is distressed by the conflict's current death toll.
"I just wanted people to know how important they are, the photographers. We are the visionaries of society," Elian said somberly. "Not in a cocky way, but it's just like we're trained to look where people look away."
As of Monday morning, more than 10,000 Palestinian people have died since the war began on Oct. 7, when terrorist group Hamas attacked Israel. About 1,400 people in Israel have died, mostly civilians killed in the initial attack, according to the Associated Press.