The alleged Upper East Side robber accused of shooting a bodega worker dead and committing other stickups across the city has been apprehended, according to police.
"He was a bad person," Mayor Eric Adams said of 39-year-old Kimond Cyrus, the man allegedly responsible for a three-borough armed robbery spree during which donning a mask and a Tyvek suit became his signature.
Chief of Detectives James Essig said that Cyrus was caught in the Bronx on Thursday and is being interrogated at the 42nd Precinct for an array of crimes cops say took place between Feb. 25 and March 3.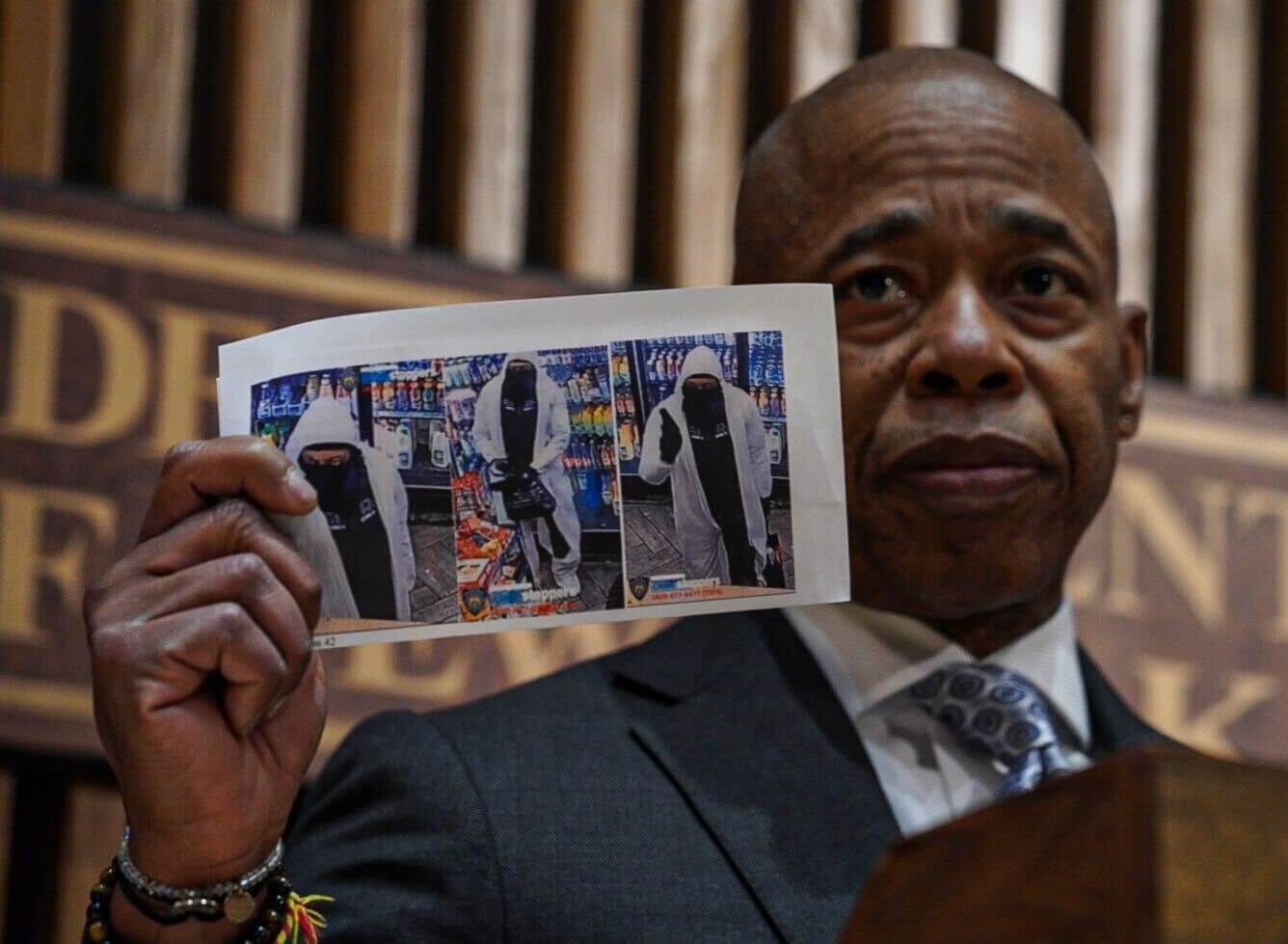 The case was especially noteworthy because of the suspect's garb. Not only did he wear a hazmat suit to the robberies, but he was also masked up in the Upper East Side murder case — prompting calls from Mayor Eric Adams and NYPD Chief of Department Jeffrey Maddrey for all Big Apple shopkeepers to require that all customers remove their masks before entering their businesses. Mayor Adams banged this drum again on March 9 after officially announcing the arrest at police headquarters.
"This is good old-fashioned police work and that police work was made harder with this," Mayor Adams said holding up a photograph of the masked suspect. "Facemasks protected us from COVID but [we are] really allowing criminals to exploit this. We can have public safety and health, they go together."
The alleged gunman's apparent crime spree came to a head late in the evening on March 3, when cops say he shot and killed 67-year-old Sueng Choi, who was working as a cashier at Daona Gourmet Deli in the vicinity of East 81st Street and Third Avenue. 
Soon thereafter, the suspect reportedly also held-up a Bronx deli about 30 minutes later. NYPD sources confirmed that at 12:03 a.m., a man in a hazmat suit entered a deli at 851 Melrose Place and removed cash from the register at gunpoint. No injuries were reported in that robbery.
Local residents told amNewYork Metro that they were stunned over Choi's death.
"I didn't even put on clothes," a neighbor named Arthur said, revealing that the cashier had only just returned to work. "He just had back surgery two months ago and was not working these long night shifts. He just came back."
According to Chief Essig, a witness tipped off police when Cyrus entered a bodega to make a purchase in the Bronx.
"Acting on this tip, detectives tracked that individual through video," Essig said. 
Law enforcement was also able to survey surveillance video of the suspect entering and leaving his residence that Essig said matched up with the time of his alleged crimes. That footage shows him wearing the now-infamous Tyvek suit.
Police also recovered a blue moped the suspect apparently used as a getaway vehicle and a black handgun used in the crimes at the scene of his arrest. A search warrant has been issued to comb over his basement apartment.
Cheif Essig told amNewYork Metro that authorities are still piecing together why one of the robberies turned into a murder.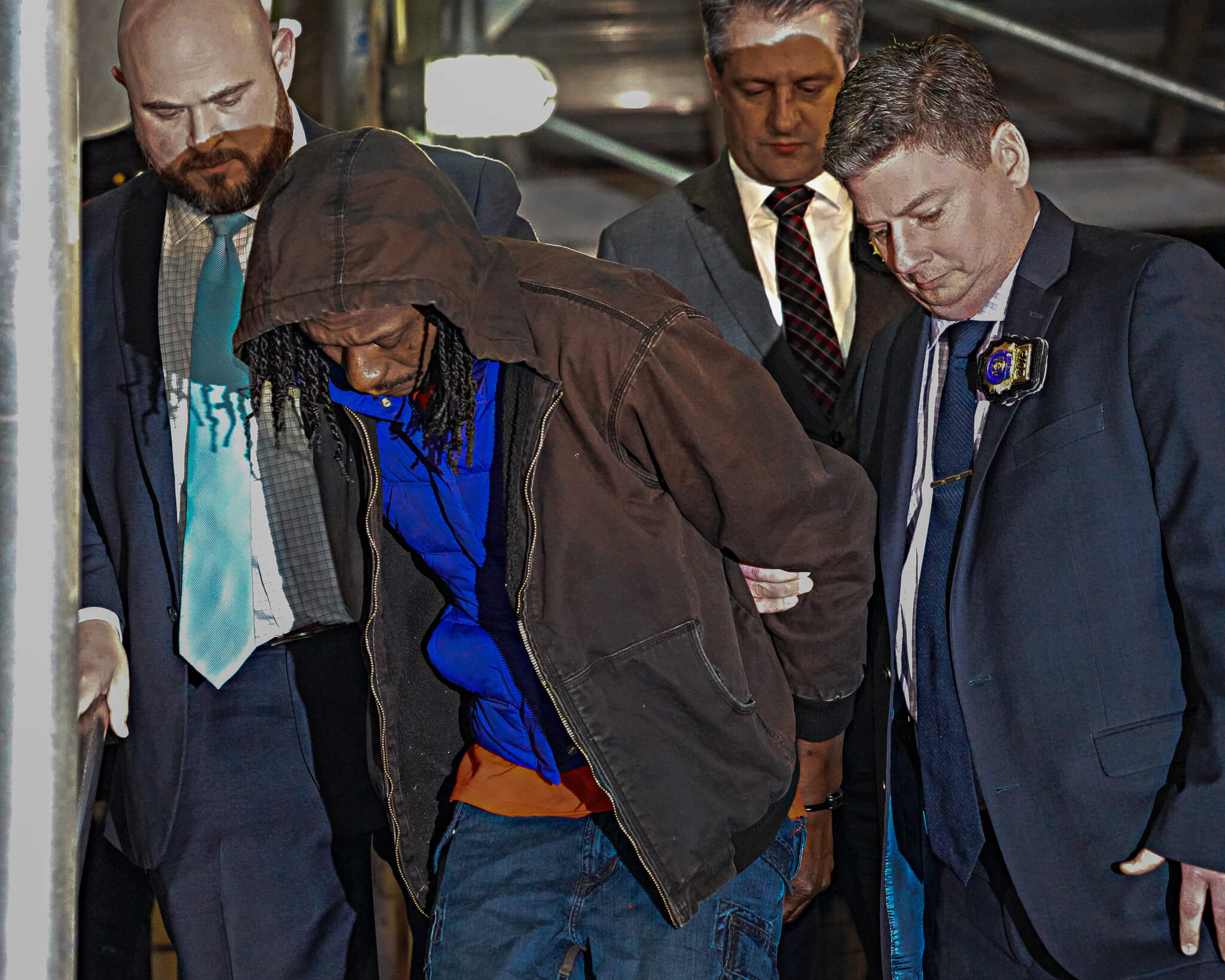 "In all of the robberies, he enters with a handgun," the chief said. "[On the] Upper East Side, we have no video. There was a witness that says he sees him pistol-whip him and run out. There is no video of the shooting."
Cyrus refused to answer for his alleged crimes and attempted to hide his face from the press as detectives marched him out of the 19 Precinct in shackles. Tucking his chin and burying his face under a hood, police transferred him to Manhattan Central Booking.
Cyrus is charged with murder and criminal possession of a weapon.
Story updated at 2:48 a.m.