BY SCOTT STIFFLER | Complaining about the lingering cold, panicking about the looming IRS deadline, and dedicating the entirety of our arts section to the Tribeca Film Festival for three consecutive weeks: These are the days of our lives, every time April rolls around. And although there's little to be done about Old Man Winter and Uncle Sam, we're determined to provide you with a hardly-definitive-but-highly-worthy guide to cashing in on the wealth of A&E riches taking place before, during, and after we lavish attention on that Tribeca fest. A good place to start: three of our favorite silver screen destinations, year in and year out.
Currently booked to screen through the seventh day of the month that shares its name with the title character, "April and the Extraordinary World" is garnering rave reviews for its stunning interpretation of steampunk visuals and themes. Set in an alternate universe's 1941 Paris, the French/Belgian/Canadian animated film (an adaptation of Jacques Tardi's graphic novel) has a young girl getting an assist from her talking cat, as she peels back the layers of a far-reaching conspiracy behind the disappearance of her scientist parents. Screenings before 3 p.m. are in English; after, in the original French with English subtitles. At the IFC Center (323 Sixth Ave.; ifccenter.com).
Anthology Film Archives (32 Second Ave.; anthologyfilmarchives.org) welcomes an encore event from the KGB Movie Friends, a group of gonzo pals with their own weekly Sun. night screening series at the Kraine Theater (85 E. Fourth St.; text 917-251-4139 for info). On Apr. 14 at Anthology, the "Big Bowie Bash: A Tribute…Redux" features David Bowie clips, videos, performances, footage, interviews, and miscellaneous oddities (space and otherwise) culled from a recent four-plus-hour "Movie Friends" event. 
Sundays through June 26, the Film Forum Jr. series plants the seed of cinemania in little sprouts, with classics both undiscovered and familiar. On Apr. 3, set the stage for a lifetime's worth of debating the relative merits of our greatest silent film comedians, as Steve Sterner, live and at the piano, accompanies Charlie Chaplin in "The Immigrant" (1917), Harold Lloyd in "Get Out and Get Under" (1920), and Laurel & Hardy in "Two Tars" (1928). Other screenings include 1941's "The Wolf Man" paired with a Bugs Bunny short (Apr. 17), 2001's grumpy green ogre redemption tale "Shrek" (May 29), and a trio of Broadway shows adapted to the big screen. On May 15, 1978's "Grease" is a great companion piece (or antidote) for those still swooning to the live version on FOX. The series goes into hibernation after June 26's "1776," then picks back up on Sept. 11. All seats are $8, all screenings begin at 11 a.m., at Film Forum (209 W. Houston St.; filmforum.org).
The Atlantic Theater's Atlantic for Kids series has extended its run of the new musical "The Pirate La Dee Da," a loony tale about a princess who's had it with the obligations of her royal role — so she runs off into the night, hops on a ship, and applies her gift for exceeding expectations to the goal of becoming "the most feared pirate on The Seven Seas." Through Apr. 17, Sat. & Sun. at 10:30 a.m., at the Linda Gross Theater (336 W. 20th St.; atlantictheater.org). That's not the only notable wave Atlantic is riding these days. The treasured Chelsea theater — which recently presented works by David Mamet ("Ghost Stories") and Billie Joe Armstrong ("These Paper Bullets!") — just announced they've commissioned new plays from an aesthetically diverse group of scrappy creative types. Some have longstanding ties to the Atlantic, and others will be making their maiden voyage: Jocelyn Bioh, Jennifer Haley, Paola Lázaro, Qui Nguyen, Heidi Schreck, and Simon Stephens and Mark Eitzel. We're especially interested to see what Nguyen will cook up. A co-founder of the famed Vampire Cowboys troupe, his signature blend of comic and pop culture geekspeak, martial arts moves and weaponry, gallons of splattering hemoglobin, and sword-sharp satire has made him an enduring favorite of this publication (likeminded Nguyen connoisseurs should also be on tenterhooks for his play "Vietgone," which begins previews Oct. 4 at Manhattan Theatre Club).
Choreographer and director Mark DeGarmo's transcultural dance/theater work, "Las Fridas: A Movement Installation and Offering," is a "love letter to Mexico and an offering to Frida Kahlo" that weaves sun/moon, mother/child, sacred/secular, and ancient/current imagery throughout its Mesoamerican mandala structure. Educational theorist Maxine Greene and Living Theatre co-founder Judith Malina make appearances through ghostly video projections, while Kahlo's gender fluidity is acknowledged by having her role played by Marie Baker-Lee and Luis Gabriel Zaragoza at, respectively, evening and matinee performances. Apr. 20–24 at The Flamboyán Theater, The Clemente (107 Suffolk St.; lasfridas.eventbrite.com and markdegarmodance.org).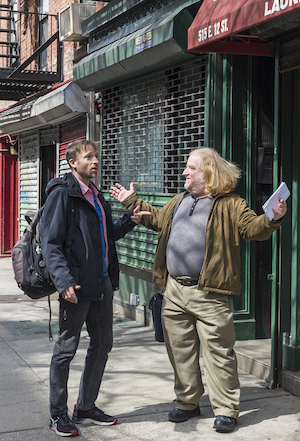 The bread and butter of Metropolitan Playhouse may be resurrecting largely forgotten works of the late 19th and early 20th centuries, but they're also heavily invested in generating new material that will stand the test of time. One such effort is the annual "East Side Stories" series, which chronicles the life and lore of its East Village neighborhood. This year, installment #12 presents eight new plays and six new solo shows. Immigrant identity, xenophobia, authoritarianism, gentrification, and artistic freedom are among the themes touched upon (or tackled, as the case may be). Colorful characters of past and present are represented (Tammany Hall's Boss Tweed, CBGB founder Hilly Kristal), along with historical events (the 1863 draft riots, the Great Rent Strike of 1908). The "Players" program has actors performing monologues culled from interviews with neighborhood residents, including Living Theatre collaborator Robert Hieger and improv comedian Athos Cakiades. Apr. 12–May 1, at Metropolitan Playhouse (220 E. Fourth St.; metropolitanplayhouse.org).
Located on the western outskirts of Chelsea since 1971, The Kitchen has seen the neighborhood go from sketchy to trendy, then clubby to crowded with High Line traffic. One thing that hasn't changed: The nonprofit performance space remains a wild and untamed destination for highly disciplined raw talent in the fields of dance, music, performance, theater, video, film, and art. The Kitchen's Apr. 6–June 11 spring season kicks off with an Apr. 6–8 run of "They Come to Us Without a Word II." Video footage of artist Joan Jonas' work that appeared at last year's 56th Venice Biennale will be accompanied by live performances of compositions by her longtime collaborator, jazz pianist Jason Moran. "My work involves the question of how the world is so rapidly and radically changing," says Jonas, who implies those ideas travel "poetically through sound, light, and the juxtaposition of images of children, animals, and landscape." Apr. 13–May 14, in The Kitchen's gallery, artist Ed Atkins' "Performance Capture" presents new work that uses live bodies and animated surrogates to explore "how contemporary technologies of representation mediate our lives." The hypnotic music composed by Angelo Badalamenti to fill David Lynch and Mark Frost's Pacific Northwest mill town with simmering sexuality, existential dread, and supernatural possibility gets a fittingly surreal interpretation, when Jamie Stewart's experimental band Xiu Xiu plays the music of "Twin Peaks" on Apr. 30. "Dance and Process," May 6–7, features the results of a 10-week process during which choreographers Karen Bernard, Benjamin Van Buren, Niall Jones and Ander Mikalson helped one another develop new work. All events take place at The Kitchen (512 W. 19th St.; thekitchen.org).
Ballet Hispanico celebrates its 45th season with a program that includes the New York premiere of Gustavo Ramírez Sansano's "Flabbergast," and the troupe's signature work: "Club Havana," by Cuban-American choreographer Pedro Ruiz). A Sunday "En Familia" matinee takes kids on a fun-filled journey through Latin American dance and culture, via excerpts from the troupe's diverse repertory (and a Q&A with the dancers). Apr. 5–10 at the Joyce Theater (175 Eighth Ave.; ballethispanico.org).
NYC's all-female classical theater troupe, The Queen's Company, promises an "unexpected redemptive ending" to their take on Shakespeare's "The Taming of the Shrew," which calls into question the role of obedience in matters of courtship, love, and marriage. Founding Artistic Director Rebecca Patterson vows a celebration of "the poly-cultural American voice," while maintaining the company's unyielding approach to the classics, in which "male characters are performed as written — that is as Renaissance men, who move through the world quite differently from contemporary men — transcending gender. They are complete in their humanity and can be played equally well by either male or female actors." Apr. 16–May 1, at the Wild Project (195 E. Third St.; queenscompany.org).
Dysfunctional Theatre Company mines the pep (and percolating unease) of post-World War II America, in an evening of short plays, songs, and swing dancing. Their "Treasure Trove of Transmitted Theater" takes you behind the scenes, as the WDYS radio variety hour makes its very first (and possibly last?) broadcast on the new medium of television. Through Apr. 2 (no show Mar. 31), at the Thirteenth Street Repertory Theater (50 W. 13th St.; dysfunctionaltheatre.org).
LABA, a creative forum that uses classic Jewish texts as the basis for performances, public events and gallery shows, is in the midst of a season whose commissioned works explore the intersection of beauty and equality. To that end, dancer Rebecca Margolick and composer/graphic artist Maxx Berkowitz's "Bird Sing a Pretty Song" uses movement and interactive media to explore how technology impacts states of being, such as solitude and chaos. Apr. 7 and 9 at the Theater at the 14th Street Y (344 E. 14th St.; labajournal.com/calendar).
A fast-paced, streamlined production of "The Iceman Cometh," from Hudson Guild Theatre Company, puts an emphasis on the plot's comedic and heartbreaking elements, while drawing a connection to playwright Eugene O'Neill's formative experiences and the 1895 origins of Hudson Guild, which began as a settlement house assisting those in economic need. Director Jim Furlong notes how the tale of skid row drinking buddies was "based on O'Neill's real life experiences circa 1912 while spending many hours in a dive bar called Jimmy the Priests, located at Fulton and Church Streets." The characters who fight addiction and poverty, notes Furlong, "were part of the same community for which the Guild was providing services at the time. Thus, the play connects directly with the history of Hudson Guild and its work of helping to improve the lives of people existing in difficult socioeconomic circumstances." Film actor Brian Poteat ("The Bourne Legacy"), as traveling salesman Hickey, heads the 14-member company — many of whom have appeared in previous Hudson Guild productions. Through Apr. 3, at Hudson Guild Theatre (441 W. 26th St.; hudsonguild.org).
A "Spring Forward" program from the Greenwich Village Orchestra has Barbara Yahr conducting works by Mozart, Mendelssohn, and Bruch. Grammy-nominated violinist Andres Cardenes is the guest. A reception with the musicians follows the concert. Apr. 10, at the Church of the Incarnation (209 Madison Ave.; gvo.org). Grammy-nominated pianist Fred Hersch, percussionist Rogério Boccato with vocalist Jean Rohe, singer/songwriter Becca Stevens, and the Afro-Colombian folkloric ensemble La Cumbiamba eNeYé will perform, at The Middle Collegiate Church and Buddhist Global Relief's fifth annual "Concert To Feed The Hungry." Proceeds will help support efforts to combat hunger and malnutrition, in NYC and around the world. Apr. 9, at Middle Collegiate Church (112 Second Ave.; concerttofeedthehungry.org).
On view through Apr. 16, Ji-Wan Joo's "Cardboard Room" installation uses reconfigured cardboard to create a labyrinth (a visual and thematic motif the artist has long explored). "I'm fascinated with harmonies, proportions, division of line and space," she says of her room's puzzle piece design. "I think that there is no more beauty than simplicity, and the plainness of geometric shape and line as time goes by." Conduct your own search for meaning (or at least clarity) by interacting with the artist, and her work — at an Apr. 7 reception, 5–7 p.m., at Noho-M55 Gallery (530 W. 25th St.; nohogallery.net).
Twisting paths that challenge one's navigation skills also come to mind — always in name, and often in post-curtain conversation — when it comes to works by the Labyrinth Theater Company. Their spring benefit is built around a staged reading of "Texas Red," company member Jonathan Marc Sherman's adaptation of Chekhov's "The Cherry Orchard." Participating guest artists (subject to continuing availability) include Paul Dano, Peter Dinklage, and Laura Linney — alongside Labyrinth members including Bobby Cannavale, Chris Chalk, Elizabeth Rodriguez, Yul Vázquez, and Ethan Hawke. Speaking of the project's origins and possible future, Hawke recalls, "A few years ago, I did a production [of 'Orchard'] as part of the Bridge Project, which Richard Linklater and Jonathan Marc Sherman came to see." A conversation later that night found the trio proposing an adaptation "set in modern day Texas. So often in Chekhov, the issues of race and class are lost on audiences unable to fully grasp the nuances of Russian culture, and there is no play where Russia's history of serfdom is more potent than in 'The Cherry Orchard.' Jonathan set about writing an adaptation that would make these themes come alive for a modern audience. Our dream is that one day this will be a film. We are inviting you to witness the beginning of our journey." Earlier this week, Labyrinth announced a continuation of the journey for its current production. Extended through Apr. 10, Mona Mansour's "The Way West" finds two daughters staging a financial intervention when mom's dysfunctional money management patterns keep snowballing long after she files for Chapter 11. The one-night-only "Texas Red" event happens at 5 p.m., Sun., Apr. 24, at Bank Street Theater (155 Bank St.; labtheater.org; $500 ticket includes post-reading talk back and reception with the cast).
Patrons of the arts who enjoy an actual live performance in exchange for their generosity (as opposed to the fleeting endorphin rush one gets from making a crowdfunding donation) are in for a treat — several of them, in fact, in the form of these upcoming benefits:
Migrant youth, LGBT refugees, and survivors of gun violence are some of the marginalized communities whose stories are told in the Off-Broadway stage productions and post-performance discussions of Houses on the Moon Theater Company. Their fourth annual benefit, "AMPLIFY 2016," will honor three philanthropic women: Laura Welch, whose Laura Welch & Associates connects social justice and youth development nonprofits with high-profile music artists, to produce fundraising events; Judy Sennesh, founder of the TransParents Project, a support group that serves families with transgender or gender variant loved ones, as a part of PFLAG NYC (Parents, Families and Friends of Lesbian, Gay, Bisexual and Transgender People); and law professor/litigator Lenni Benson, to be honored for her work as founder of the Safe Passage Project, which fights for the rights of indigent immigrant youth. Bookending the podium speeches and presentations are cocktails, hors d'oeuvres, a dessert bar, live music by the Latin/jazz/world music-influenced Juancho Herrera Trio, and a performance by Houses on the Moon artists. Tickets are $150–600. Mon., Apr. 18, 6:30 p.m. at Gotham Comedy Club (208 W. 23rd St.; housesonthemoon.org).
Taking its name from the 1978 debut album from Parliament-Funkadelic's Bernie Worrell, an all-star roster of musicians will do their thing under the banner of "All the WOO In The World" — a benefit concert held to help defray health care and living expenses for legendary keyboardist Worrell, who is battling Stage 4 lung cancer, prostate, and liver cancer. So far, the list of talent includes Bootsy Collins, George Clinton, Jerry Harrison of Talking Heads, Ahmir "Questlove" Thompson, Meryl Streep, Paul Shaffer and the World's Most Dangerous Band, and the Black Rock Coalition Orchestra. Tickets are $50 in advance, $60 at the door, $100 for VIP. Mon., Apr. 4, 8 p.m. at Webster Hall (125 E. 11 St.; blackrockcoalition.org).
Bustling burlesque venue The Slipper Room is the jam-packed scene of intersecting passion projects and showbiz milestones — when this publication's longtime theater columnist, Trav S.D., presents "The Night of 1,000 Vaudevillians," a stellar collection of Downtown talent. The bill, far too packed to mention in its entirety, includes chameleonic chanteuse Tammy Faye Starlite; dynamic cabarettist Molly Pope; sound and mime vocal cartoonist Zero Boy; sweet, offbeat ventriloquist Carlo Rhodes and sassy, taffy-loving Cecil Sinclair; and the cast of "I'll Say She Is." The evening functions as a fundraiser for the upcoming revival of this lost Marx Brothers musical — lovingly restored with scholarly precision and screwball flair by Noah Diamond, whose impeccable Groucho gives the production (which had a 2014 FringeNYC run) its comedic glue. Joining Diamond will be longtime Trav S.D. foil Robert Pinnock, a journeyman percussionist and first-rate physical comic who supplies "I'll Say She Is" with a pitch-perfect Chico. As for the intersecting interests this write-up teased you with at its outset: many of the performers presented by Mr. S.D. are veterans of his American Vaudeville Theatre series, which is nearing its 20th year of hooking Downtown audiences on the densely packed variety show format that had Lower East Side audiences swooning, in the days before radio and television were all the rage. A final point of note: Trav is about to pen his 1,000th vaudevillian profile, on the Travalance blog (travsd.wordpress.com). The "I'll Say" benefit happens on Wed., Apr. 20, 7:30 p.m., at The Slipper Room (167 Orchard St.; slipperroom.com). Tickets are $10 general, $25 for preferred seating.
That's all, folks. This Way to the Egress!