The New York-based distillery Do Good Spirits is doing exactly what its name suggests.
Founder and Head Distiller Brian Facquet initially started the distillery under the name Prohibition Distillery in 2009 in Roscoe, New York. After serving in the Navy, Facquet was working in human resource technology when he started developing an interest in making his own vodka.
"I started googling how to make liquor. There was no craft distilling movement back then, it was just a few people upstate and on Long Island, there was just no one doing this," said Facquet. 
Facquet quit his job and took the leap into distilling, starting with vodka, which is his spirit of choice. He also wanted to get his hands into the craft distilling business with vodka, which wasn't really happening when he started.
"Everybody in New York City was drinking something from somewhere else. And this was before craft spirits really started moving, those who were in it were doing brown spirits," said Facquet. "I just focused on clear. I wanted something where people came to New York and they can drink that represented the quality grain and quality water."
After perfecting the brand's Bootlegger New York Craft Vodka, Facquet started to expand and made the Bootlegger New York Craft Gin, which boasts having just five ingredients.
"Gin was so personal to me. Vodka is the hardest spirit to make at a distillery, everybody is so misinformed with it. Everyone thinks whiskey and gin are so hard," said Facquet. "Gin is personal, whiskey is easy — the barrel does all the work. With vodka, you have to remove all of the impurity. If you grab a bottle of our vodka and smell it, it smells like a glass of water. If you grab most craft vodkas on the market, you'll smell acetone."
Under the Prohibition Distillery label, Facquet also produced the label's Bootlegger New York Craft Bourbon Whiskey and the Beaverkill Bourbon Cream, which is based off of an old family recipe and wasn't initially meant to be produced for the masses — one year for the holidays when money was tight, Facquet brewed up some bourbon cream for his employees as gifts, and a bottle was left in the Prohibition Distillery tasting room where customers began to taste it.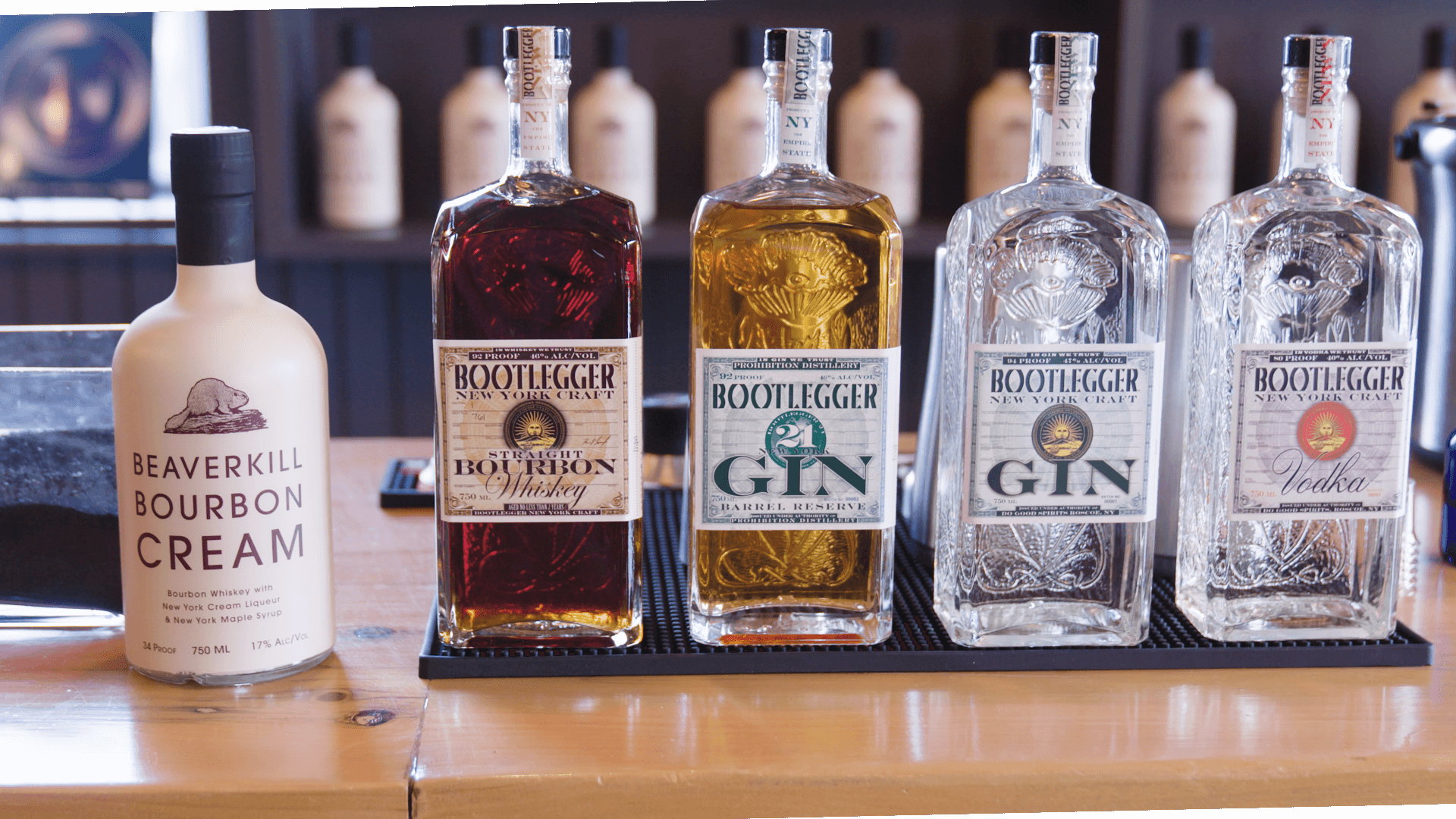 Each one of his craft spirits went on to be recognized on a state and national level, including the Bootlegger Gin winning Double Gold in the New York State Governor's Cup and the Beaverkill Bourbon Cream earning a spot in Wine Enthusiast's Top Cream Liqueurs list. For Facquet, the recognition is nice, but the real joy comes from watching his customers try his spirits.
"I want to run a successful business, but when you see someone smile and eyebrows pop up and they get excited about your spirit without you telling them what it is, that's joy," said Facquet. "That's enough for me."
After establishing a solid career under the name Prohibition Distillery, Facquet changed the name of the company to Do Good Spirits. Facquet says the name was inspired by words that his friend, Brian, said during a toast at a reunion in 2016.
Brian, who was a commando, raised a glass to his fellow classmates and said two simple words: Do good.
"I looked at him and said, 'that's the dumbest toast ever, what kind of emotional person are you?'" recalled Facquet. "And he said to me, 'Brian, you've done good your entire life. Everything you do has always been to help other people. You put everyone else ahead of yourself. And you never ask why, you just do. You always do good, and that allows me to do good and complete my mission.' He raised a glass again, said 'Do good,' and walked into the darkness of the night."
Brian's words stuck with Facquet and a month later, he had gotten the call that Brian had died during a mission overseas.
"I lost my hero. He had died in combat missions out in Afganistan," said Facquet. "Those words every morning still when COVID struck. It was just a strange thing, I couldn't stop those words and I just wanted to see them on a wall. I painted the side of my building Do Good Spirits, and we decided in October of last year, we just renamed it out of nowhere."
Even under the old name, the distillery's tasting room is run by donation only, so there is no flat fee for customers to come and taste the Do Good Spirits. However, Do Good Spirits has partnered with The Third Option Foundation in honor of Hoke's memory and all donations made for distillery tastings goes to the foundation, which helps the surviving children and families of fallen CIA members.
"I promised that to Brian, that I would raise money, and I promised I would do it forever," said Facquet. "Now that we are a partner to Third Option, we raise money every day."
Like many businesses, Do Good Spirits was affected by the COVID-19 pandemic. Facquet currently serves as the president of the New York State Distillers Guild and was the VP during the height of the COVID pandemic, and before coronavirus had a huge presence in the United States Do Good Spirits began bottling all that they could. 
Once Do Good had some reserve spirits on hold, Facquet started to ask around with some of his contacts to see what people needed once the pandemic started to get worse.
"When COVID happened, my first response goes back to the idea of doing good. I didn't think about anything other than that," said Facquet. "Right at the beginning, I called around, I've made friends with chief medical officers over the years. On the phone, I asked, 'what do you need?' They said, 'We need sanitizer, we can't find any.'"
Facquet reached out to a few friends of his in the distilling business and got his hands on a hand sanitizer recipe, which he shared with his friends in New York as well. He took all the money he had left in the bank and bought 5-gallon buckets to put the sanitizer in.
"Hospitals said they don't need these cute little 4-oz designed label things that people were making, you need the stuff to save people's lives," said Facquet. "What I did was take a military approach to it: how do you move the most amount of goods from the line where you need it? What was crazy was within the first two months of COVID, we made 70,000 gallons of sanitizer, which was over 4 million+ doses."
Facquet says that producing the sanitizer became quite the operation between him and his fellow distillers. Many of them were trading parts and supplies with each other in order to get the sanitizer into the places where it was needed. Do Good's hand sanitizer soon was not only being sent to hospitals, but also to several entities such as the NYPD, laboratories, nursing homes, and Navy warships.
Do Good Spirits produced sanitizer through the fall of 2020 and went back to distilling after the FDA changed the parameters for distillers to make sanitizer. Despite the amount of praise and recognition that Do Good Spirits got for its efforts, Facquet truly credits his fellow distillers for the impact that was made.
"We were able to make a difference in that, and for that, I'll be proud of it. I kind of helped shepherd other distillers through this and became a liaison through Cuomo's office and the SLA to coordinate efforts," said Facquet. "It was crazy how we all worked together for good of the community, I've never seen anything like it. I give a lot of credit to my peers."
Facquet says that Do Good Spirits has a lot on the horizon, with new products being worked on, many of which will be available in the tasting room before it hits store shelves. One of Facquet's main takeaways during the pandemic was how small businesses distribute spirits, so Do Good broke ties with its distributor and began to develop a platform for small distilleries to ship via UPS.
"I believe the craft industry needs a different way forward. We can't follow the same path that big companies follow, they created it, it's hard to march up that hill while they are sitting on top of it," said Facquet. 
For more information or to shop, visit dogoodspirits.com.