Three alleged gun and drug dealers who were part of a major Queens crime ring have been locked up on a massive indictment for possessing "ghost guns" and cocaine, law enforcement officials announced Wednesday.
Attorney General Letitia James joined Mayor Eric Adams, Police Commissioner Keechant Sewell, and others in her Lower Manhattan Office on March 15 to announce the gun and drug takedown of the ring which operated across the city and Westchester County. 
After a 16-month long investigation, 19 firearms, including 12 ghost guns, high-capacity magazines, and over 560 grams of cocaine were seized from three people alone, totaling to a street value of approximately $25,000. The three alleged gun and drug dealers Eduardo Hernandez, 29, Jose Garcia, 46, and Euclides Castillo, 30, are facing a 123-count indictment for trafficking firearms and selling them from Massachusetts to New York.  
According to the Attorney General's office, between March 2021 and July 2022, the traffickers sold loaded assault-style ghost guns out of Hernandez's home in Queens, while Garcia made sales in Port Chester. During these illegal sales, prosecutors alleged, Castillo provided instructions to buyers on how to operate these weapons thanks to his previous work experience in the assembly division for gun makers Smith & Wesson.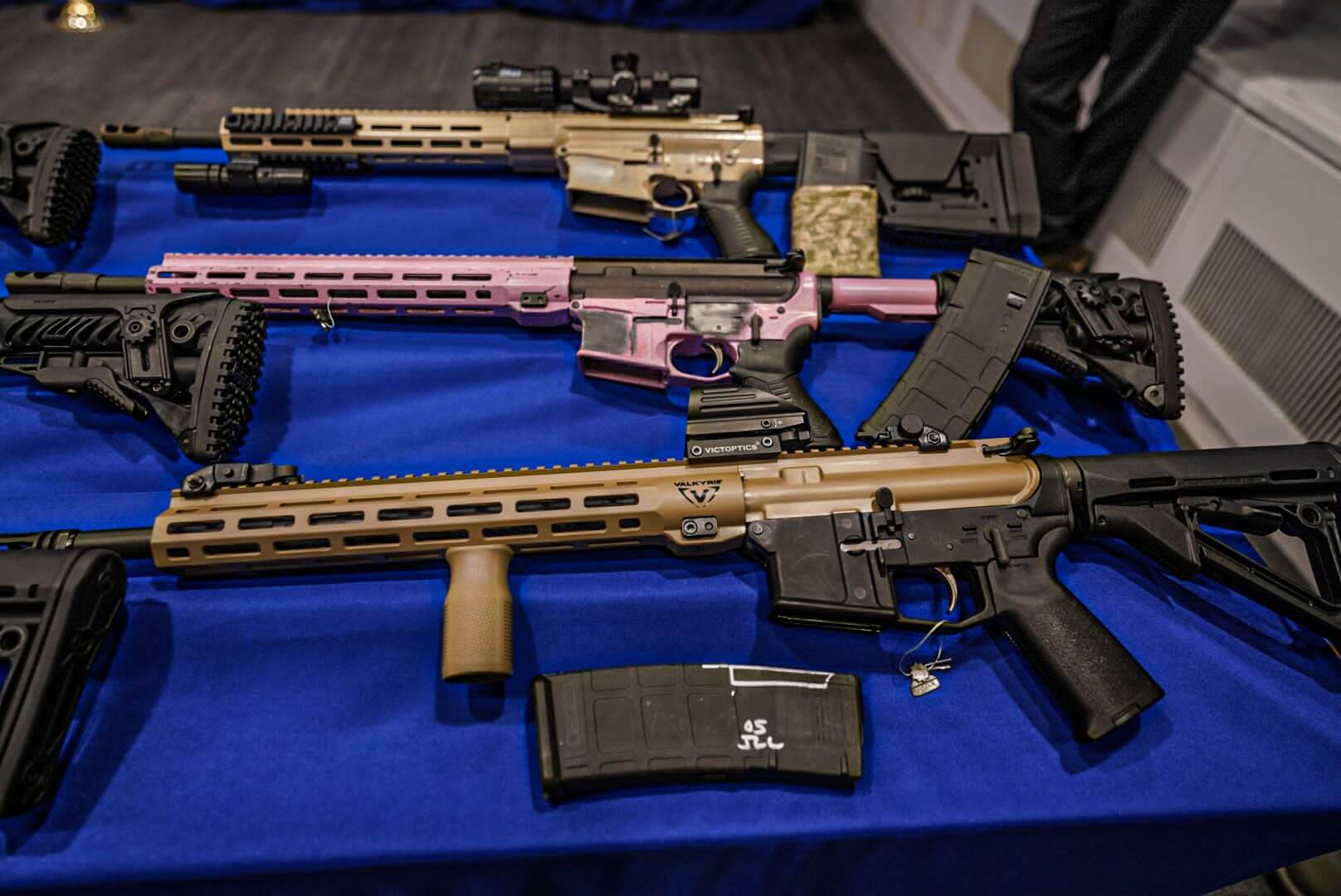 Ghost guns are so dangerous due to the fact they are manufactured without serial numbers and are, therefore, nearly untraceable, law enforcement sources have said. Ghost gun parts can now also be 3D printed, making any home a potential firearm manufacturing warehouse. 
"Someone with a 3D printer could sit inside their home and print out a device of death," Mayor Adams said as he stood near two tables lined with the seized handguns, rifles, and shotguns. "When you do the estimates of the millions of guns we have in the country, those are estimates of guns with serial numbers. You can basically throw that book away because the numbers are no longer accountable."
The mayor also joined with the police commissioner in again calling for the firearm license to be revoked from Polymer80 since he states that many ghost gun parts shipped are allegedly made by Polymer80.
The war on ghost guns has been an uphill battle. According to Chief of Detectives James Essig, police have recovered some 90 ghost guns recovered this year alone; in previous years, that number would top around 30 for the full 12 months.
Essig attributes the stunning proliferation of ghost guns to the progress of technology.
Sewell announced that this proliferation has also translated to record-high numbers of gun-related arrests and seizures.
"In 2022, our gun arrests reached a 27-year high as NYPD officers took more than 7,000 illegal firearms off our streets. And so far this year, we've seized more than 1,300 more. New Yorkers in every neighborhood deserve to live free from fear. This is why we build these long-term investigations," Sewell said. "This is precision policing in action making a real difference in the lives of the people we serve."
In total, investigators recovered 19 firearms (12 were ghost guns), 9-millimeter semi-automatic pistols (8 were ghost guns), seven AR-15 style assault weapons (four were ghost guns and two were loaded,) two .45 Caliber pistols (one was loaded), one cutdown, defaced, and loaded 12-gauge shotgun, six high-capacity magazines, and 560 grams of cocaine and 0.4 grams of heroin. 
If convicted, Hernandez will face 25 years in prison for first-degree criminal sale of a firearm and up to 20 years in prison for first-degree criminal sale of a controlled substance;  Garcia faces 15 years behind bars, and Castillo faces seven years locked up in a penitentiary should they be found guilty. 
"Every single day someone in New York or in this country is harmed by gun violence. We witnessed it yesterday with two teenagers outside their schools in broad daylight. And increasingly ghost guns are to blame for this destruction and this violence," Attorney General James said. "We will use every power in our disposal to go after anyone who puts these dangerous weapons in our communities."
This investigation was a part of a joint effort between the Office of the Attorney General's (OAG) Organized Crime Task Force (OCTF,) the New York Drug Enforcement Task Force–comprised of agents and officers from the New York City Police Department (NYPD), New York State Police (NYSP), and the U.S. Drug Enforcement.