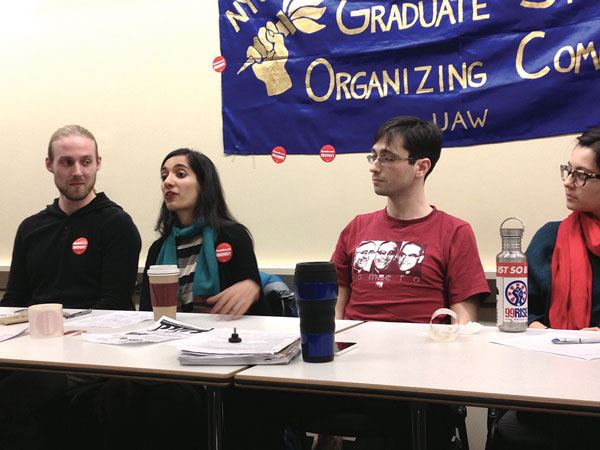 BY AMANDA MORRIS  | N.Y.U.'s graduate student union narrowly avoided a strike and reached a tentative agreement with the university early Tuesday morning.
After about five hours of tense negotiations, mediator Martin Scheinman walked out of the negotiation room at around 1:15 a.m. and said, "Goodnight and congratulations."
The tentative agreement marks what the Graduate Student Organizing Committee-United Auto Workers Local 2110 (GSOC-UAW) hailed as a major triumph for the union and for students, in that GSOC was able to have many of its demands satisfied.
Gains from the agreement, which still needs to be ratified by GSOC, include wage increases, tuition remission, childcare, healthcare and family healthcare.
"This contract has big bread-and-butter wins, as well as big wins for young families, which we have always felt was crucial to support the success of women in academia," said Ella Wind, a student in the Graduate School of Arts and Science and a member of the Bargaining Committee. "Every element of our very diverse bargaining unit won something out of this contract — not an easy task to accomplish.
"Moreover, we were able to keep so many different items in the contract, which makes it easier for us to push for even more wins in the long term as a union."
GSOC — representing more than 1,200 teaching, research and graduate assistants at N.Y.U. — is now the only such certified union in a U.S. private university, and, as such, can serve as a model for other student unions across the country.
Graduate student workers and other part-time faculty teach roughly 60 percent of the university's undergraduate classes, among other research, lab and administrative assistance duties.
GSOC actually previously had a contract with the university, from 2001 to 2005. However, once that contract expired, N.Y.U. failed to recognize the union's legitimacy anymore, leading to an eight-year fight by the GSOC to regain recognition, which it won in December 2013. Negotiations for a new contract began in February 2014.
On top of the monetary gains from the tentative agreement, it also affords GSOC a union infrastructure, such as having three paid union staff positions, a grievance procedure and a process in which elected representatives can meet with the university.
University spokesperson John Beckman said,  "N.Y.U. is very pleased to have reached a tentative agreement with the UAW."
Tensions were high even before the negotiations began. Holding up colorful signs, N.Y.U. undergraduate and graduate students stood shoulder to shoulder forming a "gauntlet" in the hallway between N.Y.U.'s administrative offices and the negotiation room.
As they stood in solidarity, students chanted and sang the lyrics from a the traditional labor protest song, "The Rich Man's House," in which they substituted "rich man's house" with various other terms — such as "John Sexton's house," "Fire Island" [where Sexton has a summer home, purchased with a $1 million loan from N.Y.U.] and "the Bursar's Office" — in order to criticize the university's spending.
However, Scheinman came out before the final negotiations to tell them that the singing was disruptive to the process. Around 9 p.m., N.Y.U.'s negotiators entered the bargaining room via another hallway, circumventing the student gauntlet.
About an hour after negotiations started, David Klassen, a G.S.A.S. student and Bargaining Committee member, emerged with the contract that N.Y.U. offered. Klassen said it was "an insult" because it didn't bend to any of the conditions that GSOC pushed for. Additionally, there were complaints from GSOC members that GSOC members were not receiving enough talking time inside the bargaining room.
During the negotiations, N.Y.U. pushed for a longer contract, a fight that it won, in that the tentative agreement calls for a six-year contract, to last until 2020.
GSOC also gave up demands for tuition remission for master's students, who are currently a source of huge profit for N.Y.U. The tentative agreement will not cover most master's students.
Rajeev Dhir, a journalism master's student, estimated that roughly one master's student per program is fully funded, and that out of those students, there's a 50 percent probability that they'll be teaching assistants.
"Master's students are obviously in a bind," said Chris Nickell, a Ph.D. student in music who is GSOC's Communications Committee point person. "It may look like master's students' tuition remission is not important, but it is important. The university really doesn't want to talk about that because it's a cash cow. So it's something we're not able to pursue right now." The hope within GSOC is that with the new tentative agreement, students' positions will be stronger and GSOC can help to support similar fights for students' rights and workers' rights.
"There are still many issues that we are committed to fighting for, and we've demonstrated that through direct action and mobilization we can achieve the goals that we set," said Claudia Carrera, also a Ph.D. music student. "It's not over. The fight will go on."
Some graduate and undergraduate students accused N.Y.U. of stubbornness and crooked tactics. The university and GSOC had been in negotiations for over a year, with both sides accusing the other of being unwilling to compromise and of stalling negotiations. Beckman said the reason why negotiations went on so long was due to "the subsequent unwillingness of the Bargaining Committee to identify which among their many, costly demands were their priorities."
However, Wind claimed that N.Y.U. also refused to identify which points of the contract it felt were most important. Carrera said N.Y.U. might try to spin the tentative agreement as being a generous offer from the university, when in fact it was the result of a hard fight.
Last Thursday, N.Y.U. sent out a memo to all students that called the union's threat of a strike "misguided," and claimed that the cost of meeting GSOC's demands "would have to be borne by revenues from tuition."
Students, however, were skeptical of this claim, citing figures showing the university rakes in $400 million in surplus every year. However, Beckman said, that's false because the $400 million is not an annual surplus, but rather net assets, which cannot be spent.
But N.Y.U. sophomore Robert Ascherman, a member of the Student Action Labor Movement, or SLAM, which supports GSOC, asserted that the money for graduate student wages doesn't have to come from a raise in tuition.
"They have enough money," he said. "One hundred million dollars a year is going toward the N.Y.U. 2031 expansion plan according to the Space Priorities Working Group report. So what we're absolutely seeing is a pitting of students and teachers against each other so that businessmen can profit."
Beckman denied those claims, saying that students misread the memo that was e-mailed to them.
"The e-mail was simply meant to let the university know, in the face of those threats, about the issues involved and the offer N.Y.U. had put on the table — nothing more," he said.
Ryan McNamara, a senior at N.Y.U., accused the university's system of governance of being "authoritarian." For example, he said, Sexton's statement that financial aid has increased more than tuition since he has been president is false, even though annual tuition has increased by about $2,000 and per capita financial aid has increased by roughly $600 during that period.
"The trick is that because financial aid expenditures is so much lower of a figure than tuition revenue, you can say it doubled while tuition only went up 50 percent, or something similar," McNamara said.
Prior to these negotiations, conditions were financially tough for part-time teachers, who teach roughly 60 percent of undergraduate class hours. One of the biggest complaints raised by graduate students was that they were getting paid for roughly 20 hours worth of work each week, but in reality, they worked more than that.
For example, over the past two semesters, Dhir said, he worked more than 35 hours per week. According to Dhir, he was told by the university to stop e-mailing students or grading their work if he exceeded 22 hours of work per week. However, Dhir said he didn't follow these instructions because he wanted to be a good T.A.
"Teaching is something I'm passionate about," he said.
Besides master's students, some of the other least-paid part-time faculty included engineering students at N.Y.U. Polytechnic, who made about $10 per hour.
"They have to pay tuition to study and often have to cover health insurance premiums, so essentially they are paying to work," Nickell said. "It's sad because these are some of the brightest minds in engineering."
G.S.A.S. students like Nickell do get tuition remission and make slightly better wages. Yet he asserted that their conditions still weren't livable.
"Even with tuition remission, if I didn't have the support of my partner, who works full time as an art teacher we would not be able to afford living in the city," Nickell said. "Not even with me teaching both semesters — because I would then be clearing an even $36,000 before taxes."
For the average graduate student T.A., wages were low enough that it impacted their quality of life, GSOC members say.
For example, Kouross Esmaeli, a media, culture and communication Ph.D. student, said that two years ago when N.Y.U. raised the cost of healthcare, two of his colleagues had to go without healthcare, bucking official policies.
"N.Y.U. basically allowed these folks to go without healthcare, against their own policy," Esmaeli said.
He said other colleagues could not afford daycare for their children.
"It's also a feminist issue," he added. "Women that are responsible for care of children have to be able to get the education they need."
Natasha Raheja, an anthropology Ph.D. student and Bargaining Committee member, said that affording housing was another problem for T.A.'s. Often, T.A.'s had to live far outside the city, or go without housing in order to get by, she noted.
Ayesha Omar, a fellow Bargaining Committee member and an Ph.D. student in media, culture and communication, presented students in her class with a table of finances prior to the negotiations. According to Omar, the gross pay per semester for the average T.A. in her field of study at N.Y.U. was $5,208. But after deducting $1,583 in taxes, $1,479 for tuition, $461 for fees and $1,618 for health insurance, the T.A. is left with a takeaway pay of only about $138.