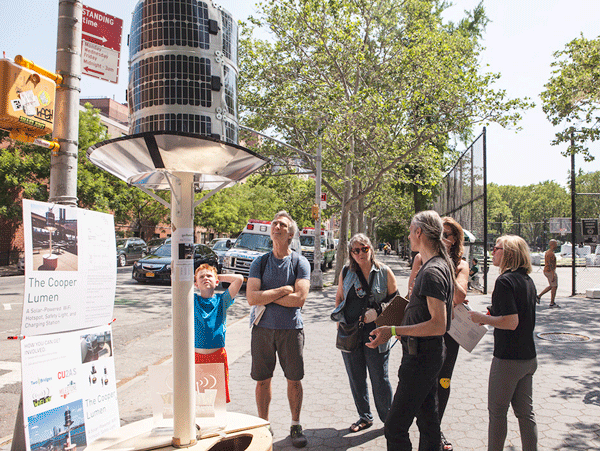 BY LINCOLN ANDERSON  |  Looking a bit like a jumbo-sized solar-powered top hat perched on a pole, a Cooper Lumen will be stationed at Second Ave. and St. Mark's Place on Sat., June 13, during the Cooper Square Committee's Second Ave. Festival.
However, while it's certainly a heady idea, the Cooper Lumen is not a hat. Rather, it is a solar-powered WiFi hotspot and free phone-charging station. The model that will be on display at the festival is a prototype.
Invented by East Village Internet pioneer Paul Garrin, the Cooper Lumen is being developed in partnership with Two Bridges Neighborhood Council. Engineering students at The Cooper Union helped work on the first stage of the project, creating hardware to fit Garrin's concept principles and designs.
The idea's genesis was Superstorm Sandy, whose flooding of underground cables and cooper wiring knocked out wireless and Internet communication in large swaths of the East Village, where Garrin lives. The Cooper Lumen is 10-feet tall and designed so that it can function with everything but its top submerged underwater.
In addition to a WiFi hotspot and phone-charging station, the Lumen is also a "social space," Garrin noted, since it has a bench at its base, which also contains its solar-powered battery. The Lumen will also have a light for nighttime use and, the final version will sport an umbrella for shade during the day.
The prototype has been making the rounds lately, and was recently in Sara D. Roosevelt Park as part of the New Museum's Ideas City, and was at Two Bridges on Earth Day.
"The Lumen was providing fully solar-powered WiFi and phone charging in S.D.R. Park, which was extremely popular," Garrin noted. "The New Museum allowed me to put a WiFi-NY repeater on the east side of their pristine building."
People were very inquisitive about the project, Garrin said, and were signing a petition he is circulating to put Lumens in local parks, particularly East River Park. The city plans to convert telephone booths to WiFi hotspots. However, since there are no phone booths along the waterfront, Garrin figures this is the perfect spot for the Lumens.
The Lumen's wireless service will be through Garrin's company, WiFi-NY, whose monthly cost is about half that of other providers. People will be able to connect for free through the Lumens on a limited basis, and will have unrestricted access with a WiFi-NY membership — which is the company's current policy.
"Public access," Garrin explained, will be "30 minutes on, one hour off, reduced bandwidth."
In the event of another disaster, like Sandy, however — which, again, was the project's inspiration — public access to the Lumen network will be unlimited for everyone, Garrin said. Because they're solar powered, the Lumens will continue to operate even if the electrical grid goes down, as happened during Sandy.
In addition, he said, in the event that there are sponsorships, public access will also be unlimited at stations where the sponsorships apply. So, for example, a local business might want to sponsor a Lumen, helping provide free WiFi for the community.
The area from Stuyvesant Cove to Brooklyn Bridge — as well as the opposite side of the East River in Brooklyn — would be covered by the service.
Garrin's WiFi-NY currently has two transmission sites, at Village East, at 411 E. 10th St., and at Two Bridges Tower, 82 Rutgers St., which would provide the signal for the Lumens. He is applying to register WiFi-NY, currently an LLC, as an L3C, or a for-profit partnership (similar to an LLC) with a social-impact mission as its primary goal.
"It's like a nonprofit, but it puts community benefit first," Garrin explained of an L3C.
Now Garrin's goal is to raise funding to create a "street-ready" model of the Lumen, "so that it can stand on a New York City street and take all the abuse it's subjected to, and also so that it can be submerged and still function." A gofundme campaign for tax-deductible donations is at https://gofundme.com/cooperlumen .
A portion of the proceeds from Cooper Lumen sales will be donated to a scholarship fund to benefit students attending The Cooper for the Advancement of Science of Art, of which Garrin is an alumnus.
The Lumen project is part of the WiFi-NY People's Emergency Network in conjunction with LES Ready.