BY PAUL SCHINDLER & MANHATTAN EXPRESS STAFF | As a three-judge panel weighs the government's appeal of a bold February 3 temporary restraining order from a Seattle federal district judge, President Donald Trump continues to be frustrated – at least temporarily – in his effort to enforce a sweeping, though ineptly crafted and implemented order limiting immigration and refugee entry into the US.
The hearing on the matter by the Ninth Circuit Court of Appeals capped nearly two weeks in which New Yorkers – at John F. Kennedy Airport, at a federal courthouse in Brooklyn and at Borough Hall there, outside the historic Stonewall Inn in Greenwich Village, and in Columbus Circle, among numerous locations – gathered en masse to protest and even resist the new president's action.
District Judge James Robart's decision, a temporary injunction blocking Trump's order while the court weighed its merits, clearly signaled Robart's sense that the president had exceeded his legal authority by imposing nationality and religious tests on immigrants without demonstrating any rational basis for his policy.
Americans, in huge numbers, shared that conclusion, and demonstrations erupted nationwide and brought thousands of New Yorkers to JFK immediately after its implementation and into the streets on repeated occasions before and since.
One of the most dramatic demonstrations against the president's immigration and refuge curbs came Monday evening, when 19 rabbis affiliated with the group T'ruah, The Rabbinic Call for Human Rights, were arrested after staging a sit-in on Central Park West outside the Trump International Hotel in Columbus Circle.
Rabbi Jill Jacobs explained, "We took this action because we, as rabbis and Jews, know too well the dangers of closing America's borders to those fleeing war, persecution, and terror. In the rhetoric employed against Muslims, we hear the echoes of the language used to close the borders to our own community beginning in 1924. And we took this action because our tradition teaches us the obligation of pikuach nefesh – saving a life above almost all else. Today's refugee crisis is nothing less than a matter of life and death… Finally, we took this action because we are standing up for the soul of America, which has long defined itself as a home for people of all religious and ethnic backgrounds. When the core values of our country are at stake, we must speak out."
Among the other rabbis arrested were Rabbi David Ingber of Romemu, a congregation with services on West 105th Street, Rabbis Sharon Kleinbaum and David Dunn Bauer of Congregation Beit Simchat Torah, an LGBTQ congregation on West 30th Street, and Rabbi Rachel Timoner of Brooklyn's Congregation Beth Elohim. The group included, as well, rabbis from around the nation.
In a post on Facebook, Kleinbaum wrote, "Let's keep what we did in perspective, those of us arrested were white with excellent pro bono lawyers standing ready. Honestly, I can't take credit for profound courage. I'm not facing daily bombings or fleeing in terror. I don't face police brutality because I am black or brown. That's real courage. But I will use whatever voice I DO have to speak in the name of my God and my tradition against the injustices being done."
Grassroots protests began on the eve of Trump announcing his order, issued on January 27, International Holocaust Remembrance Day – which he bizarrely acknowledged without any mention of its six million Jewish victims – when thousands gathered in Washington Square in a rally hastily called by the Council on American-Islamic Relations.
West Side City Councilmember Corey Johnson, whose father, the child of a Korean woman and a US GI, was adopted at age three in Seoul and brought to the US and whose maternal great-grandparents came here from Ireland, told the crowd, "We in New York City are going to be the face of resistance. Forty percent of New Yorkers are foreign-born. Why are we the greatest city in the world? Because of our people."
Of the president, Johnson said, "We have a leader who is not just a demagogue, but a pathological liar with no impulse control, and the facts mean nothing to him."
Though immigration rights advocates were prepared for the worst, the breadth and arbitrariness of Trump's order the next day shocked many. All refugee entry would be barred for 120 days, and entry by Syrian refugees suspended indefinitely. Most immigration would also be suspended for 90 days from seven Muslim-majority nations – Iran, Iraq, Libya, Somalia, Sudan, Syria, and Yemen.
The libertarian, and generally conservative, Cato Institute immediately took note of the fact that between 1975 and 2015, not a single American was killed on US soil as the result of terrorist attacks by nationals from any of the seven countries. Other observers pointed out that Trump's family business has no dealings in those nations but does in other Muslim nations, such as Saudi Arabia, where 15 of the 19 9/11 attackers came from.
As customs officials began enforcing the president's order on January 28, Americans spontaneously flocked to major airports around the nation in protest. The demonstrators who gathered outside Terminal 4 at Kennedy Airport were a strikingly diverse group made up of some homegrown New Yorkers and others from far-flung parts of the world.
One shocked bi-national couple voiced the anxieties that affect their own lives.
"It's absolutely nerve-wracking because we are working on staying here," said Camila Quinteros-Stein, 26, from Peru. "We are married and we are working on our green card, so I was like wait, I just submitted some paperwork, what do I do now?"
Phoebe Quinteros-Stein, who is originally from New Jersey and married to Camila, said, "As the American in the relationship, I am pretty ashamed."
Camila added, "I don't think this is the end of democracy. I think it is a wake-up call for a lot of Democrats and liberals to not accept that our conversation should be amongst ourselves… and to actually speak to people outside of our bubbles."
The outpouring of love for the refugees overwhelmed one Muslim man. "I'm from New York, born and raised in Queens, and I live in Westchester," said Adil Iqbal, a 33-year-old doctor.
When he learned of the president's order, he said he knew he had to stand in solidarity for all people. "I'm grateful that I'm in New York City, the most tolerant place in the world. Islam is about peace, and I think the media has created a huge misconception on who Muslims are across the world," Iqbal said. "This is the fruit of that. For a decade and a half the media been injecting fear toward Islam, and they have gotten this idiot Trump elected."
Even as thousands held vigil at Kennedy, news of an emergency federal court hearing on a suit brought by the American Civil Liberties Union on Trump's order in Brooklyn on the evening of January 28 spread quickly on social media, and demonstrators headed to Cadman Plaza East near the Brooklyn Bridge. By the time the court's decision came down at 9 p.m., a large crowd erupted in singing, chanting, and cheering alongside a live brass band.
Inside, Judge Ann Donnelly had to shush whoops as she granted a temporary stay regarding a portion of Trump's order, finding that returning some of those detained – already holding visas, green cards, or refugee status – could subject them to "irreparable harm."
"If they had come in two days ago, we wouldn't be here," said Donnelly.
The attorneys who successfully intervened won widespread praise, as did the thousands who turned out in support of those struggling to enter the country.
"This is just so beautiful, I am just so proud," said Congressmember Nydia Velázquez, a Democrat who spent that day at Kennedy Airport with her colleague, Jerry Nadler, who represents Manhattan's West Side. Velázquez, whose district spans many immigrant neighborhoods in Manhattan, Brooklyn, and Queens, added, "Now we have to bring justice to all the refugees who are escaping violence in their countries to be here — this is who we are."
The energy expended that first day did not dissipate passion about the issue, and the following day, January 29, an estimated 10,000 gathered in Battery Park, with America's most enduring symbol of immigration, the Statue of Liberty, as a backdrop. The crowd chanted, "No hate, no fear, refugees are welcome here!" and "No ban, no wall!" — a message many bore on signs and banners.
Numerous Democratic elected officials attended the rally — including Mayor Bill de Blasio, Senators Chuck Schumer and Kirsten Gillibrand, Velázquez and Nadler, along with fellow House members, including Carolyn Maloney, who represents Manhattan's East Side.
Schumer vowed that he would "not rest until these horrible orders are repealed," and credited the previous day's protests at Kennedy with allowing dozens of people being held to enter the country. But he warned the work was not over.
"We have made progress for 42 [visa holders]," Schumer said, "but we have to make progress for thousands, and tens of thousands more, and hundreds of thousands more."
Schumer, who as Senate minority leader is the most powerful political opponent Trump has in Washington, received a lukewarm welcome from the crowd, in part because he supported some of the president's less controversial cabinet nominees. Some demonstrators chanted, "Oppose the nominees" following his speech. Schumer has faced repeated protests outside his Park Slope home, some urging him to "stiffen his spine."
Later on January 29, Maloney asked a House committee to investigate "how the executive order banning and restricting immigration signed on Friday came to fruition," according to a release from her office. She wants to know what federal agencies the Trump administration consulted in preparing the order.
Throughout the week that followed, activism and street protests over the immigration and refugee ban continued in New York, with a February 1 rally in Foley Square, site of the federal courthouse in Manhattan, organized by the Syria Solidarity New York City and CISPOS: Committee in Solidarity with the People of Syria.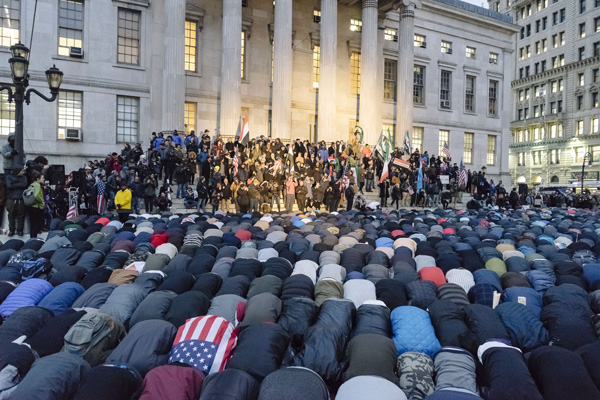 The following day, Yemeni deli workers protesting Trump's immigration policy went on strike and flooded Brooklyn Borough Hall Plaza, carrying flags from Iraq, Iran, Libya, Somalia, Sudan, Syria, and Yemen — and plenty of American flags, as well. They were showing their dedication to the American dream, said one business owner.
"We are here to stay," said Ahmed Abboud, who closed his Bay Ridge bodega to attend the rally with his brothers and staff. "We are the fabric of our communities, our city, and our country. People depend on us and our businesses, and we deserve to be here, our families deserve to come here, and we deserve respect."
The rally began with an Islamic prayer followed by remarks from elected officials and community activists urging solidarity.
"We are all Muslim today," said Borough President Eric Adams. "You have the right to your American dream. And to be part of what America stands for. And this sends a loud and clear message."
The section of Bay Ridge sometimes dubbed "Bay Root" for its sizable Middle Eastern community was a ghost town that afternoon, with businesses dark for the rally, many with signs in their storefront reading, "Refugees and Immigrants are welcome here. No Muslim ban. No border wall. Our communities stand tall."
"I don't even care that this is costing me," said Hussein Bahar, who co-owns a bodega with his brother in Sunset Park. "This is too important not to. How can I stay at home and not come out and defend myself? The people need to know we are upset."
Solidarity was also the theme of a February 4 rally that drew thousands, in sub-freezing temperatures, to the Stonewall Inn in Greenwich Village.
"LGBTQ people have been fighting oppression for time immemorial," said Councilmember Corey Johnson, one of the lead organizers of the protest endorsed by more than 60 groups and scores of elected officials, "so when we see an administration come after vulnerable communities, we feel it deeply and personally. We are declaring with one voice that we are in this together."
Jamila Hammami, executive director of the Queer Detainee Empowerment Project, said, "I am not a single-issue person. We are under surveillance. We worry about bombings. We worry about Islamaphobia in our own community."
Debbie Almontaser, president of the board of the Muslim Community Network, said, "We need to show up everywhere. We cannot do it without you, and you cannot do it without us."
Ishalaa Ortega of Immigration Equality, a transgender woman of color from Mexico, talked about how her life was at risk in her country of birth because of her gender identity and how reading about the Stonewall Rebellion at the age of 12 gave her hope. "Until January 20, the world called this the country of freedom," she said. "The asylum process was a painful journey. But we are here to stay!"
Speakers also spoke of threats to the LGBTQ community, with actor Cynthia Nixon ridiculing reports that Ivanka Trump and her husband Jared Kushner represent the bulwark against proposals within the White House to roll back advances such as the employment nondiscrimination requirements that President Barack Obama imposed on contractors doing business with the federal government.
"They couldn't even get the president to mention Jews on Holocaust Remembrance Day," she said.
The crowd included some first-time protesters. Three young men stood at the front of the barricades by the stage for more than three hours, having left their homes without their hats.
Ryker Allen, 19, said, "I have to be here. I'm Mexican and queer. I'm here for my immigrant mother who came here illegally." His friend Ryan Duffin, 22, an immigrant from Canada, said, "I don't know what is coming next. I have the privilege of white skin. I want to be here for all of my friends who are from places like Iran and Libya."
Jordan Schaps, a former longtime photo editor at New York magazine, said, "I've got five friends getting together" to see what actions they can take as leaders in the photography field. "Protesting on Facebook is not enough," Schaps added.
Political leaders were out in force, including City Comptroller Scott Stringer, Public Advocate Letitia James, and City Council Speaker Melissa Mark-Viverito of East Harlem.
While city and state officials are making promises of never going back, Manhattan Borough President Gale Brewer said she is not confident that all of the proposed Republican cuts in Washington can be made up by New York.
"We receive $8 billion in food stamps here," she said, adding that she is also alarmed about massive federal cuts to affordable housing monies that have gone to the New York City Housing Authority and into Section 8 funding.
Before taking the stage, Senator Schumer told Manhattan Express, "The people are so aroused, the administration is becoming afraid."
He said he believes the effort to repeal the Affordable Care Act will fail and he predicted – incorrectly as events would later prove – that Betsy DeVos would be not be confirmed as secretary of education.
Schumer was met with cheers as well as some vigorous boos from activists outraged at his votes confirming some of Trump's nominees. He gamely led the crowd in a chant of "Dump Trump" and said, "I stand with you. We are going to make sure the Supreme Court does not turn the clock back."
Asked how the protests outside his home make him feel, he responded, "Good. The energy is good." Schumer claimed not to be concerned about "a few brickbats." – Reporting by Lincoln Anderson, Ruth Brown, Lauren Gill, Andy Humm, Dennis Lynch, Naeisha Rose, and Caroline Spivack.