Ever since Mayor Eric Adams began a new initiative that sees the removal of homeless encampments throughout the city, those sleeping on the street say they are living in fear of eviction and violence.
Nestled between the East Village's Tompkins Square Park and Trinity Lower East Side Lutheran Parish on 9th Street and Avenue B lies a small succession of tents. Dubbed "Anarchy Row" by its undomiciled and idealistic occupants, the space seems to be less about revolution and more about pleading for a humane place in the world. 
As NYPD officers arrived at the encampment on April 4, residents of Anarchy Row were afraid of the news the police may bring. Would they be forced to move? Would their belongings be tossed into the back of a sanitation truck?
On Monday, Anarchy Row was permitted to maintain — for now.
For Johnny Grima, who could be considered the founder of the encampment, and his unhoused neighbors the anxiety over potential sweeps are constant. Yet Grima believes things don't have to be this way.
He pointed to a flyer posted that claims, "There are 45,660 homeless households in New York City. There are 75,000 second homes in New York City."
Grima believes there are enough occupancy opportunities for all to be housed.
"There are more vacant units in New York City than there are homeless people in the state. Homeless shelters and safe havens are abusive and toxic environments. How do you expect somebody to get help for mental health issues and substance abuse issues in a toxic environment?" Grima said. 
Violence begets violence
Grima emerged from his tent offering fist bumps and although he was somewhat jovial, he did not have an easy night. According to Grima, he was attacked at midnight by a local security guard. With blood still visible around his mouth, he believes the sweeps are dehumanizing the homeless and are leading to them be the targets of violence.
"I mean, it almost certainly fed into that I'd imagine because when you see that in the media all the time of trying to call homeless people a cancer that needs to be removed and whatnot. You know, it permeates into social consciousness and whatnot. I'm sure he was reading stories, reading and watching the news and that this was soaking into his head. So yeah, man, it's definitely toxic coming from the state," Grima said.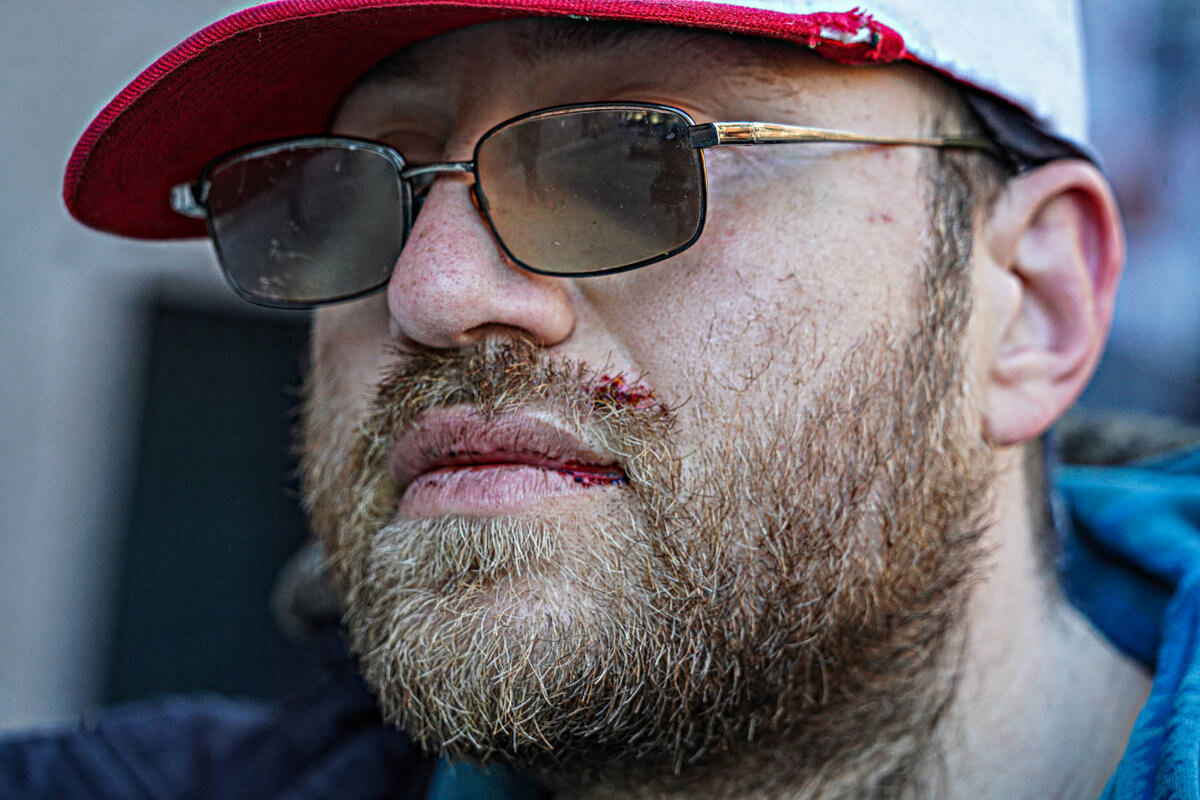 According to those in Anarchy Row, life on the street is dangerous. They say they fear the state, housed New Yorkers, and fellow rough sleepers alike.
Cynthia doesn't own a tent, instead sleeps under a table in a sleeping bag. She says she has seen and lived with a lot over the course of her years on the streets, including being acquaintances with Marcelina Harvey, the 83-year-old transgender woman charged with murdering and dismembering several victims.
Cynthia feels she was lucky to get away with her life and uses art as a healing process.
"She pursued me one day. She saw me in a train station at Broadway Lafayette and she said my name and I turned around and I saw who it was. I started like diving in and out of people trying to go down the platform and get away from her and she just kept coming and following," Cynthia recalled holding up a drawing she made of Harvey.
Fear realized
Pastor William Kroeze of Trinity Lower East Side Lutheran Parish knows the members of Anarchy Row well and often feeds the group at the house of worship. After seeing those suffering homelessness rise amidst the COVID-19 pandemic, Kroeze told amNewYork Metro that he condemns the sweeps since he believes it is spreading unbridled fear.
"It seems that the people that we know who are living on the streets who are experiencing homelessness definitely have an increased sense of anxiety these days. You know, any sense of security that they might have felt has really been shattered in between the horrific murders that were happening recently of our neighbors living on the streets as they were sleeping, being taken off the subways and trains on the coldest days of the winter and now these sweeps throughout the city. Certainly, people are very anxious. They're very scared," Pastor Kroeze explained.
Mere minutes after the discussion of fear surrounding the sweeps, Anarchy Row was slapped with a notice stating that they will be removed on Wednesday, April 6. For the group, this was a fear realized.
"So, like, yeah, when you lay down in a tent on the sidewalk and you're like maybe they'll come back later— it's not a pleasant feeling," Grima said.
When asked what he will do when the NYPD, DSS and DSNY arrive on Wednesday, Grima simply responded: "We will cross that road when we come to it."