BY PUMA PERL  (pumaperl.blogspot.com)  |  When I decided to take a look at the current state of Slam Poetry, I immediately knew that NYC-Urbana, which now meets at the Sidewalk Cafe, was the team to follow. As host and current Slam Master Jared Singer says, they are "the winningest" team in the nation. Urbana, founded 14 years ago by 19-year-old Cristin O'Keefe Aptowicz, has won the National Poetry Slam competition three times, and was the first to become National Poetry Group Piece champion. I often visited the venue during its long stay at the Bowery Poetry Club and was always impressed by the quality of both the features and the competitors.
That term "winningest," by the way is worth noting — our host does not describe the team as "the best" or "the most talented," he calls it "the winningest," which does not detract from the grit and brilliance of opposing teams, but instead references the rules of Slam, which are, contradictorily, the most democratic and the most arbitrary that you will find anywhere.
The basic rules of judging are that several random audience members volunteer to rate performances on a scale of zero (a piece so bad that it makes you want to end the world right there) to 10 (one so good, that you will marry the person next to you, and probably the one on the other side, too.) I have never personally witnessed a score of zero and have seen very few tens; no matter how arbitrary the judging may seem, it is a given that no performer is without some merit and that very few reach a zenith of perfection.
Our host cautions the judges to be consistent, and to consider the poem's content as well as the depth of the performance. Before competition begins, a "sacrificial poet" is introduced. By assessing this non-competitive performer, a bar is established; each judge can then decide whether those who follow are better or worse than the one who set the standard. Arbitrary, unfair, and totally democratic — every competitor has an equal chance at a fair decision and a total debacle.
Slam Poetry is a continuation of the oral tradition, and its current American form can be attributed to Chicago construction worker/poet Mark Smith (Slampapi) who, in 1985, started a series called the Uptown Poetry Slam, adding a competition to the usual format of open mics and featured guests. I first became aware of the trend in the '90s, but never really understood how it worked. When I began my research for this article, it seemed of primary importance that I get it right and I asked all of the poets to whom I spoke the same questions about a hundred times, before finally grasping the process, which is similar to the NBA. There are four seasons, there are semi-finals, there are chances to compete based on points earned rather than wins, and, once the final team is established, the opportunity to compete in the Nationals. Finally, for the purposes of this article, none of that really matters.
The importance of understanding Slam is not mastering the rules. Slam is, at its best, about building community, providing wide access to poetry and performance, creating national and international networks locally and through travel, and giving participants a chance to become great, or, at least, better writers. Do some poets get caught up in the competition, tending to put performance above content, ending up sounding the same?  Is there also the possibility of the most vulnerable members being hurt by this competitive spirit? Of course. Nobody denies that there are some risks. As an artistic movement, it will open creative doors for some and may not be the best fit for others. But, in my observation, the pressure to slam, if you are of a certain age, has been reduced.  Other changes include greater diversity, less polarization, and a better understanding of the mechanisms of building poems.
Towards that end, Urbana offers a free one-hour poetry workshop prior to the start of each weekly event. The first session that I attended was facilitated by retiring Slammaster Taylor Mali, who had been with Urbana for over 10 years. The exercise involved utilizing clichés in ways that enhance the poem by setting up a belief system for the audience, and then throwing in a reality curve. It is difficult to produce new work in a short workshop, but everyone in the group, including this writer, found a way to get something started on the page. Mali, a well-known poet, humorist and educator, is proof that Slam poets cannot and should not be stereotyped. He discovered the art form of Slam while working toward his MFA in Kansas, in the 1990s, he told me. "It was a godsend for a 20-something like me who was too literary for the actors and too histrionic for the poets."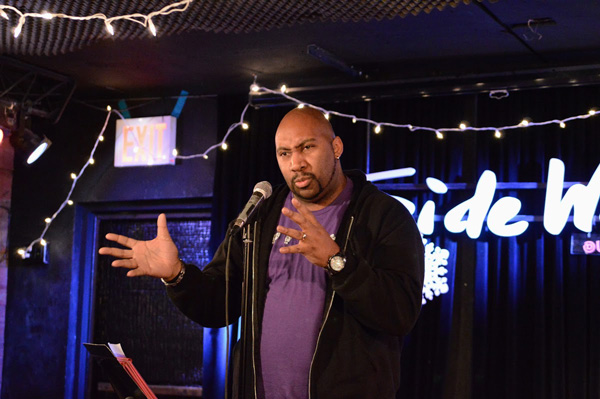 Following the workshop is the main event, which follows the formula initiated by Mark Smith: open mike, feature, competition. I particularly enjoy the features at Slam venues because curators have a wide network due to the travels that are part of the scene, and Urbana rarely disappoints. On the nights I attended, I was introduced to the work of Ohio poet Will Evans, and Chicago-born Tim "Toaster" Henderson, who currently resides in Berkeley. Their work stands up admirably both on page and stage. The competitors' topics ranged from the political — Ferguson, Eric Garner — to the highly personal, including obesity and gender identity and transitional issues. In general, the personal poems received the highest scores.
I am not alone in my attraction to the poetic excellence of these venues. Jeanann Verlee, a veteran coach and former member of many teams, shared that when first introduced to Slam, during its infancy, she was "highly opposed to the idea…I fancied myself non-competitive (ha) and am also highly sensitive." However, about a decade later, when she moved from Denver to New York, she found that she "thoroughly enjoyed the earnest and individual performances" of a group of poets she'd met, including Rachel McKibbens and Jeffrey McDaniel, and later learned that they were major players in the Slam community. After winning her first slam, she was "hooked" and devoted herself fully to it for 14 years.
My resident expert, my daughter Juliet Gomez, who hosted the Open Room at the Nuyorican Poets Cafe in the late 1990's, agrees with Verlee, stating that her "initial uneasiness about the concept of competition and art" took a back seat because of the impressiveness of the poets involved in those early days, including Sarah Jones, Steve Coleman, Lemon Anderson and Suheir Hammad. A couple of decades later, her observation is that the distinctive slam style established at the time has the possibility of preventing people from forming their own onstage personas. Verlee agrees in the importance of individual development, which involvement in the Slam community enhances, for those who take advantage of the mentoring, support, and workshop opportunities. As veteran Slammer Thomas Fucaloro put it, "There used to be a lot of Slam impersonators…but now, people seem to take a lot more chances, which is great." Elliot Smith Vacek, who is now sharing Slam Master duties with Jared Singer describes Urbana as his "family and home away from home."
"Slam has forced me to consider how an audience will engage with my work," he added, "something that is easy to ignore if you're just writing and not sharing."
I have known some of the poets since they were newer to the poetry scene, and they have now become the elders, making me, I suppose, a Grand Elder. Although I have never slammed in a competition, I am grateful for artistic communities with the potential to allow support, friendship, and inspiration to defy demographic lines and stereotypes. I wrote the least ironic love poem of my life after being paired with Jared Singer in a workshop challenge. Jeanann Verlee is mentioned in my poem "Making More," which references a book party in which she was a guest reader, and another one, "The Day I Did Not Go to a Strip Club with Thomas Fuclaloro," describes what did not happen on the way to a release party for his first volume. Writing is not always easy — but it is a great gift to find a poem amongst your peers, and to feel the torch not only handed down, but also passed back up and around.
Urbana Poetry Slam meets weekly at the Sidewalk Cafe (94 Ave. A, at Sixth St.). Free workshop at 6 p.m., $10 admission to Open Mic, Feature and Competition, 7-10 p.m.. Admission goes toward maintaining the venue, and registration and travel to the Nationals. For more info, visit urbanapoetryslam.com.
The next "Puma Perl's Pandemonium: takes place Fri., April 10, 7 p.m. at the Bowery Electric Map Room (327 Bowery), and presents an evening of poetry and rock and roll. Visit pumaperl.blogspot.com.