Over the past couple of months, Mayor Eric Adams has on several occasions said there's a "coordinated effort" among the city's press corps to "attack" his administration, while not recognizing its purported accomplishments.
Adams expounded on that point and its possible connection to his status as the city's second Black mayor, as well as many other topics, during a wide-ranging TV interview with NY1 reporter Emily Ngo that aired Thursday evening.
Hizzoner charged that he had been subjected to "inaccurate coverage" by some in the press, and called it part of a "coordinated effort" to attack him and his accomplishments.
"I look at some of the inaccurate coverage that we have witnessed and some of the coordinated effort by the same players who are doing the same thing," the mayor said. "No matter what we do in the city, they have a coordinated effort in their appearance to attack it."
In describing the press coverage that he sees as unfair or "inaccurate," Adams has taken to comparing himself to Kunta Kinte, a character from the 1977 TV series "Roots," which took place both during and after the time of slavery. In drawing the parallel, the mayor has referenced a particular scene where Kunta Kinte, who was enslaved, was beaten until he stopped saying his own name and instead called himself the name his captor forced upon him — Toby.
When asked about the comparison by Ngo, Adams explained he invokes that scene because many Black New Yorkers remember it as a pivotal cultural touchstone. 
"That scene in 'Roots' was a significant scene for Black and brown and many people of color in this city," Adams said. "I remember it like it was yesterday. Watching LeVar Burton (who played Kunta Kinte) being stretched and having someone beat him until he said [Toby]. People understood it when I said it. They remember that scene. And believe it or not, there are people that want to tear you down to the point that you no longer feel you are who you are. And sometimes you have to use painful analogies to get your message across."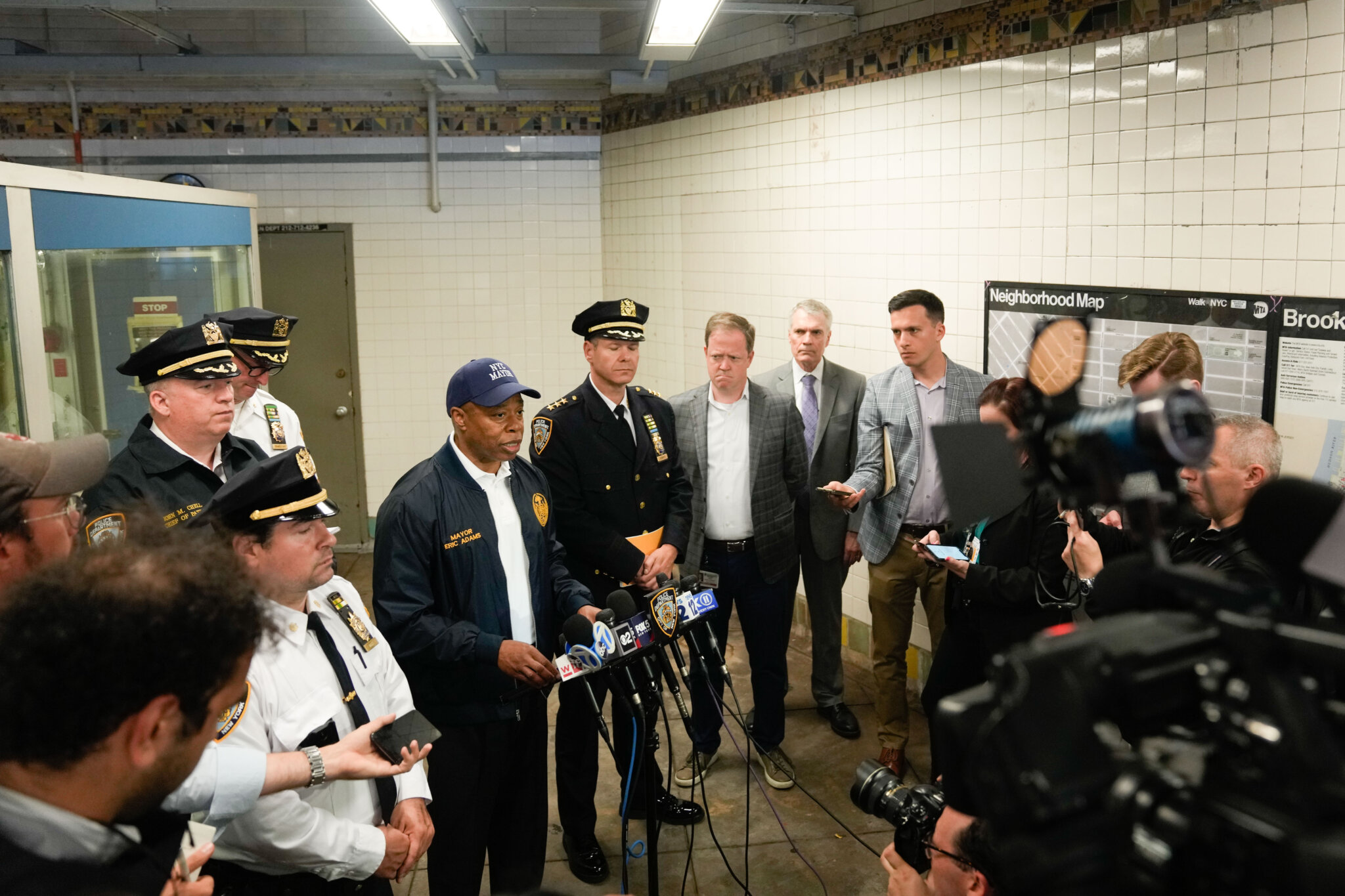 The mayor has often lamented the press' focus on his administration's missteps concerning issues as wide-ranging as his handling of the large migrant influx over the past year to the sudden resignation of his first police commissioner — Keechant Sewell — last month. 
At the same time, Adams charges the press has all but ignored what he's characterized as his accomplishments, which he said include "navigating" the city through the later stages of COVID-19, decreasing violent crime and bringing back the city's tourism sector post-pandemic.
"Let's really talk about the success, the great comeback of this city," the mayor said. "And some people, no matter how much we're coming back, they're not accurately reporting that … This is a city that has an amazing recovery story and that's not being reflected?"
Ngo questioned the idea that the negative coverage of Adams' administration is about his being Black, pointing out that the press had been just as hard on his white predecessor — Bill de Blasio. Still, Adams countered that he never explicitly said the media's coverage of him is because he's Black, but noted that racism and prejudice still exists in many forms.
"Inaccurate coverage is not because I'm Black and I never said that, that inaccurate coverage is because I'm Black," Adams said. "But we cannot say to ourselves that isms don't still exist … I don't stop being the role of mayor because isms exist but [I'm goint to] point out if something is inaccurate and unfair and I've done that throughout my entire life."
Additionally, the mayor has taken aim at the city's press corps for mostly being comprised of white reporters.
Basil Smikle, a political expert who leads Hunter College's Public Policy Program, said there is some validity to Adams' argument that a mostly white group of reporters may be holding him to a different standard than they would a white mayor — like de Blasio and former Mayors Michael Bloomberg and Rudy Giuliani.
"There are nuances about how Black leaders are described, how they're evaluated, that includes everything ranging from things in their personal life, their appearance, and even their policies," Smickle said. "I do believe that some of that is true for the current mayor, that it is certainly important for writers, reporters, to think about whether or not they would say the same things and evaluate this mayor the same way they would have Bloomberg or de Blasio or Giuliani, any white mayor or white candidate."