A group of faith leaders, pols and advocates urged Governor Kathy Hochul on Thursday to support a package of legislation aimed at strengthening tenant protections, including bills to make it harder to evict tenants and establish a housing subsidy program for homeless and very low income New Yorkers.
In a rally at the Recovery House of Worship in the Boerum Hill section of Brooklyn Thursday morning, the coalition called on Hochul to back bills like "Good Cause Eviction" and the "Housing Access Voucher Program." The former would require landlords to justify rent increases above 3% and bar them from ending a tenancy except in cases of lease violations; while the latter seeks to establish a statewide rental subsidy specifically for those who are homeless, facing eviction or victims of domestic violence.
Neither of the bills are part of Hochul's own housing plan, dubbed the "New York Housing Compact," which seeks to build 800,000 new units statewide over the next decade by setting housing construction targets for each municipality throughout the state and cutting regulations.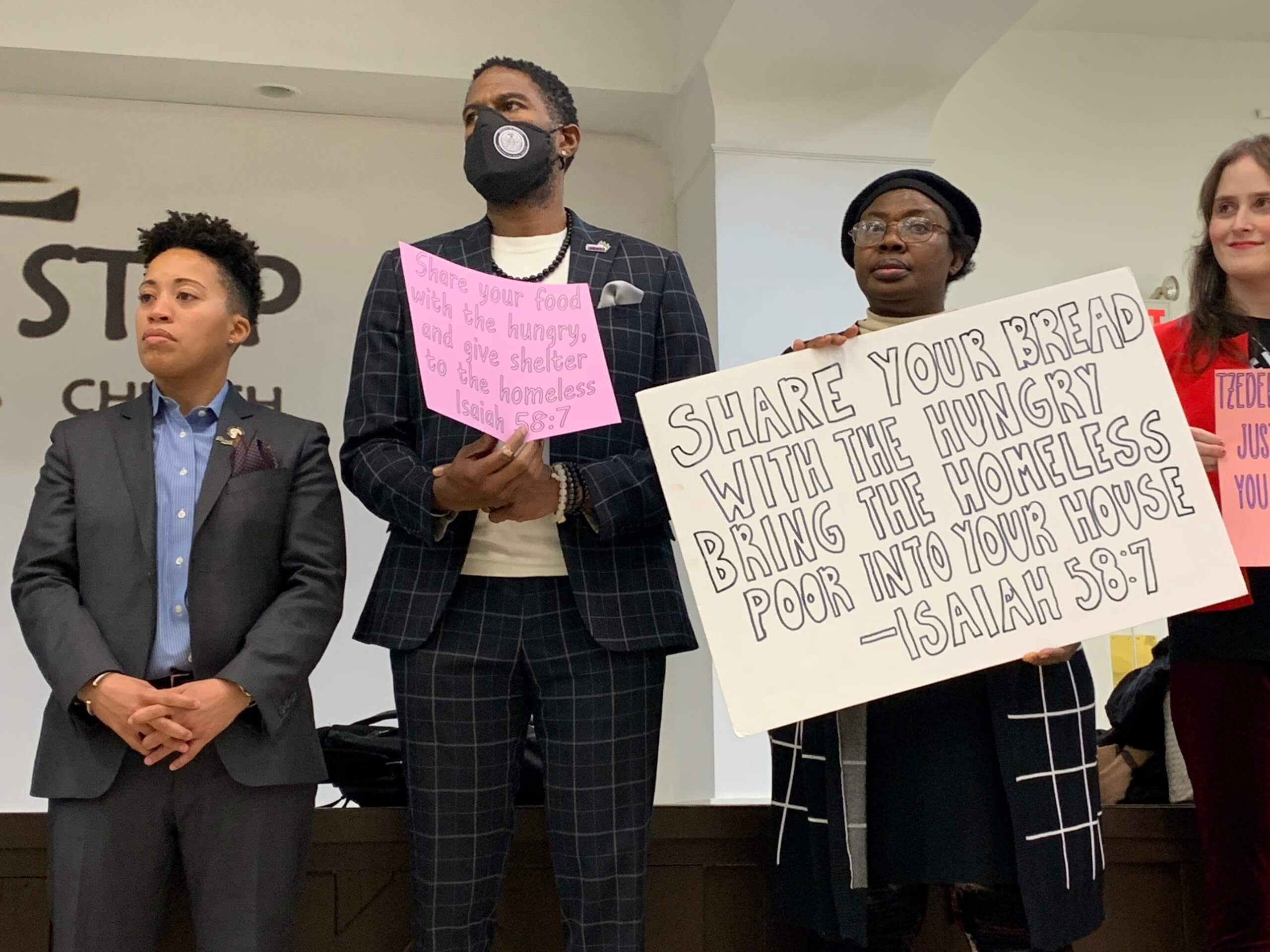 While they take different approaches, both the tenant protection bills and Hochul's plan are intended to counter skyrocketing rents and a shortage of affordable housing across New York.
At the rally, Zac Martin — pastor of Justice and Mercy at Next Step Community Church — said securing stable housing for people is necessary because it's a prerequisite to addressing a number of other issues they may be facing.
"As we heard during the pandemic again, housing is health care," Martin said. "When we address housing issues, when we make sure that people have a roof over their heads, a lot of other things get fixed."
Also in attendance was city Comptroller Brad Lander, a frequent advocate of progressive housing policies, who told a story about how his home became a "sacred" place for his children growing up, partially because he hung a mezuzah — a Jewish prayer scroll inscribed with Torah verses — on his front door post. He said his son and daughter, now adults, felt such a strong connection to their childhood home, that they both recently got images representing the Park Slope house's address number and stoop tattooed on their bodies.
"What it made me feel like was somehow that mezuzah had had this magic power and that it had actually given our kids a sense of safety and security and identity in the world," Lander said. "And what we're fighting for here is no more and no less than every single person in New York to be able to deliver that for their kids as well."
"We know that you can only do that in New York if you've got really pretty significant amounts of wealth and privilege," he added.
The bills in the package the coalition is fighting for, Lander said, would give every New Yorker the same level of housing security that his children had growing up.
City Public Advocate Jumaane Williams said policies that they're pushing for, like Good Cause, are the baseline of what New York lawmakers should do to protect tenants. But, he said, the "people with money" — appearing to refer to real estate — "distort" and have been able to repeatedly defeat the reforms they're championing by "distorting" what they'll do in practice.
"These things are really simple and any New Yorker that would hear what we're asking for would agree with us," Williams said. "But what happens is, the people with money distort what we're asking for. We're just saying, 'can you tell someone why they're being evicted?' That's it. Like, what is the reason for the eviction? How could you be opposed to that?"
Additionally, Williams pushed back on a common criticism of Good Cause, which has been put forward by many in the real estate industry, that it would negatively impact small homeowners who rent part of their homes by preventing them from kicking out tenants simply because they no longer want to rent their properties out. Williams said that argument doesn't hold water because Good Cause will only apply to one in four homeowners.
"I wanna ask people, stop using small homeowners to buffer all of the conglomerates that we're actually trying to get at," Williams said. "The small homeowners, particularly Black and brown, are probably more closely dealing with the issues that tenants are dealing with than the conglomerates."