Last week, we released version three of our NBA Mock Draft in the lead-up to the NBA Finals. This week, we'll fire up version four after the withdrawal deadline passed and then we'll keep updating these every week until the NBA Draft on Thursday, June 22nd. 
Since this is a no-trades NBA Mock Draft, the Knicks will not pick below, but we can still walk you through how we think the first round will play out a month ahead of the draft.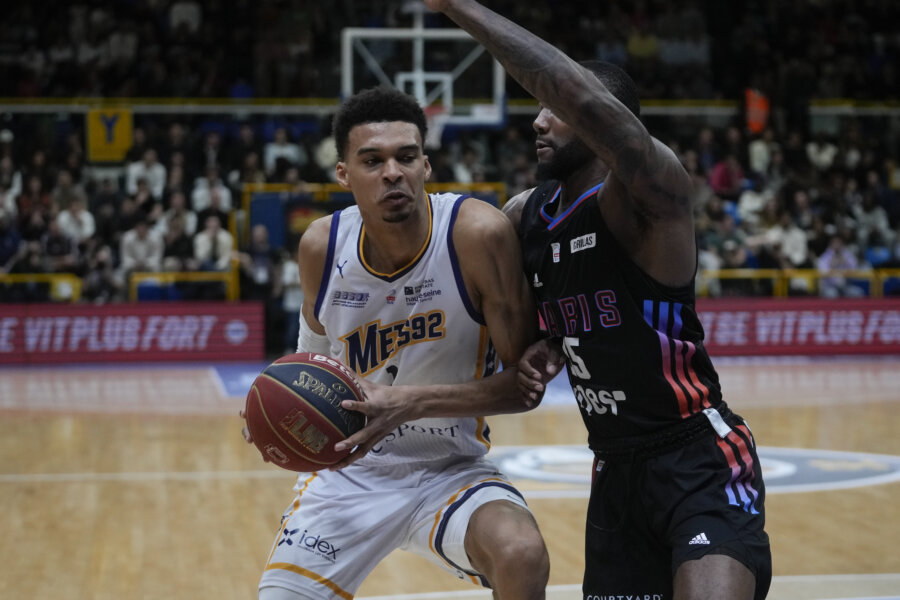 2023 NBA Mock Draft
1. San Antonio Spurs – Victor Vembanyama, C France
This has not changed and will not change. Teams were tanking for the 19-year-old Frenchman who is seen as the best prospect since LeBron James. He will go number one overall. 
2. Charlotte Hornets – Brandon Miller, G/F Alabama
This pick is between Miller and Scoot Henderson, but in this version, the Hornets take Miller to give LaMelo Ball a scoring forward to pair with up-and-coming young center Mark Williams. Charlotte will have plenty of interesting options to trade away this pick, but drafting Miller for his explosiveness and defensive ability could be worth keeping the pick. 
3. Portland Trail Blazers –  Scoot Henderson, G G-League
The Trail Blazers have a clear choice here: pick at number three or keep Damian Lillard. The veteran guard has said, "I want a chance to go for it. And if the route is to (draft youth), then that's not my route.'' If Portland wants to keep Lillard and give him his chance then they will trade this pick for a veteran. Would they be interested in Julius Randle and future first-round picks? 
4. Houston Rockets –  Cam Whitmore, F Villanova
This is another pick that could be traded, but if Houston stays, they could use some help on the wing. If James Harden goes go back to Houston, then the Rockets' most pressing need will be wing scoring. Whitmore has the potential to stretch the floor and, despite being just 18 years old, has shown the ability to shoot in streaks, has the ball-handling to improve as a slasher as well, and has shown a willingness to defend. 
5. Detroit Pistons – Jarace Walker, F Houston
The Pistons have Cade Cunningham and Jaden Ivey at guard, so they need to look to the wing here. Walker is a powerful player with great defensive versatility and length who could fit well next to those young guards. He's a tough matchup for anyone given his "tweener" mold, and his perimeter shot is getting better, so there is key upside here. 
6. Orlando Magic – Amen Thompson, G Overtime Elite
The Magic are in a pretty good spot and have a solid core to build around. However, they could use some offensive upside in the backcourt while Paolo Banchero and Franz Wagner dominate the wings. Thompson is a natural facilitator and would become the highest-drafted player from Overtime's alternative to NCAA basketball. He is not yet a great shooter, but he has the potential to grow into a strong scorer. 
7. Indiana Pacers – Taylor Hendricks, F UCF
The Pacers could look to move up in a deal with Portland, but this is a no-trades NBA Mock Draft so, if they stay here, they could snag Hendricks, who is a combo forward with positional size who can be a solid 3-and-D wing. He also shows flashes of scoring versatility that could give him intriguing upside and make him a good fit alongside Myles Turner.  
8. Washington Wizards – Anthony Black, G Arkansas
Washington is in a position to add the most talented player, and that's Black if you're considering upside. Some see him as a point guard, but he can play more of a combo guard role with the size to guard wings, which is what Washington needs with players like Kyle Kuzma and Deni Avdija on the wings. While Black's shooting remains a question mark, he has great handle and elite passing ability. He would fit in perfectly with Utah's rebuilding roster. 
9. Utah Jazz  – Auser Thompson, G/F Overtime Elite
Auser is a better shooter than his twin brother Amen and will also give Utah instant transition offense and defensive versatility. He has plus athleticism and upside to grow as a scorer, which makes him a solid add alongside Collin Sexton and Lauri Markkanen. 
10. Dallas Mavericks  – Gradey Dick, F Kansas
The pick that crushed Knicks fans. The Mavericks are highly unlikely to keep this pick as a team that is looking to win now with Luka Doncic and – maybe – a re-signed Kyrie Irving. Could Dallas take a European star to develop and stash overseas? Or could they take somebody like Dick who can help right away with shooting?
11. Orlando Magic (via Bulls) – Jordan Hawkins, G/F UCONN
The Magic need a shooter to space the floor and with Dick already off the board, Hawkins is the best shooter on the board. 
12. Oklahoma City Thunder – Bilal Coulibaly, SF, France
The Thunder have some talent on their roster and are the perfect fit to add a wildcard with elite upside like Coulibaly, who is one of the biggest risers in our NBA Mock Draft. Victor Wembanyama's teammate, Coulibaly has shown off when people came to see his teammate and projects as a potential NBA Defensive Player of the Year candidate who has explosive athleticism and has shown flashes of plus shot-making. 
13. Toronto Raptors – Cason Wallace, PG Kentucky
The Raptors need a player who can guard opposing guards. Wallace is a true ballhandler at 6'4″ who can shoot, sees the floor well, and brings the defensive pressure that the Magic seem to love. 
14. New Orleans Pelicans –  Keyonte George, SG Baylor
The Pelicans are another team that could trade this pick as they try to make a playoff push. Would they be interested in adding Obi Toppin? If New Orleans does stay here, expect them to add shooting. George is a pure scorer who could help New Orleans whether he immediately enters the starting lineup at shooting guard or just factors into the rotation. 
15. Atlanta Hawks – Kobe Bufkin, G/F Michigan
The Hawks are another team that is feeling pressure to make a deeper playoff run and might be willing to deal this pick. If they stay, Bufkin is a well-rounded prospect and is the best scorer left on the board. Considering he measured at 6'8″ at the Combine, he has increased flexibility which makes him a good fit for the Hawks here in our NBA Mock Draft. given the inconsistency of the Lakers' backcourt in their recent playoff loss, more scoring from those spots is what the doctor ordered. 
16. Utah Jazz (via Timberwolves) – Dereck Lively, C Duke
After adding Auser Thompson to the backcourt with their first pick in our NBA Mock Draft, Utah adds talent to the frontcourt here with Lively. Lively is an elite rim protector who averaged 2.5 blocks per game this season. He's limited on offense, but this is the type of gamble a team like Utah with multiple picks can take. If he becomes even an average offensive player, he would be one of the most impactful picks in this draft.  
17. Los Angeles Lakers – Jalen Hood-Schifino G, Indiana
What are the skills that work best with LeBron James? Shooting and defense. The Lakers need a player who can do those two things right now because they need to capitalize on the final years of James. Hood-Schifino won Big Ten's Rookie of the Year award and while he's an inconsistent spot-up shooter, he showed solid ability to hit pull-up shots off of the dribble and make good passes.
18. Miami Heat – Leonard Miller, F G-League
Despite their playoff success, the Heat were the 25th-best offense in the NBA this season because they have very few creators off the bounce. Miller can be that from the PF position, so he's the pick in our NBA Mock Draft. He's a terrific, fluid athlete and an elite finisher at the rim, making 67% of his shots on penetration.
19. Golden State Warriors – Nick Smith, G Arkansas
The Warriors are the exact type of team that can take a gamble on a player like Smith, who had an elite pedigree but suffered a down year. Smith has the size and athleticism to smother opposing guards and has the potential to be a great value here in our NBA Mock Draft.
20. Houston Rockets (via Clippers) –  Jett Howard, G Michigan
The Rockets added a young and talented forward in Whitmore with their first pick, and if they are bringing back Harden then they aren't going to take project players in the first round. Howard can score in many different ways and is a smart player with former NBA veteran Juwan Howard as his dad. 
21. Brooklyn Nets (vis Suns) –  Noah Clowney, F, Alabama
The Nets are rebuilding, and this is the perfect pick for a rebuilding team. Clowney is 6'10" with a 7'3″ wingspan, plays defense at a really high level, and rebounds. Clowney has good shooting mechanics while taking over four 3-point attempts per game, so if he starts hitting those shots consistently, the upside is great.
22. Brooklyn Nets – Rayan Rupert, G/F, New Zealand
Brooklyn is back again in our NBA Mock Draft and this time they swing for the fences with a developmental prospect in Rupert who is a French teen playing on a New Zealand team in an Australian basketball league. Got that? He's also 6'7″ with a 7'3″ wingspan and elite instincts on the defensive end. If he grows into more of an offensive game, he could be a star.  
23. Portland Trail Blazers (via Knicks) –  Kris Murray, F, Iowa
If Portland trades their earlier pick but keeps this one, they'd likely be looking for an NBA-ready player. Murray is NBA-ready and while he's not quite as good as his brother (Keegan), he will quickly enter the rotation as a three/four with the upside to be a starter based on his scoring prowess.
24. Sacramento Kings – Max Lewis, G/F, Pepperdine
The Kings could use a little more shooting, so while Lewis has some work to do on the defensive end, he goes to Sacramento in our NBA Mock Draft because he has the ability to knock down shots from deep and the size/wingspan to be a matchup issue on the wing.
25. Memphis Grizzlies – James Nnaji, C, Barcelona
The Grizzlies roll the dice here on Nnaji, who is 6'11" with a 7'5″ wingspan and is an impressive athlete around the rim. He has all the raw tools of an elite center prospect. 
26. Indiana Pacers (via Cavaliers) – Colby Jones, G, Xavier
Even though the Pacers took Taylor Hendricks in the first round of our NBA Mock Draft, so it's time for them to add some guard help. Jones is a 6'6″ plus defender whose scoring efficiency, passing, and decision-making would be an immediate fit in Indiana next to Haliburton and Mathurin.  
27. Charlotte Hornets (via Nuggets) – G.G. Jackson, F, South Carolina
We've reached the part of our NBA Mock Draft where talent meets red flags. Jackson has some questions about his maturity and effort and could flame out of the league. However, he was playing in college as a 17-year-old and has elite shot-making potential. 
28. Utah Jazz (via 76ers) –  Sidy Cissoko, SF France
Utah has a competitive team and already made a first-round selection in our NBA Mock Draft, so they can go for upside here. Cissoko finished his season strong, and his stock is on the rise. He's a powerful wing with great passing vision and the ability to get to the rim.
29. Indiana Pacers (via Celtics) – Bobi Klintman PF/C – Wake Forest
This is Indiana's third first-round pick in our NBA Mock Draft, so they can swing for the fences here. they can add Klintman here since the 6'10" forward can be more of a small ball center and has a different skillset to Walker. Klintman moves fluidly and has shown an ability to handle the ball well for his size, shoot from the floor beyond the arc, and pass well. We know the Pacers are high on him, so snagging the Swedish big man here makes sense. 
30. Los Angeles Clippers (via Bucks) – Dariq Whitehead, G/F Duke
The Clippers seem to love competitive and tough players, and they also get a chance to land a top-tier talent with the last pick in the first round. Whitehead was an elite prospect coming out of high school but will be coming off foot surgery. If he was 100% healthy, he might be a top-10 pick, so this is good value here at the end of the first round of our NBA Mock Draft. 
For more NBA coverage like this NBA Mock Draft, visit amNY Sports