It's NHL Mock Draft season and Monday night will finally provide the long-awaited answer of where Regina Pats superstar Connor Bedard will play in the pros with the drawing of the 2023 Draft Lottery. 
The top 16 picks will be determined through the draw, which can be seen on ESPN at 8 p.m. ET, where an accounting firm oversees the process.
Fourteen ping-pong balls are placed in the lottery machine that makes up 1,000 potential order combinations. Each team is assigned a set of random four-number combinations. The worse a team was, the more four-number combinations they get. 
With an 18.5% chance of getting the No. 1 pick, the NHL-worst Anaheim Ducks have the best odds of getting that top spot. Each team ranked No. 2 through 16 sees the number of combinations and their odds decrease.
The first draw of four ping-pong balls deciphers the No. 1 overall pick. A second draw determines the No. 2 pick. 
The non-playoff teams ranked 12-16 can only move up a maximum of 10 spots, so if one of those teams' combinations comes up in the first draw, they still won't get the No. 1 pick. For example, should the Buffalo Sabres — who are ranked No. 13 in the pre-lottery draft order — see their combination come up in the first draw, they move up to No. 3 while the Ducks are automatically awarded the No. 1 pick. 
Similarly, if a team ranked 13-16 is drawn for the No. 2 pick, the worst-remaining team gets that selection.
Here is how the current pre-draft lottery stands and how the top-16 could shake out at the 2023 NHL Draft next month should the ping-pong balls go chalk:
amNewYork's 2023 NHL Mock Draft pre-lottery
1) Anaheim Ducks (18.5% to win):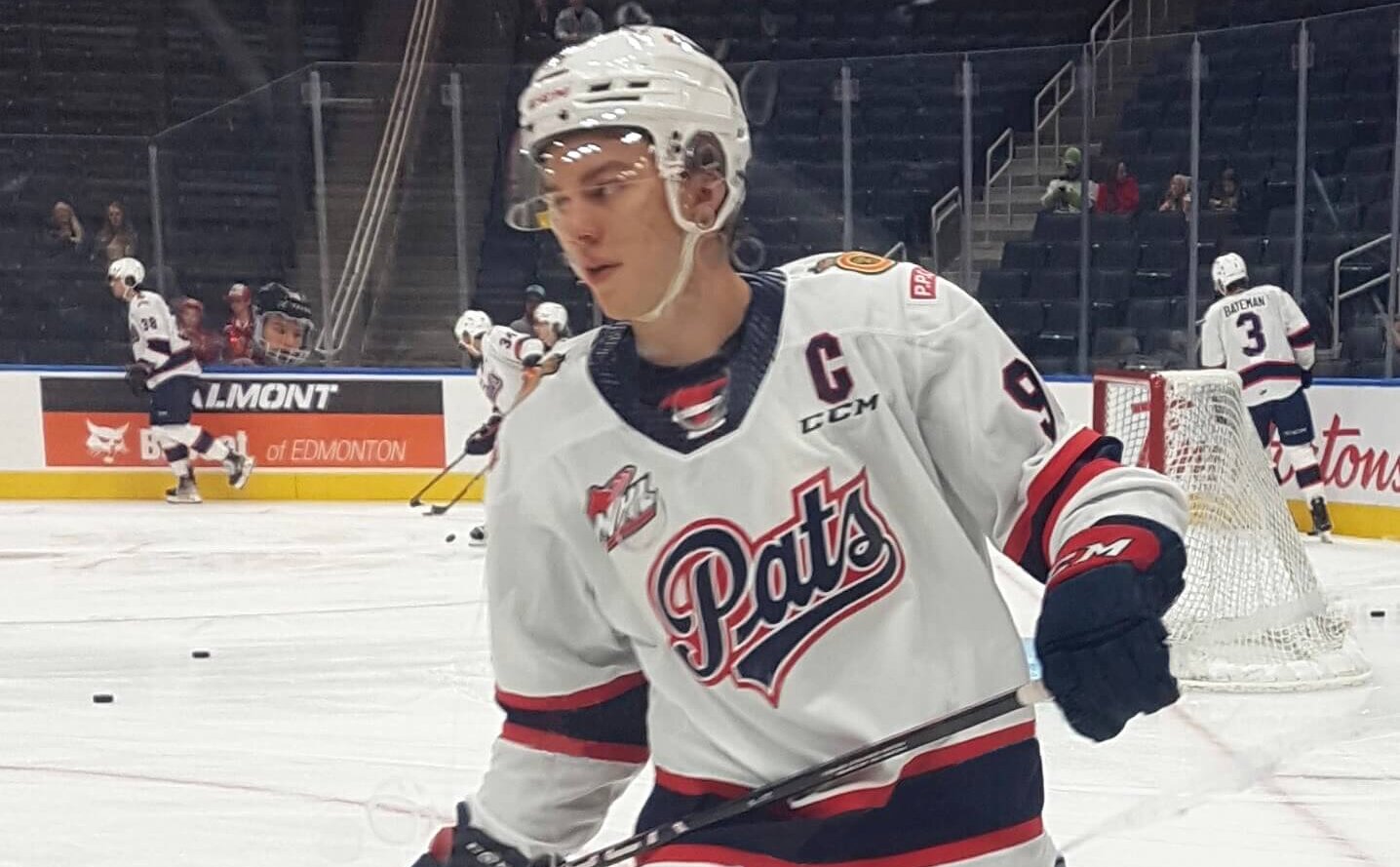 Connor Bedard, C, Regina (WHL)
DOB: 7/17/05
Height: 5-foot-9
2022-23 stats: 64 games, 80 goals, 86 assists, 166 points
2) Columbus Blue Jackets (13.5%)
Adam Fantilli, C, Michigan (NCAA)
DOB: 10/12/04
Height: 6-foot-2
2022-23 stats: 36 games, 30 goals, 35 assists, 65 points
3) Chicago Blackhawks (11.5%)
Matvei Michkov, RW, St. Petersburg (Russia)
DOB: 12/9/04
Height: 5-foot-10
2022-23 stats: 27 games, 9 goals, 11 assists, 20 points
4) San Jose Sharks (9.5%)
Leo Carlsson, C, Orebro (Sweden)
DOB: 12/26/06
Height: 6-foot-3
2022-23 stats: 44 games, 10 goals, 15 assists, 25 points
5) Montreal Canadiens (8.5%)
William Smith, C, USA U-18
DOB: 3/17/05
Height: 5-foot-11
2022-23 stats: 87 games, 75 goals, 114 assists, 189 points
6) Arizona Coyotes (7.5%)
Nate Danielson, C, Brandon (WHL)
DOB: 9/27/04
Height: 6-foot-1
2022-23 stats: 68 games, 33 goals, 45 assists, 78 points
7) Philadelphia Flyers (6.5%)
Dalibor Dvorsky, C, AIK (Sweden-2)
DOB: 6/15/05
Height: 6-foot-1
2022-23 stats: 62 games, 26 goals, 27 assists, 53 points
8) Washington Capitals (6%)
Brayden Yager, C Moose Jaw (WHL)
DOB: 1/3/05
Height: 5-foot-11
2022-23 stats: 72 games, 33 goals, 54 assists, 87 points
9) Detroit Red Wings (5%)
Danil But, LW, Yaroslavl Jr. (Russia)
DOB: 2/15/05
Height: 6-foot-5
2022-23 stats: 50 games, 21 goals, 17 assists, 38 points
10) St. Louis Blues (3.5%)
Gabriel Perreault, RW, USA U-18
DOB: 5/7/05
Height: 5-foot-10
2022-23 stats: 90 games, 78 goals, 118 assists, 196 points
11) Vancouver Canucks (3%)
David Reinbacher, D, Kloten (Switzerland)
DOB: 10/25/04
Height: 6-foot-2
2022-23 stats: 61 games, 3 goals, 25 assists, 28 points
12) Arizona Coyotes from OTT (2.5% to win No. 2 pick)
Dmitriy Simashev, D, Yaroslavl Jr. (Russia)
DOB: 2/4/05
Height: 6-foot-4
2022-23 stats: 97 games, 6 goals, 22 assists, 28 points
13) Buffalo Sabres (2% to win No. 3 pick)
Samuel Honzek, LW, Vancouver (WHL)
DOB: 11/12/04
Height: 6-foot-3
2022-23 stats: 45 games, 23 goals, 33 assists, 56 points
14) Pittsburgh Penguins (1.5% to win No. 4 pick)
Ryan Leonard, RW, USA U-18
DOB: 1/21/04
Height: 5-foot-11
2022-23 stats: 81 games, 70 goals, 61 assists, 131 points
15) Calgary Flames (0.5% to win No. 5 pick)
Tom Willander, D, Rogle Jr. (Sweden)
DOB: 2/9/05
Height: 6-foot-1
2022-23 stats: 69 games, 11 goals, 36 assists, 47 points
16) Nashville Predators (0.5% to win No. 6 pick)
Zach Benson, LW, Winnipeg (WHL)
DOB: 5/12/05
Height: 5-foot-9
2022-23 stats: 65 games, 38 goals, 67 assists, 105 points
For NHL Mock Drafts and news, visit AMNY.com