The 2023 NFL season is finally here and the New York Jets offense is one of the most talked about groups going into Week 1. 
Aaron Rodgers' entrance to the team has brought a new flair of publicity not seen in Florham Park since Rex Ryan roamed the halls. Add in late acquisitions like Dalvin Cook, and the improved health of the offensive line, and Gang Green has its most explosive offense in quite some time. 
But what are the expectations for this Jets group? Should fans expect this team to gell immediately despite having just two weeks of practice together at full strength?
We go through the top five boldest predictions for this Jets offense heading into their first game against the Buffalo Bills.
Garrett Wilson threatens Marvin Harrison's target record set in 2002 (205)
This first prediction might be the hardest to accomplish, but the way Wilson has looked this preseason has me very confident. As duos go, the Rodgers-Wilson connection is still young but that won't stop the Hall-of-Fame quarterback from targeting him. 
The NFL record for targets in a season was Marvin Harrison in 2002. That was when the Colts' receiver set league records in catches at the time (since beaten by Michael Thomas). I don't think Wilson breaks the reception record, but I do think he will be targeted an absolutely massive amount. 
He may not break Harrison's target record, but he'll be the closest to 200 since Calvin Johnson in 2012 and Julio Jones in 2015.
Rodgers isn't as dynamic as MVP years but still leads team to wins
The prevailing theory for New York in 2023 is that Rodgers is poised to get back to his MVP ways after a disappointing final season in Green Bay (most picks since 2008 and lowest passer rating since ever). While it certainly wouldn't hurt to have the 39-year-old as his best, New York doesn't need him to be a Hall-of-Famer to be successful this year. 
The leadership Rodgers has brought to this Jets offense has already been extremely important for the franchise. That alone makes him a legend in New York. Don't be surprised if his numbers match closer to last season's totals than the MVP years, but the Jets still find ways to win. 
This roster, outside of the offense, is loaded. They don't need him to be the best quarterback on the field at all times. They just need him to be average. Rodgers will certainly be that and more in 2023 and it should lead to many wins for the Jets.
Breece Hall and Dalvin Cook account for 2,000 total rushing yards
Can Hall and Cook, even with their injury concerns, show that they are the best 1-2 running back punch in football this year? If they do, the Jets' success on offense will be all but guaranteed. New York has two bellcow backs with plenty of experience as weapons on the field. 
If I were to draw a comparison, it's probably the 2008 Panthers. In '08, Carolina used the duo of DeAngelo Williams and Jonathan Stewart to the second seed in the NFC Playoffs with the third-best rushing attack that season. They may not have led the league in rushing as a team, but the way the Panthers won that season was a clear blueprint for the Jets to follow in 2023. Stewart and Williams combined for 2,351 yards rushing that year for Carolina and I think the Hall/Cook duo will be the next group to reach that mark. 
The starting offensive line plays in every single game without major injury concerns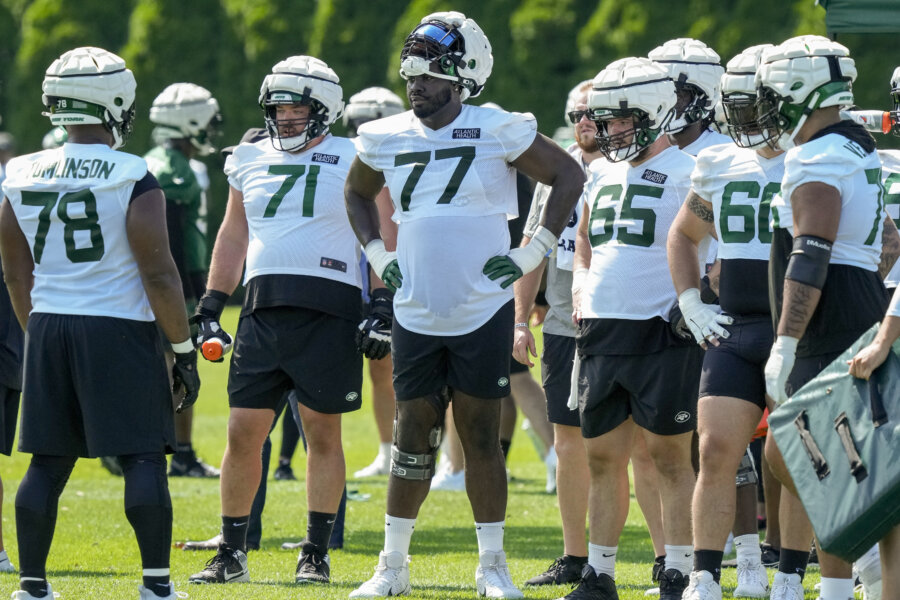 It's the boldest prediction on here which is crazy to think about. The Jets' offensive line has been decimated by injuries it seems every season. In order for the team to be successful though, this group needs to play together as much as possible. 
Luckily for them, I think it happens. Mekhi Becton looks like an All-Pro caliber player at right tackle, Alijah Vera-Tucker is a Pro Bowl player at guard, and Duane Brown is as steady a hand on the blindside as you can get. This group, like the rest of the offense, is insanely talented. 
Only injuries will get in their way and I don't think that'll be a concern for them in 2023. 
Mike Evans is traded for by Week 6
Before Joe Douglas became general manager of the Jets, he was second-in-command to Howie Roseman in Philadelphia. With the Eagles, Douglas learned that it is never good to sit idly by when the team starts out strong or is in need of a particular piece. 
That alone should give every Jets fan an understanding that the 2023 Jets are not a complete roster until the trade deadline comes and goes. There will be several names tied to Gang Green this year. In reality, it's clear that the $20 million in cap space will be used to help improve the championship window for New York this season at some point. 
The obvious way for the offense to improve this season by the deadline is at receiver. Allen Lazard, Mecole Hardman, and Randall Cobb are quality players but they aren't shifting the needle across the conference. A trade for Tampa Bay Buccaneers star wideout Mike Evans certainly would though. 
Evans is in the final year of his deal, has just given his long-time team a deadline to reach an extension, and could be moved if the Buccaneers struggle to start the 2023 season. If and when Tampa Bay comes out sluggish, the Jets will pounce on Evans and provide a unique 1-2 receiver punch with Wilson.  
BONUS: Jets offense breaks the franchise record for points scored in a single season (419)
If the Hall/Cook dup tally over 2,000 yards combined, Wilson sets the target record, and Rodgers is still his very good self, there's no reason why this offense shouldn't break the franchise points record set by the Super Bowl team in 1968. In 15 games, Joe Namath's title squad scored 419 points. 
With 17 games on the schedule, Rodgers and the rest of the offense should blow through that mark with relative ease. There is too much talent not to do so. After a tough stretch to start the season, this team should be able to hit the ground running. 
Tomorrow, we go over our bold predictions for the Jets' defense. Our full team prediction will be announced during our season preview publication. 
For more New York Jets news, turn to AMNY.com