The 76th College World Series kicks off on Friday in Omaha, Nebraska with the eight teams vying for the national championship.
Despite not having the mass public allure of the college football bowl games, the College World Series has become a hallowed sporting event with 73 of the 76 years taking place in Omaha, which has made the stadium a destination every June.
The College World Series is structured with eight teams split into two different brackets with four teams each. Those brackets participate in a double-elimination tournament, with the winners from each one facing off in a best-of-three series in the finals.
How to watch:
WHEN: Friday, June 16-June 26
WHERE: Charles Schwab Field, Omaha, Neb.
CHANNEL: ESPN and ESPN2 (full schedule here)
College World Series Odds
Odds courtesy of DraftKings Sportsbook
Wake Forest Demon Deacons +275
LSU Tigers +380
Florida Gators +450
Virginia Cavaliers +450
Tennessee Volunteers +750
TCU Horned Frogs +800
Stanford Cardinal +1200
Oral Roberts Golden Eagles +2200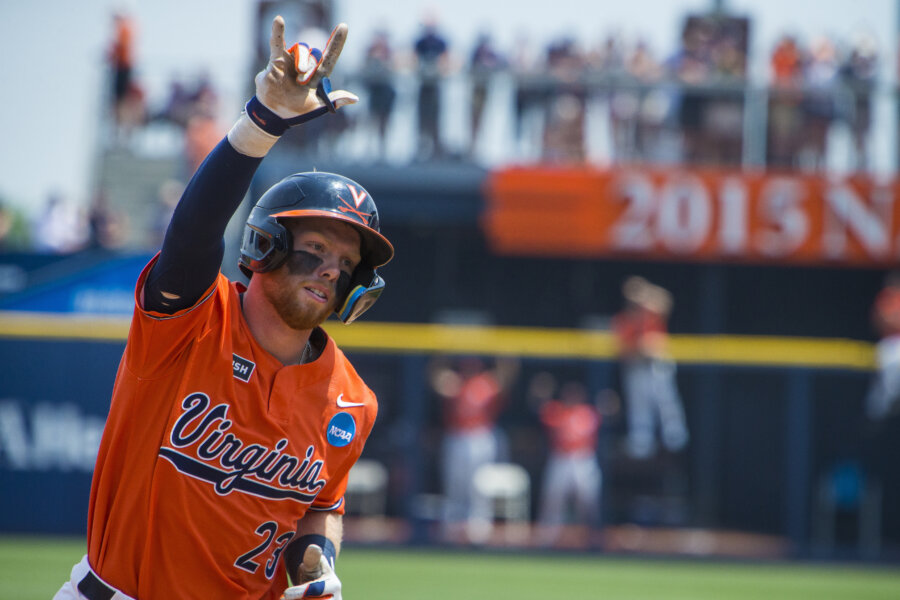 Team Breakdown
You can see an image of the full bracket of teams remaining here. 
No. 1 Wake Forest Demon Deacons
The Demon Deacons were the best team in the regular season, putting together a tremendous 52-10 record. They've continued to dominate in the postseason, rolling off a series of impressive wins, like a 22-5 victory over 16th-ranked Alabama to punch their ticket to Omaha.
They hit .307 as a team this season with 120 home runs, including a whopping 27 from third baseman Brock Wilken, who also has a .517 on-base percentage. This is a complete team. However, only one team in College World Series history has won the tournament as the top seed, so betting on Wake Forest at +275 just doesn't seem like good money. 
No. 2 Florida Gators
Not far behind Wake Forest is Florida. The Gators put together a 50-15 season and then swept South Carolina to make it into the College World Series. Their offensive is ferocious with six hitters posting an OPS above .900, including their star, potential top-five pick in the MLB Draft outfielder Wyatt Langford.
Florida also has LHP/1B Jac Caglianone, who led Gators starters in ERA and held opponents to a .184 batting average while also leading Division I with 31 home runs in 65 games and slugging .766. 
No. 5 LSU Tigers
From one SEC powerhouse to the next. The Tigers are in rarefied air, even among college baseball's elite. With 18 College World Series appearances, LSU is one of the most prolific programs in collegiate baseball history. This year's roster has the Tigers dreaming of an NCAA title. Dylan Crews and Paul Skenes appear likely to go 1-2 in this year's draft.
LSU at +380 is a solid bet since they actually had a better average .315, than Wake Forest this year and slugged .572 as a team, which was 2nd in the nation. They can swing the sticks and likely have the best pitcher in all of college baseball in Paul Skenes, who recorded 188 strikeouts in 107 innings this year. 
No. 7 Virginia Cavaliers
Virginia scored 26 runs in their final two games against Duke to make the final eight and are hitting .335 as a team this season. Six Cavaliers starters are hitting .330 or better, including catcher Kyle Teel, who hit .418/.484/.673 this season and threw out 37% of opposing basestealers. He's a first-team All-American, and was named ACC Player of the Year.
Virginia is also a solid sleeper bet at +450. They led the country in batting average and also led the country with a .529 slugging percentage. Connelly Early is a legit ace, with a 12-2 record, which helps make this team well-rounded enough to take the title. 
No. 8 Stanford Cardinal
Stanford struggled to get here, blowing a huge lead to Texas in Game 1 of the Super Regionals and needing to rely on Quinn Matthews' 156-pitch, 16-strikeout complete game in Game 2 to keep stay alive. They do have a lot of potential MLB talent, including third baseman Tommy Troy, who hit .397/.479/.711 and is expected to be a first-round pick in the 2023 MLB Draft. 
TCU Horned Frogs
TCU is a bit of a surprise story in the College World Series after going 13-11 in the Big 12 conference this year. Yet, it rattled off 11 straight wins to claim its sixth appearance in the College World Series and might be the hottest team in the field. 
Brayden Taylor is TCU's biggest name and the third baseman will likely be the highest draft pick on the team, but first baseman Cole Fontenelle is perhaps the hottest hitter in college baseball. He has multiple hits in his past six games and has been held hitless just once in his past 11 games. 
Oral Roberts Golden Eagles
Oral Roberts is the least-known team in the field, but they went 51-12 this season and clawed to get into the College World Series after blowing an 8-0 lead in Game 1 against Oregon and then was one out from going home before coming back to win Game 3. 
A concern is that Oral Roberts has the 250th-ranked strength of schedule this season and played just three games against nationally-seeded teams in this tournament. 
Tennessee Volunteers
The Tennessee offense certainly has punch, hitting 123 home runs this season, which is tied for sixth in the nation. Since 2018, they have reached Omaha twice and have a 234-97 record overall, so they won't be scared of the moment, and Jared Dickey is among Tennessee's top prospects who could garner interest in the 2023 MLB Draft. 
For more college world series coverage, visit amNY Sports